Update: According to updates from the BelieveInHeroes.org website on Wednesday morning, Chad Lewis and the rest of the crew successfully reached the summit of Mount Kilimanjaro.
Said Lewis: "This was an epic adventure. It was something else to stand on the Uhuru peak at the summit. We conquered Mount Kilimanjaro; standing on the roof of Africa with Team Hard Target! This is a great way to shine a huge spotlight on Wounded Warrior Project. It was a very tough climb. We're a little oxygen deprived. The air is so thin. It was amazing, absolutely incredible!"
Dave Spadaro caught up with former Eagles tight end Chad Lewis just before he embarked on his journey to the top of Africa's Mount Kilimanjaro, the world's tallest free standing mountain in the world. Lewis joined former Titans head coach Jeff Fisher and former Patriots linebacker Tedy Bruschi as well as four members of the Wounded Warriors Project. The climb is intended to raise awareness and enlist the public's aid for the Wounded Warrior Project, which is a non-profit organization whose mission is to honor and empower wounded warriors.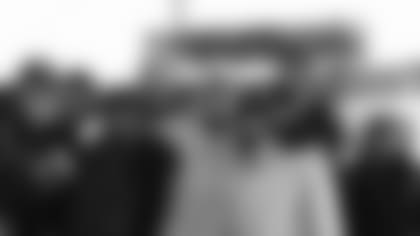 Former tight end Chad Lewis (back right) reached the summit of Mount Kilimanjaro to raise awareness for the Wounded Warrior Project
Tuesday is day seven of the climb and by Wednesday morning the crew is expected to reach the mountain's summit. After the third day of the climb, Lewis sent out this message to his friends, fans and family.
"Hiking with some of the most amazing dudes in the whole world. This is something else!" Lewis said in an e-mail distributed by the NFL. "Now for the list of people – my wife, Michelle, and Emily, Sara, Jake, Jeff, Max, and Tanner ... love all you guys! We love you."
Check out this video below of Lewis on the trail. As Spadaro wrote in his On The Inside column, Lewis is going to place an Eagles flag at the summit of the mountain. A three-time Pro Bowler with the Eagles, Lewis spent nine years in Philadelphia and caught 228 passes for 2,349 yards and scored 23 touchdowns. In the NFC Championship Game win over the Falcons in the 2004 season, Lewis made two touchdown receptions to lift the Eagles to their first conference championship in 24 seasons.
For more about the Wounded Warrior Project and the hike to the top of Mount Kilimanjaro, please check out BelieveInHeroes.org.