The Pennsylvania Lottery has helped some fans make this football season one of the best ever. In addition to cash prize winners, more than 100 fans have won once-in-a-lifetime experiences. The new football-themed instant Lottery tickets have proved that football fanatics are in full force as it has quickly become one of the fastest selling $5 Lottery tickets in Pennsylvania Lottery history.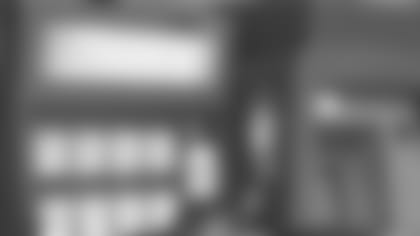 Fan purchases an Eagles-themed instant Lottery ticket at Lincoln Financial Field
"After just 11 weeks, the football-themed Lottery instant games rank as one of the top performing $5 instant games ever launched by the Lottery," said Lottery Executive Director Ed Trees. "In addition to cash prizes, the instant games offer players unique, second-chance prizes."
So far this season, fans have won unique experiences through their second-chance winnings such as shadowing a camera man on the sidelines at a home game, aiding the equipment staff in setting up the Eagles locker room and being on the field for starting line-up announcements.
While these experiential winnings have been great second-chance prizes, instant cash winnings are still a key factor with these tickets. Three top cash prizes of $50,000 have already been awarded to players from Philadelphia, Lenhartsville and Harrisburg.
These sought-after tickets can be purchased where any Pennsylvania Lottery tickets are sold and at various locations throughout Lincoln Financial Field on game day. Fans may instantly claim their cash prizes on gameday at the Eagles Ticket Window.
To participate in the second-chance drawings, fans must mail three non-winning Pennsylvania Lottery Eagles Instant Lottery tickets in an envelope no larger than 4 1/8 inches by 9 1/2 inches to Pennsylvania Lottery – Eagles Second-Chance Drawings, P.O. Box 555, Middletown, PA 17057-0555. All non-winning tickets must include all of the player's information, including the player's name, street address, city, state, zip code, telephone number and signature. Number of entries is not limited.