Trent Cole's days of flying under the radar are long gone.
In his rookie campaign, the fourth-year defensive end out of Cincinnati recorded five sacks in his first four games and earned rave reviews, but he still hadn't earned a starting spot.
In 2006, the team signed Darren Howard to play right end but an injury to Jevon Kearse opened the door on the left side and Cole made the most of his opportunity.
As Cole improved through the end of 2006 and into 2007, opposing teams realized that he demanded a double-team. But that didn't stop Cole from having his best season as a pro and he thinks the sky is the limit for him and the Eagles defense in 2008.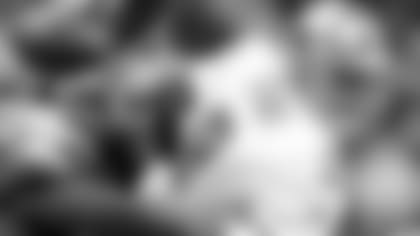 Trent Cole hopes to do plenty of this in '08
"Myself, I'm expecting a lot from the defense," Cole said. "We have a great defense. That's truly how I feel. I think we can go a long way and it'll be a lot of fun.
"The guys are more experienced now. They had a taste last year – they were put in the fire and they did well. That's why they're here and I think we have a great linebacking corps."
After acquiring the defensive end in the fifth round of the 2005 draft, Cole earned a spot on the team and ended up starting three games. Still, the Eagles weren't quite sure what they had.
So when the Eagles signed Howard in the 2006 offseason, it seemed like Cole would be relegated to coming off the bench. Cole bided his time, however, and after Kearse went down with a fractured leg, he regained a starting slot and he hasn't relinquished it since.
In 2007, Cole's first as a regular starter at right end, he notched 103 total tackles, 12.5 sacks and four forced fumbles en route to earning his first Pro Bowl berth. He was also voted the Eagles defensive MVP by his teammates.
After what Cole has seen of the defense in the preseason, he expects even more room to wreak havoc in 2008.
"I'm not really worried about the double-team this year," Cole said. "Those guys (other teams) are going to have to worry about the rest of my D-line. JP (Juqua Parker) and Chris (Clemons), Mike Patterson and (Brodrick) Bunkley, they're going to have to worry about the rest of those guys so I don't think the double-team is going to come too much this year."
Cole also appreciated that the Eagles weren't satisfied with the defense and its performance from a year ago.
"From what I've seen from camp and stuff, (the organization) did it perfect," Cole said. "This is what we needed. I think we filled the spots that needed help. I think the Eagles did well with what they've done, getting new people in here trying to get this defense right."
Teams are going to have game plan differently against the Eagles, and the St. Louis Rams have that task on Opening Day.
"I love this game," Cole said. "I'm looking forward to this game Sunday, to being out there. We had a short practice (Monday), but you could the excitement in people. People are excited. It was small day of practice, but there was excitement out there."