Want a measuring stick? Try the defending Super Bowl champions on for size. At 9-3, the first-place Eagles enter the fourth quarter of the regular season in good shape. They have the league's best special teams, an offense that appears to be rounding into shape, especially on the ground, and a defense that is quietly one of the league's best. On Sunday, though, they will be tested by an 8-4 Seattle Seahawks team that is less than a year removed from their hoisting of the Lombardi Trophy. Offensively, there is no question that the Eagles will be tested. The Seahawks sport the league's No. 1-ranked defense and have allowed just three points in each of their last two games. Mark Sanchez has done well since taking over as the starting quarterback for the injured Nick Foles and is coming off a tidy performance in the Thanksgiving win over the Dallas Cowboys in which he threw for over 200 yards in the first half before the Eagles salted the game away on the ground in the second half. Will Sanchez test the likes of Richard Sherman? Meanwhile, LeSean McCoy and the running game appear to be clicking at just the right time, as McCoy has rushed for over 130 yards in back-to-back weeks and is now just 48 yards away from becoming the Eagles' all-time leading rusher. The Seahawks, though, allow just 3.5 yards per rush and will be anxious to do their best to shut McCoy down.
There is perhaps even more intrigue on the other side of the ball, where the Eagles defense aims to get its own respect as one of the league's best. Outside linebacker Connor Barwin received some recognition earlier this week when he was named the NFC Defensive Player of the Month but there is still an internal sense that the unit is not given credit for how well it has played this season. Consider that the Eagles rank second in the league with 42 sacks and are first in quarterback pressures. The run defense, meanwhile, is coming off a game in which they limited the league's leading rusher, DeMarco Murray, to his lowest output and yards per carry of the season. Now all they have to do is stop Marshawn Lynch and Russell Wilson, the man who has the highest yards per carry of any player in the NFL. Sunday afternoon will certainly have significant playoff implications as both teams appear headed towards the postseason. Perhaps they'll even meet again in January. But for now, all eyes are focused squarely on 4:25 PM on Sunday afternoon at Lincoln Financial Field.
Last Time They Met:
December 1, 2011 – Eagles 14, Seahawks 31
On a Thursday night at Qwest Field, the Eagles were dominated by Marshawn Lynch and the Seahawks in a game that would drop the Eagles to 4-8 on the season. The enduring image of the game was Lynch's touchdown run in which he broke through a pile of multiple Eagles defenders. Lynch ran for 148 yards and two touchdowns on the night while Eagles quarterback Vince Young was intercepted four times. The Eagles would win their final four games of the season following the loss.
When The Eagles Have The Ball
It's no secret that the Seattle defense is a stalwart unit. The Seahawks rank first in total yards allowed, third in rushing yards allowed and fourth in passing yards allowed. They're one of only three teams in the NFL to allow fewer than 200 passing yards per game, a stat Mark Sanchez and the Eagles will look to make largely irrelevant this weekend.
But it won't be easy. The Seattle secondary is stacked with playmakers, namely cornerback Richard Sherman and safety Earl Thomas. The two have combined for four interceptions this season, but conventional statistics like interceptions don't do the Pro Bowl defensive backs justice. Through 12 games, opposing quarterbacks have completed just 46.2 percent of passes thrown Sherman's way. On those 52 passes, opposing quarterbacks compiled a combined quarterback rating of 49.8. Meanwhile, Thomas has racked up 69 tackles and has allowed just eight completions against him this season.
Sanchez will have to choose his spots carefully this weekend and make sure he's on top of his game when he makes those choices. Coming off his best game since becoming the de facto starter in Week 10 against Carolina, Sanchez will likely look to the field opposite Sherman when he can, but the cornerback has been beaten this season by Cam Newton in Week 8 and Eli Manning in Week 10. It's more about picking his spots intelligently, which Sanchez certainly showed he can do in the Eagles' win over the Cowboys. As far as the Eagles' wide receivers go, nothing has slowed Jeremy Maclin down this season, and rookie Jordan Matthews has been on an absolute tear of late. Sherman's size (6-foot-3, 195 pounds) will likely pose a few challenges for Maclin, but that can be solved with precision placement from Sanchez when targeting the Eagles' top receiving weapon.
The good thing about throwing against Seattle is the Seahawks rank 27th in the league in sacks this year, with just 20 through 12 contests. Ten of those sacks are from defensive linemen Michael Bennett and Cliff Avril. Four came from outside linebacker Bruce Irvin. Outside of those three, no other Seahawk defender has more than one sack on the season, which means the Eagles' offensive line - and, in certain protection schemes, tight ends and running backs - know the players they have to be wary of when Seattle brings one or two extra pass rushers. If they can keep Sanchez's pocket intact, and keep him clean when he rolls out, the veteran quarterback should be able to pick his spots.
While the Seahawks are situated near the bottom of the league in sacks this season, but their defensive line has turned in game after game of stifling run defense, limiting opponents to 86.3 yards per game on the ground. With running back LeSean McCoy entering Sunday's contest averaging 144.5 yards per game in his last two outings, the battle at the line of scrimmage when the Eagles are on offense shouldn't be overlooked. The focus will be on the matchup between wide receivers Jeremy Maclin and Jordan Matthews and the Seahawks' secondary, but establishing a successful running game - as the Eagles have in their past two wins - will be of equal import on offense.
When The Seahawks Have The Ball
For an offense with big-ticket names at quarterback and running back, the Seattle offense is a relatively one-dimensional unit. The Seahawks run, and they run a lot.
They enter Sunday's game as the No. 1 team in the league in terms of rushing yards per game, a result of combining running back Marshawn Lynch (956 yards and nine touchdowns) with quarterback Russell Wilson (679 yards and four touchdowns) to create an impressive rushing offense. The Eagles have fared well against the run this season, entering Sunday's game allowing just 107.7 yards per game, 12th best in the league. They haven't allowed a single player to pile up 80 yards on the ground in eight consecutive games, which would be helpful in going up against Lynch and Wilson this week.
However, the 5-foot-11, 215-pound Lynch is a talented, dynamic back. He runs well, catches the ball well and is a powerful, downhill runner once he gets the ball in his hands. He ranks second in the league in yards after contact with 587, averaging 2.8 yards after contact each time he runs the ball. He's a bruiser of a back who moves the ball in chunks, not necessarily breaking out for huge runs - only five carries of 20 or more yards this year - but not easy to bring down either.
The Eagles' defensive line, of course, held Dallas rusher DeMarco Murray to his lowest output of the season (73 yards rushing) on Thanksgiving and enters Sunday's game with momentum and confidence. The matchup between Lynch and defensive linemen Fletcher Cox, Bennie Logan and Cedric Thornton will dictate the pace and flow of the Seattle offense. If Lynch gets going early, he'll be tough to stop. But if Cox and company can bring the thunder like they did in Dallas, expect the Eagles to have their way on defense.
And if the Eagles can force Pete Carroll's offense into the air, Chip Kelly's squad will be in good shape. While they have in dynamic weapons at quarterback and running back, the Seahawks lack a Pro Bowl-caliber option in the pass game. Wide receiver Doug Baldwin is the team's leading receiver with 519 yards and two touchdowns through 12 games. Baldwin has yet to eclipse 800 yards receiving in his three-plus seasons in the league. If cornerbacks Cary Williams and Bradley Fletcher come prepared once again, as they did against Dallas, the Eagles' secondary should be in for a solid showing.
But defensive coordinator Bill Davis' unit is anything but safe when Wilson drops back. Wilson is a versatile, unbelievably athletic quarterback who can turn seemingly doomed plays into positive yardage. A large chunk of his rushing yards have come not from designed run plays in the zone-read option with Lynch, but from scrambles when he realizes his options downfield are limited and takes off. Wilson is a smart decision maker, even under pressure, and the Eagles will have to contain him and Lynch in order to halt Seattle's rollicking run-based offense Sunday.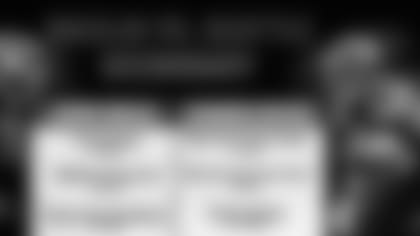 C Jason Kelce vs. NT Kevin Williams
The Seahawks' run defense suffered a substantial blow when defensive lineman Brandon Mebane was lost for the season with a torn hamstring. Seahawks head coach Pete Carroll praised the transition Kevin Williams has made going from a defensive tackle in his 11 seasons with the Vikings to nose tackle in the Seahawks' scheme. Still, the Seahawks don't want the 34-year-old Williams on the field for too many snaps. If Jason Kelce can win this matchup and get to the second level of the defense, it will help spring LeSean McCoy. Since allowing 190 yards rushing to Kansas City in the first game without Mebane, the Seahawks have held the Cardinals and 49ers to 64 yards apiece.
WR Jeremy Maclin vs. CB Richard Sherman
Head coach Chip Kelly called Richard Sherman the best cornerback in football. Sherman's got great size for the position at 6-foot-3, 195 pounds and is an astute student of the game. He will bait quarterbacks into throwing at him. Sherman typically lines up on Jeremy Maclin's side, so it's not as if Sherman will have to follow Maclin around the field. Maclin has posted at least 45 yards receiving in all but two games this season and those were blowout wins over the Giants and Panthers. Maclin has faced Cardinals All-Pro Patrick Peterson and had 12 catches for 187 yards and two touchdowns in that game. Most of those numbers were tallied against Peterson before the cornerback suffered an injury and left the game.
LB Mychal Kendricks vs. RB Marshawn Lynch
The Eagles unleashed Mychal Kendricks on the Cowboys on Thanksgiving as the linebacker tallied nine total tackles as he helped limit DeMarco Murray to a season-low 73 yards rushing. Murray is having an MVP-worthy season, as disgusting as it is to type that, but Marshawn Lynch is the most violent runner and one of the toughest to bring down. Pro Football Focus charted Lynch with the most missed tackles in the league. Entering this week, Lynch has the second-most yards after contact, per Stats Inc. Corralling Lynch will be a team effort, but Kendricks can help set the tone for the defense.
DE Fletcher Cox vs. T Russell Okung
The play of the game in the Thanksgiving win over Dallas in the eyes of defensive coordinator Bill Davis was when Fletcher Cox tackled DeMarco Murray for a loss inside the red zone early in the second half following a LeSean McCoy fumble to help hold the Cowboys to a field goal. Cox was able to get in the backfield and alter the line of scrimmage multiple times. Cox saw plenty of Pro Bowl left tackle Tyron Smith in that matchup. Russell Okung is a Pro Bowl tackle in his own right. If Cox can have similar success, it will make life more difficult for the league's top-ranked rushing attack.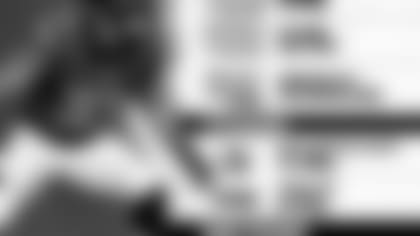 Hmmm ... This could be the perfect matchup to rediscover the second-year tight end, who said this week that passes down the seam can hurt the Cover 3 look that the Seahawks prominently utilize. Quarterback Mark Sanchez has shown excellent timing and accuracy on seam throws. While most fans are focused on LeSean McCoy, Jeremy Maclin and Jordan Matthews, Ertz could play a big role in Sunday's outcome.
He can throw. He can run. He's been an outstanding decision-maker. Quarterback Russell Wilson has been very good of late as he's posted a passer rating of 98 or better in each of the past three games. Wilson is not only the quarterback, but the season-leading rusher on the team with a career-high 679 yards. Wilson is asked to do so much in this offseason due to a lack of playmakers on the perimeter. He has been sacked 31 times this year. The key, though, is how the Eagles defend the zone-read, which Seattle runs more than any other team in the league.
All-Pro safety Earl Thomas covers a lot of ground for the Seahawks' defense and allows the unit to be versatile. Thomas is known as a brilliant cover safety, but he is integral to the run defense as well. The Seahawks rely on Thomas to fill in the gaps and he was masterful at it in the Thanksgiving win over the 49ers. However, LeSean McCoy and Darren Sproles will be quick to take advantage of any openings made by the offensive line. Can the Eagles get linemen out in space to block Thomas and open up the ground game?
The reigning NFC Defensive Player of the Month will have an important job in containing Russell Wilson. Barwin is no stranger to espionage, note the 3.5-sack performance against Cam Newton and the Panthers. The Eagles will be more than happy with Wilson being forced to make plays in the pocket. It also doesn't hurt that Barwin has a knack for batted passes (five this season) and Wilson is 5-foot-11. Wilson has had eight batted passes this season, tied for 10th in the league per Pro Football Focus. By comparison, two of Mark Sanchez's passes have been batted down. Nick Foles is the only quarterback in the league to have taken at least 25 percent of his team's snaps and not have a single pass knocked down.