The Eagles and free safety Brian Dawkins, who is scheduled to become an unrestricted free agent on February 27th, find themselves at a crossroads this offseason.
On one hand, teams normally wouldn't offer a contract to a free agent that is in the twilight of his career and the 35-year-old Dawkins fits that bill.
On the other hand, this is a very unique situation. Dawkins is the longest tenured athlete in Philadelphia and has spent his entire 13-year career with the Eagles.
In 2008, Dawkins set new franchise records for most number of games played (183), surpassing Harold Carmichael, and he tied Eric Allen and Bill Bradley for most interceptions in Eagles' history with 34.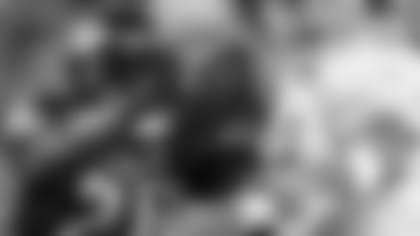 Free safety Brian Dawkins earned his seventh Pro Bowl nomination in 2008
He finished third on the team with 142 tackles, had three sacks and forced a team-high six fumbles last season.
"Dawk played very well this year," head coach Andy Reid said in his season-ending press conference.
Perhaps more importantly, however, Dawkins is the unquestioned leader of the team. Not just the defense, the team. He is respected by everyone in the locker room. The sole reason head coach Andy Reid grew a playoff beard was because Dawkins asked him to do so.
Reid said quarterback Donovan McNabb was the only other player on the team that could persue him to honor such a request.
To the fans, Dawkins is the Philadelphia Eagles. To not have No. 20 running out onto Lincoln Financial Field before games is an unfathomable thought.
But it's a thought Eagles' fans have to start considering.
"I don't know, but I've said it; I don't have too many doubts in my head that say I won't be back here," Dawkins said following the season-ending loss in Arizona. "Everything that I'm thinking is just positive that I'll be back."
Although it seems like it at times, Dawkins isn't going to play forever.
If Dawkins were to not return, Quintin Demps may be asked to step into a starting role. Demps did a good job returning kickoffs in 2008, but in the NFC Championship game against Arizona he was beat for a 62-yard touchdown by Arizona wideout Larry Fitzgerald and was called for a blatant personal foul after hitting Cardinals quarterback Kurt Warner well after he threw a pass.
If the Eagles opt to fill the void via free agency, the pickings are slim. The Dolphins' Renaldo Hill and Tampa Bay's Will Allen would currently headline the crop of free safeties on the market.
The Eagles also have the option of moving Quintin Mikell to free safety, which was his original position when he came into the league, and plug Sean Considine into the spot vacated by Mikell.
Considine had a particularly good season playing special teams in 2008, but he is also an unrestricted free agent.
How the Eagles decide to deal with Dawkins and his situation will go a long way in determining how their defensive backfield will look in 2009. It's a backfield Dawkins hopes to be roaming on Opening Day in September.
"We'll see," Dawkins said in an interview with NFL Network. "I'll be prayerful and where I end up ... there's no secret with the Eagles (is where I want to be). They know I want to be back there and hopefully we can get something done and get it on out of the way."