Are The Eagles Ready To Play Well On The Road?
In Chicago, the Eagles opened with three passes, punted, and the Bears came right down the field and scored a touchdown. In San Francisco, the Eagles had a stalled drive to start the game and the 49ers had a good punt return to set up a field goal to take an early lead.
In all three road games this season, the Eagles have had to come from behind. They can't keep living life on the edge on the road, so what is the answer to playing a complete 60 minutes away from Lincoln Financial Field.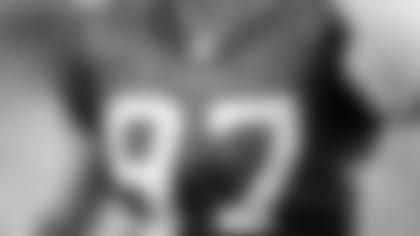 DE Patrick Kerney has five sacks in 2008
It is a question the Eagles hope to answer on Sunday in Seattle. The best medicine for an Eagles team that has won consecutive games for the first time this year is to jump on Seattle and not allow the Quest Field crowd any kind of life. The Eagles must fashion early success offensively and strike with a balanced offense, rather than dropping back and giving a fast and aggressive Seahawks defense a chance to pin its ears back and get after quarterback Donovan McNabb.
This is an interesting game to see how the Eagles respond. Are they going to be guilty of looking ahead to the NFC East battle a week later against the Giants? If so, shame on them. Andy Reid's teams have historically done well practicing the head coach's preach of ""one game at a time"" in the NFL. Seattle is a struggling 2-5, but the Seahawks are coming off a huge win over San Francisco and may be starting to create some momentum of their own.
The first quarter is going to be an excellent indicator of just how prepared the Eagles are to win a key game on the road. Do the Eagles come out making mistakes and giving Seattle early advantages? Or do the Eagles play with the right kind of attitude and effectiveness right away and jump on the Seahawks and take the crowd out of the game?
This is a very, very difficult game. Do not think otherwise. We're going to find out how the Eagles handle the road. They lost in Dallas and Chicago and needed a 23-0 fourth quarter to win in San Francisco. Living on the tightrope on the road is a recipe for bad things to come. The Eagles need to get a jump from the start and see if they can put it all together on the West Coast on Sunday.