If DeSean Jackson had any lingering effects from last week's up-and-down performance against Chicago, they weren't evident against Washington.
Jackson returned the Redskins' first punt of the game 68 yards for a touchdown, again proving that the rookie's confidence is not fleeting.
"It was a good opportunity," Jackson said. "It was a middle return. I caught the ball close to the hash. I tried to go right first, from there I just went back - trusted my speed, trusted my blockers and went back to the left."
Jackson read the blocks, cut through a seam and outran Washington punter Durant Brooks to the left sideline. Jackson then raced past diving Redskins running back Rock Cartwright's would-be tackle before prancing into the end zone to give the Eagles a 14-point first-quarter lead.
It was the first time an Eagles rookie registered a punt return for a score since Bob Shann returned a punt 63 yards for a score against Detroit on Dec. 19, 1965.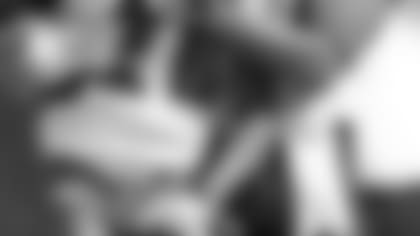 Jackson gets congratulated after his second career NFL touchdown
From there, though, the Eagles managed just three more points in a disappointing 23-17 loss to Washington at Lincoln Financial Field. Offensively, Jackson recorded one catch for just eight yards and ran the ball twice for 13 yards.
It was far from the best offensive output in his young NFL career.
"I can't really sit here and put my finger on anything," Jackson said. "We didn't play good football. The Redskins, a great team right now, are playing good. They just came in here and outplayed us."
Head coach Andy Reid said that Jackson's involvement had a lot to do with the how the Redskins were playing defense.
"That was just the way it worked out," Reid said. "(Washington) was in man coverage quite a bit of the day and it just didn't work out that we could get him dialed up."
Jackson's score was the Eagles' first punt return for a touchdown since Brian Westbrook returned a punt 81 yards for a score against San Francisco on Dec. 21, 2003.
But this was nothing new for Jackson, who set a Pac-10 record in college with six punt returns for a touchdown.
In the season opener against the St. Louis Rams, Jackson had eight punt returns for 97 yards, including a 60-yarder. That return was the longest for an Eagles' rookie in 33 years.
Even if he didn't get enough touches against Washington, it was clearly evident that Jackson hasn't lost his mojo.
"They were playing hard, smash-mouthed football," Jackson said. "It was nothing special that they were doing. I give it to them, they're a great team. We're a great team also. We're capable of doing great things too. (It) just wasn't our day."