Barring any setbacks, the Eagles should be at or near full strength when they take the field against the Giants on Sunday night at Lincoln Financial Field.
Head coach Andy Reid said banged-up players like cornerback Lito Sheppard (groin), free safety Brian Dawkins (hamstring) and running back Brian Westbrook (knee) all practiced on Friday in anticipation of the pivotal divisional game.
Despite the vitriol that's festered between these two teams throughout Reid's tenure, this will be the first time he will have to face off against a division foe that's also defending a Super Bowl championship.
"We clearly understand that they're playing good football, that they're holding the title of the world champs, and our guys have prepared, I think, tremendous this week," Reid said. "They have all the respect in the world for the Giants, and at the same time I know they're going to play their hearts out and do a great job there."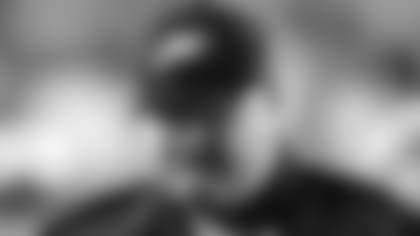 Head coach Andy Reid
But not only are the Eagles facing the defending champs, but they're facing a 7-1 powerhouse against whom a win could put them in prime shape for a playoff push. That's why the team's health is paramount.
Sheppard left last Sunday's game at Seattle early when he tweaked his groin, and had been struggling with the injury this week. But Friday marked the first time he practiced, and "he feels pretty good," Reid said, but determining his definite status will have to wait until tomorrow. Still, his status improved from a relatively bleak outlook earlier this week. Officially, Sheppard is questionable for the game.
"He's been living in the training room," Reid said.
The Eagles got a bit of a scare when Dawkins was a mid-week addition to the injury report, but at this point it seems like holding him out of practice on Thursday was more precautionary than anything. And Westbrook, Reid said, developed some knee swelling after playing on the FieldTurf at Qwest Field, which requires rest. Reid said his prized running back would not be limited Sunday in any way.
The only Eagles player listed as "out" for this week is guard Shawn Andrews, who back surgeons reevaluated on Wednesday in Marina Del Rey, Ca. Andrews will remain there for at least another week until travel is deemed safe, Reid said. As of yet, there is no timetable for Andrews' return.
The biggest injury blow could be to New York, however, as the Giants will be missing strong safety James Butler, who is out with a knee injury. Butler has started every game so far this season, but will likely be replaced by Sammy Knight on Sunday night. Also expected out for the Giants are linebacker Gerris Wilkinson (knee) and cornerback Kevin Dockery (back).
But the Giants have battled adversity since before the season began, in losing their top two defensive ends. Michael Strahan retired and Osi Umenyiora, who victimized Donovan McNabb last year, went down with a knee injury in the preseason.
Still, the Giants are second in the NFL in sacks with 30.
"I think it's a tribute to the guys who've stepped in," Reid said.