Michael Vick is in his fifth season with the Philadelphia Eagles and 12th season in the National Football League. The former No. 1 overall pick of the Atlanta Falcons in 2001 spent 18 months in prison for his role in a dogfighting operation. Since his release, Vick has partnered with the Humane Society and his own personal charity, the Team Vick Foundation, helped provide funding for a new youth football field in North Philadelphia.
Why was it important not to squander the second chance the Eagles provided you?
"I'm so blessed to be in the position that I'm in, after seeing harsher times and situations where I didn't know exactly how I would come out of it. I'm very thankful to be here every day with my teammates. To be able to come out on top after all I've been through is so gratifying."
Under no obligation, you have remained very active with regards to charitable work in the community. Why?
"I just felt like God had blessed me with so much that I was obligated to give back for His sake. A lot of things don't come easy in life and you have to work hard. At the end of the day, those blessings came solely from God, and this is just my way of giving back in His eyes."
How much do you appreciate the holidays now?
"I spent two Christmases and two Thanksgivings in prison, but I came to realize that every single one of these holidays is special. These holidays are not different just because of where you are in your life. Of course, I value my time with my family and being able to spend time with them during the holidays is very special. Being able to spend time with the ones you love is something that money can't buy."
You said publicly that Nick Foles should remain the quarterback before Chip Kelly made any official announcement. Why?
"I've been playing for 11 years. I've played in a lot of football games and am pretty much the oldest guy on this team. I've felt like it's my responsibility to be an example for the younger guys. They should enjoy the game. All in all, I'm not going to be able to play forever, but while I can play, I'm going to enjoy it."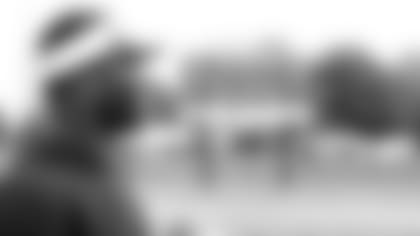 If you could go back in time, what advice would you give yourself 10 years ago?
"Get your act together! (Laughs) I would tell him to just remain humble and understand where his blessings come from. I think I lost sight of that for a long time. There was a point where I was very rebellious and didn't listen to the people who matter the most. When you stray, it's easy to be brought back down to reality."
A lot of the young players in the NFL idolized you growing up. Do you believe that the players can learn from your mistakes?
"Yes, I think all the younger players can learn from my mistakes. It's clear what the consequences of my mistakes have been and they can be avoided. I hope the younger players understand that they are here for the sole purpose of being accountable to their team and their teammates. They have to be the best player and the best teammate they can be in this league. I hope everyone can learn from my mistakes, not just players."