Entering Sunday's game against Dallas, the Eagles offense ranked fourth in the NFL, producing a average of 27.7 points per game. With those numbers in mind, it's fair to assume that offensive coordinator Pat Shurmur was surprised by the Eagles' offensive output of only three points in the loss to the Cowboys. Despite the lack of production, Shurmur feels that a solution to the offensive woes can be found during this week of practice.
"Obviously the game against the Cowboys was very disappointing," Shurmur said Tuesday morning. "We're not discouraged, we're not frustrated, we're disappointed that, at least from an offensive perspective, we didn't do some of the things that we had done in previous weeks, and we certainly didn't do enough to win the football game. Our defense played extremely well and we didn't do our part.
"I'm not discouraged because I know that everything that happened there, all of the mistakes are correctible, and I think that's a good thing. Everything that happened in the game, we can correct, and that's what we're going to do starting today."
Many questions aimed at Shurmur during his press conference focused on the sub-par play of Nick Foles, who was not his usually accurate self against the Cowboys – he completed just 11-of-29 passes for only 80 yards before leaving with a concussion. Shurmur explained that while some of the blame falls on Foles for having an off day, it is important to note that everyone on the offensive side of the ball could have played at a higher level.
"Let's first of all say that there were 11 guys playing," Shurmur said. "It wasn't all Nick. We as coaches and every other part that was out there have to do a better job. There are a lot of reasons why we weren't successful, and when you throw the football, there were times when the throw was inaccurate, there were times when the routes have to be sharper, and there were certainly times when we needed to protect better. It was a mixture of things and it all kind of got to us."
When Foles left the game at the end of the third quarter, rookie Matt Barkley was thrown into the fire, trailing by two scores with the NFC East on the line. Though the young quarterback made some mistakes, Shurmur was pleased with the way Barley handled the moment.
"He wasn't overwhelmed at all," Shurmur explained. "The one thing about Matt is that he makes quick decisions and he delivers the football. He had a couple of them that he'd like to have back … We saw him do some really nice things in the preseason and he got in the game and had some nice plays. Now, he had some bad plays that he'll learn from, and when we put him out there, we expect him to play winning football ... I think his play the other day – he'll learn from the bad plays that he had."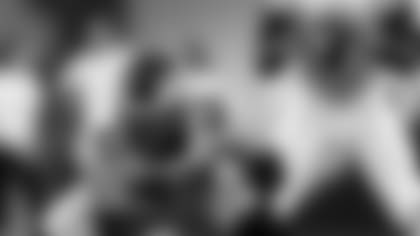 As of now, it remains unknown whether it will be Barkley, Foles or Michael Vick taking the field with the Eagles offense on Sunday, although Shurmur did announce that Vick would take the first-team reps on Tuesday. No matter who is under center this week, Shurmur knows that the Giants defense will present a difficult assignment for his offense.
"I got a chance to watch the Giants play last night, and they had a pretty good performance against an outstanding runner," said Shurmur. "Minnesota's offense was very ineffective against them. (They Giants) are getting healthier on defense and I think they played extremely well, so it's going to be a big challenge for us to go out and get it right and play winning football … We've got to put together our best Tuesday of the year to get ready to play the Giants."
In the Eagles' 36-21 victory over New York on October 6, New York's defense held LeSean McCoy to 46 yards on 20 carries thanks mainly to a strong effort from their stout defensive line. Heading into the rematch, Shurmur expects the battle up front to play a large role.
"We've got to be able to block movement," Shurmur said. "It's that plain and simple. Teams have been moving on us and they'll continue to do it, but we've got to block movement and we have ways to try to combat it … What they did last night was very successful against one of the premier rushers in the league, so I imagine that some of those thoughts will carry over to our game in an attempt to stop LeSean from gaining yards. We anticipate that we'll see some of that (eight men in the box)."
According to Shurmur, there are always advantages, from a preparation standpoint, to playing a team twice in the same season. However, Shurmur made a point to note that this Giants team is a healthier and hungrier version of the team the Eagles saw in Week 5.
"It happens within the division that there are times when you play the same team within a month or so," said Shurmur. "I think the game that we just played and the preparation for the game that we just played is fresh in our minds. We've only got a couple of new games to watch. They're the same Giants team. The only thing I will say is that they're getting healthier. We hit them earlier in the year when they were dealing with injuries. Especially in the secondary, they're getting some guys back. They've got a win under their belt now, and I'm sure that they're excited and they'll go into their preparation trying to get their second one, so it's important for us to play our best ball to try to beat them."