Thursday night's 33-10 Eagles victory was as satisfying as they come. The Eagles defeated the rival Dallas Cowboys in front of a national audience to secure first place in the NFC East. But now that #BirdDay has come and gone, what's an Eagles fan to do this Sunday when it comes to watching football?
Fear not, Eagles fans. Here's a look at five games that will serve as sufficient leftovers to the Eagles Thanksgiving feast ...
Browns vs. Bills - Sunday at 1 PM
Why should Eagles fans care about an AFC matchup that doesn't have any real impact on the Eagles' playoff push? Though neither team has made any playoff noise in the past few years, the Cleveland Browns and Buffalo Bills are two exciting, up-and-coming teams in the NFL.
Not many pundits around the league thought that these teams would contend for a postseason berth, but with a combined record of 13-9 both of their playoff hopes are alive and well. Currently, all four AFC North teams have an identical record of 7-4, and tiebreakers have the Browns in last place. Meanwhile, the Bills' midseason change at quarterback from EJ Manuel to Kyle Orton has energized Buffalo. Which one of these teams can make a statement on Sunday?
Plus, the matchup at wide receiver is enough to warrant a view. In May, the Bills traded up to select Sammy Watkins, and it's paid off to this point, with Watkins recording 684 yards and five touchdowns. On the other side, Josh Gordon is back in the Browns' lineup after a suspension, and he was back to his 2013 form in his season debut, hauling in eight passes for 120 yards.
Cardinals vs. Falcons – Sunday at 4:05 PM
The Cardinals-Falcons matchup represents one of the stranger matchups between division leaders in quite some time. The Cardinals hold the best record in the NFL at 9-2, but they're coming off of a loss in which quarterback Drew Stanton struggled. When Carson Palmer was lost for the season with a knee injury, many questioned whether Stanton could finish off the job that Palmer had started. Arizona is attempting to become the first team to ever play in a Super Bowl at their home stadium, and Stanton could very well be the key.
On the other hand, Atlanta's 4-7 record is good enough for first place in a woeful NFC South division. There's no question that the Falcons have the offensive weapons to win some games, but they just haven't been able to put it all together this season. Matt Ryan has thrown for over 3,000 yards and 19 touchdowns, but the running game has been virtually non-existent. Steven Jackson leads the team with just over 500 yards rushing on the season.
Patriots vs. Packers – Sunday at 4:25 PM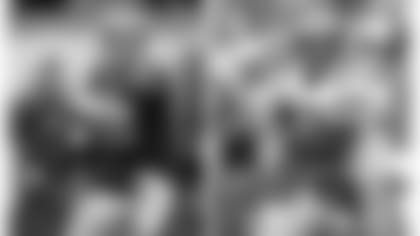 Tom Brady and the Patriots visit Aaron Rodgers and the Packers at Lambeau Field in the crown jewel of this Sunday's schedule. New England head coach Bill Belichick was asked earlier this week about the similarities between Brady and Rodgers, and responded by saying just that both wear No. 12.  However, the fact is that each signal-caller has hoisted the Lombardi Trophy and both are currently playing at the top of their games. Sunday's matchup ought to be a quarterbacking clinic put on by the two MVP candidates. This should be a heck of a game to watch.
Broncos vs. Chiefs - Sunday at 8:30 PM
As your Sunday winds down, why not spend the night watching former Eagles head coach Andy Reid lead his Kansas City Chiefs in a divisional showdown against Denver. Both teams made the playoffs in 2013 and had their hearts broken in different ways. The Chiefs blew a 38-10 lead against Indianapolis in the AFC Wild Card round, while Denver's hopes for a Super Bowl were derailed by the Seattle Seahawks.
This game will be a battle of tough, physical defenses (keep an eye on NFL sack leader Justin Houston causing havoc in the backfield), but it's also a very interesting quarterback pairing as well. Peyton Manning has long been known as one of the top quarterbacks of all time, thanks to his efficiency and field general mentality at the line of scrimmage. On the other side, Alex Smith has remained a very successful yet under-the-radar quarterback since joining the Chiefs prior to last season. Smith won't air it out, and he hasn't thrown a touchdown pass to a wide receiver all season, but he also won't make many mistakes.
These AFC West rivals seem to always play each other close, so this game very well may come down to who has the ball last.
Dolphins vs. Jets - Monday at 8:30 PM
This Monday night matchup can be known as "The Battle of Former Eagles Coaches Who Are Now Offensive Coordinators." While that title may be far too long, it will be interesting to see the offensive minds of Marty Mornhinweg and Bill Lazor go head to head. Mornhinweg worked under Andy Reid while he was in Philadelphia and Lazor gained national headlines for his work with the Eagles' quarterbacks under Chip Kelly.
On the field, the Dolphins feature an up-tempo, read-option attack, using many concepts that Eagles fans will find familiar. Ryan Tannehill has steadily improved at the quarterback position, and running back Lamar Miller has had a breakout season. And though the Miami offense has looked strong, it's the Dolphins' defense that's keeping them alive in the playoff chase, with some experts claiming that Cameron Wake and company are the top defensive unit in the league.
Facing a tough defense isn't exactly what the Jets are looking for as their tumultuous season winds down. After switching quarterbacks from Geno Smith to Michael Vick earlier this season, the Jets have gone back to Smith, whom they drafted in the second round of the 2013 draft. Mistakes have plagued Jets quarterbacks all season, so Smith will have to have a nearly perfect game to guide New York to a victory.