Eagles vs. Minnesota Vikings
Sun., Dec. 26, 1 PM, FOX, Lincoln Financial Field
[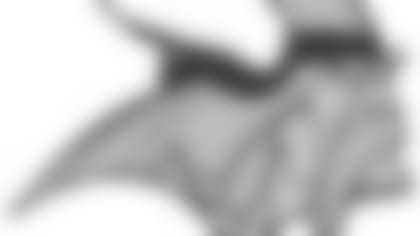 ](http://www.vikings.com)
Overall Series Record: 12-11
Record at Lincoln Financial Field: 2-0
Last Meeting: Jan. 4, 2009 - Eagles 26, Vikings 14 (Wild Card)
Game Recap: After a crazy sequence of events led the Eagles to the playoffs, they dispatched of the Vikings on their own field in the opening round of the playoffs. The Eagles' 16-14 halftime lead remained throughout the second half until a vintage 71-yard touchdown catch-and-run on a screen play by Brian Westbrook sealed the deal for the Eagles with just over six minutes remaining in the fourth quarter.
Game Preview
Well Eagles fans, how does a home game against Brett Favre sound as a Christmas present?
Last year, the Vikings did what the Eagles couldn't - beat the Dallas Cowboys. After their third and final win over the Eagles in the 2009 season, the Cowboys traveled up to Minnesota for the divisional round of the playoffs last year and were run off the field by the Vikings in a demonstrative 34-3 dismantling. The Vikings killed the Cowboys with their pass rush that game, and that's precisely what the Eagles will need to corral if Kevin Kolb is to have enough time to find the open receiver in this game.
The Vikings boast perhaps the best defensive line in all of football, with defensive end Ray Edwards, defensive tackles Pat and Kevin Williams, and defensive end Jared Allen, he of the 14.5 sacks last year. As a team, the Vikings paced the NFL with their 48 sacks in 2009, so the Eagles' offensive line will certainly have their hands full, especially Pro-Bowl left tackle Jason Peters, the man who will likely line up across from Allen.
But the Vikings certainly have more to their team than the defensive line. On offense, they have one of the league's most exciting players in running back Adrian Peterson, who led the NFL with 18 touchdowns in 2009. Peterson is equally adept at running around and over defenders, though he is sometimes prone to fumble, so the Eagles could have an opportunity for a big play on defense. At wide receiver, Sidney Rice emerged as one of the best deep threats in the game last year, hauling in 1,312 receiving yards. Of course, his quarterback had a lot to do with that.
Oh yes, that quarterback. Favre, 40, has yet to officially announce whether he will be returning in 2010, but all indications point to another season for the gray-bearded "gunslinger." Following a disappointing 2008 campaign with the New York Jets, Favre lit the league on fire in 2009, posting the best touchdown-to-interception ratio in the league, 33-to-7. But while his penchant for taking unnecessary risks was stifled for most of the season, the lasting image of his year was the game-clinching interception he threw across his body to a Saints defender in the NFC Championship game. Favre will no doubt return primed to go even further in 2010.
Cornerback Asante Samuel no doubt appreciates Favre's risk-taking approach, as he is considered the league's foremost gambler at cornerback, so there figures to be an intriguing chess match between those two. The Eagles' biggest question mark going into the season is widely-considered to be the secondary, so, in addition to Samuel, the onus will be on safety Quintin Mikell and whoever the other two starting members of the secondary turn out to be in order to prevent a Vikings home run.
-- Posted by Bo Wulf, 6:21 p.m., July 12