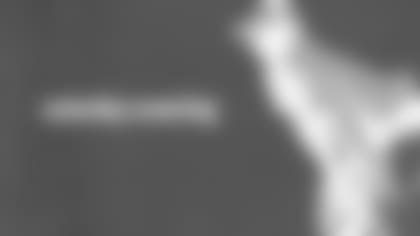 One of the first things NFL scouts do when looking at draft prospects in the spring in preparation for the NFL Draft is watch them against the best competition they faced in the previous season. How did a wide receiver fare against the best cover corner on his schedule? How did a pass rusher do when he faced a top-flight left tackle? How did a quarterback perform against the best defenses on the schedule? This fall we're going to take a look at the best head-to-head matchups in that week's slate of college football games, and give fans a preview of the top names around the country off the field in the process.
Welcome to Week One of College Football! With regular-season games getting under way earlier this week and the multitude of intriguing matchups to watch this weekend, this season is sure to jump off to a hot start. Every week I'll give you a taste of five key matchups to keep an eye on across the country, highlight a prospect that's getting a lot of positive buzz in the media, and profile a small-school player to keep an eye on for next year's draft. This week on the College Draft Podcast with Ross Tucker, I broke down all the best matchups from some of the top games of the week, but let's look at five more matchups that fans should keep their eyes on in this weekend's action.
Oklahoma QB Baker Mayfield vs Houston Defense
NRG Stadium, Houston, TX - 12:00pm - ABC
Baker Mayfield is coming off a season that saw him finish fourth in the final voting for the Heisman Trophy, a second-team All-American, and the Big-12's Offensive Player of the Year in just his first year as a starter for the Sooners. A Texas Tech transfer, Mayfield operates an up-tempo, wide open passing attack and boasts light feet and good touch to all areas of the field. At 6'0, 201 pounds, Mayfield is undersized and he doesn't have outstanding physical tools, but the biggest thing he'll need to prove in 2016 is an improved ability to stay poised under pressure and operate inside the pocket. In a senior quarterback class starving for talent, Mayfield has a chance to climb the ladder if he can stand out in that area this season.
Mayfield will have a chance to prove himself against a defense that is full of prospects at every level, despite losing first-round draft pick William Jackson III last year. Pass rusher Tyus Bowser is 6'2 244 pounds, was named to the Senior Bowl Watch List earlier this summer, and is viewed as a potential mid-round pick in next April's draft in Philadelphia. Linebacker Steven Taylor, who has received plenty of positive buzz over the offseason, is a bit undersized but lead the team with 10 sacks a year ago and finished with 92 tackles on the season. In the secondary, cornerback Brandon Wilson could be the most versatile prospect in the state as the only player in 2015 to score multiple touchdowns on all three sides of the ball. Wilson's 4.3 speed in the 40-yard dash was highlighted in multiple outlets this offseason, and he should be a Combine standout next February.
Wisconsin RB Corey Clement vs LSU LB Kendell Beckwith
Lambeau Field, Green Bay, WI - 3:30pm ET - CBS
Clement first popped on the radar as a backup to former first-round pick Melvin Gordon in 2014, but took a step back last season after injuries and off-field issues caused a drop in his production. The Glassboro, NJ, native displayed good burst, quickness and change of direction as a ball carrier with the natural ability to make defenders miss in the open field. A factor in the screen game, Clement has some positional versatility and best projects to a scheme that keeps things well defined for him up front. This is a loaded running back group overall, and Clement will have to rebound well to hear his name mentioned alongside players like Fournette, Chubb and Cook, and a standout game against this LSU defense will be a good start for his senior campaign.
Kendell Beckwith is going to be viewed as one of the leaders of the LSU defense once again after being named a captain as a junior last year. The starting middle linebacker in last season's 4-3 scheme will see a shift in defensive philosophy as they transition to a 3-4 in 2016. A former high school quarterback who has seen time at defensive end during his career, Beckwith is a thumper inside that brings a lot of value as a run defender. Can he be a factor in coverage? That's the question, and he will be tested in that phase of the game with Clement on the other side of the line of scrimmage.
Alabama WR Calvin Ridley vs USC CB Adoree' Jackson
AT&T Stadium, Dallas, TX - 8:00pm ET - ABC
Possibly the premiere matchup in the premiere game of the weekend, Ridley isn't draft-eligible next year, but he was one of the most dynamic receivers in the entire country as a true freshman in 2015, especially down the stretch. The south Florida native reportedly boasts 4.3 speed, and he leveraged that game-breaking ability for 89 catches, 1045 yards and seven touchdowns a year ago. We may not see Ridley take the stage at next year's draft in Philadelphia, but he surely is a player that fans should be aware of for the seasons to come.
Playing opposite of Ridley, at least on some plays, will be the hyper-athletic All-Pac-12 defensive back Adoree' Jackson. A track star at USC and two-time All-American as a long jumper, Jackson sees a ton of reps on offense as well in a slot receiver role for the Trojans, but he is a starter in the secondary for defensive coordinator Clancy Pendergrast. At times the USC staff used Jackson to shadow the other team's most dangerous threat (he did so against Notre Dame's Will Fuller in 2015), so there's a chance we'll see a ton of action between these two players on Saturday night. Jackson has outstanding speed, great quickness in and out of breaks, and the ability to line up anywhere on the football field. Does he have the instincts to play man coverage at a high level against top-end talent? This is the biggest test of his young career, and will surely be the first game scouts study if he enters the draft this spring.
Clemson TE Jordan Leggett vs Auburn S Rudy Ford
Jordan-Hare Stadium, Auburn, AL - 9:00pm ET - ESPN
This year's group of tight ends is very strong at the top, with a lot of talented underclassmen deciding to go back to school for their senior seasons this past spring. Clemson's Leggett is near the top of the list. At 6'5, 257 pounds, the Florida native has enough speed to get down the seam and be a threat vertically, but his strength is his ball skills. Leggett has some of the best hands in all of college football (he didn't drop one uncontested catch as a junior), and his ability to go up and reel in a pass through traffic is really impressive. Leggett will present matchup problems for defenses all season long.
Leggett is a threat in all areas of the field, but is most often used down the seam and down in the flats, so you can count on him being matched up often against safeties and linebackers. Auburn safety Rudy Ford doesn't have outstanding size for the position at 5'11, 194 pounds, but as a former cornerback he's got cover skills to stay in Leggett's hip pocket and defend throws. The fourth-year player was recently added to the Senior Bowl Watch List, so a strong performance against one of the top middle-of-the-field playmakers will go a long way towards him ending up in Mobile for the event next January.
UCLA T Conor McDermott vs Texas A&M DE Myles Garrett / DE Daeshon Hall
Kyle Field, College Station, TX - 3:30pm ET - CBS
Plenty of analysts are ready to tell you that UCLA's Conor McDermott is one of the best offensive tackles in the country, and at just under 6'8, 305 pounds, he has the size to back it up. The high school tight end has above average feet, especially for a guy with his frame, and I like his ability to hold his ground against bull rushers, but the second-team All-Pac-12 lineman has a lot to work on from a technique standpoint; particularly with his hands and with bending at the waist. If he's going to live up to the billing some have given him this summer, he'll need to at least hold his own against arguably the best pair of pass rushers in the entire country.
One of the best players in all of college football, defensive end Myles Garrett has the combination of size, athleticism, and competitiveness that you want for a top ten selection. The 6'5, 255 pound prospect dubbed 'Batman' by some of his coaches because of his physique, Garrett's got a freakish getoff, scary change of direction (his reported 3.90 short shuttle time would be the best of ANY pass rusher drafted in the last five years), and very impressive closing speed (reported 4.46 40-yard dash time). Everyone should know who Myles Garrett is, but don't forget about his teammate on the other side. Daeshon 'Dae Dae' Hall nearly declared for the 2016 Draft, but returned for his final season and is vying to be one of the best at his position in the senior class. Hall has a wide variety of pass rush moves, is a good run defender, and while he doesn't have the athletic traits of Garrett he has enough movement skills to scare people off the edge.
A player that was relatively off the radar but whose name kept popping up throughout the offseason, Louisville defensive tackle Deangelo Brown brings a lot to the table. Whether it was the love he received from Pro Football Focus, his making Bruce Feldman's annual 'Freak List', or showing up on the Senior Bowl Watch List, his name was continually thrown into the national spotlight. Well his tape backs it up because while Brown may not be a future first-round pick like his former teammate Sheldon Rankins, his strength at the point of attack makes him a great fit inside at nose tackle for his future NFL team. A standout run defender that can give you occasional disruption inside as a pass rusher, a strong senior year for Brown could potentially vault him into the second day of the draft.
I'm going to wrap this piece up with some local flavor with two programs based here in Philadelphia. First, I want to introduce you to a prospect from Villanova that fans should be aware of. At 6'6 ½, 280 pounds, Tanh Kpassagnon (pronounced 'Tawn-O Pass-N-yo') is a bit of a project on the defensive line, and I'm not sure if he's more of an interior player (such as Calais Campbell) or if he belongs on the edge (like Ziggy Ansah), but he's got a pretty good first step and moves well for a guy his size. He needs to get a whole lot stronger, but the Ambler, PA, native has physical tools you can't teach, and will be a prospect people will be talking about this postseason. Villanova faces off against Pittsburgh this week, and the Panthers have two prospects on the left side of the offensive line that will hear their names called early in next April's draft, so this is a huge test for Kpassagnon.
The Temple Football program returned to the prime time stage last year after beating Penn State for the first time in 73 years and after taking Notre Dame to the brink on the national game of the week in the middle of the fall. After seeing a handful of players get drafted and even more end up making teams out of rookie minicamp, the 2016 Owls returned to the field on Friday night against Army at Lincoln Financial Field. What are top prospects for the Owls like away from the field? I spoke with John DiCarlo from Owlscoop.com to get an inside look at some of the intangibles some of the top players can bring to their future NFL team.
QB Phillip Walker - "Off the field he's universally respected on that team. He and (Pittsburgh Steelers seventh-round pick) Tyler Matakevich were really close, and Tyler was seen as the leader on that team (last year). It's a little symbolic that Walker is wearing Tyler's number this year (Temple awards single digit jersey numbers to the toughest players on the roster). He works hard, he's spent a lot of time around Matt (Rhule) and (quarterback's coach) Glenn Thomas. He's a tough guy on the field...he's not a finished product but he spends a lot of time around the coaches and they really like him. They like his growth, they like his development and again he's been around all of the guys on the team that have been leaders, and now other guys are learning leadership from him. He never hangs his guys out to dry...being around him and being around the guys on that team you see that his teammates respond to him."
He's undersized but a good athlete with a strong arm. Temple's All-Time leader in touchdowns.
RB Jahad Thomas - "He's always been very easy going. He wasn't sure if he was going to qualify (out of high school), so he didn't have a ton of big-time offers...and he doesn't really talk outwardly about having a chip on his shoulder but he knows he's one of the best running backs in the country. As far as I know with the coaches, he never complained when (earlier in his career) they moved him back and forth between cornerback and running back. He played special teams, he was a kick return guy. They tried him a lot in the screen game (early in his career) and there were a couple of plays where he came up a little short of scoring a touchdown. So he went into that offseason knowing he had to get stronger and more explosive and he did that. He has always done the right things off the field. He was banged up in that Notre Dame game and kept playing and tried to play through pain. He's a pretty humble kid, he doesn't complain when (younger teammates) get rotated in during practice. I've never heard him complain about his role, and it just goes back to him being appreciative for the opportunity he got at Temple." - DiCarlo
Thomas profiles as a nice change of pace option at the next level. He's got great wiggle and is a good option in the passing game. He was named to the Senior Bowl Watch List.
OT Dion Dawkins - "He's learned enough to know that he can't get too caught up in the NFL because he has to play well first, and then he'll worry about (the pre-draft process). He's focused on having a good senior season. He didn't have to be the leader on that offensive line before, Kyle (Friend, a four-year starter who graduated last year) was that guy for them. Dawkins is definitely the leader on that line now, he really looks after Walker and the other guys on that line. He fought through a broken foot as a sophomore. He's really looked up to on that line, he's fought through injury. That line was not supposed to play as well as it did against that Penn State front seven last year...but Dion had a real hand in that. Dion was leading that group just as much as Kyle was. He's an easy going kid off the field, people respect him." - DiCarlo
Dawkins has good size, light feet, and quality athleticism. He's likely the top prospect on the team and was named to the Senior Bowl Watch List.
DE Hassan Reddick - "Pretty nice kid. At least with the media he's kind of understated, kind of shy. He was not on scholarship until this year. You almost forget that he came in as a walk-on because he's turned into a really good player. He does his job every week. He's really worked hard...he's really carved out a nice career for himself. Right now, he's their best outside rusher, he's really quick, he's really strong. The coaches always talk about how hard he's worked and how he never griped about not earning a scholarship until recently." - DiCarlo
Reddick nearly made Feldman's Freak List and was named to the Senior Bowl Watch List.