Howie Roseman spoke with reporters for a half-hour on Wednesday to recap the 2016 season and preview what the Eagles need to do to improve in the offseason. Here's four key takeaways from his media session:
1. Biggest Success In 2016: Finding The Franchise QB
The Eagles had a lot on their plate entering last offseason. The coaching staff had to be pieced together, a number of core, young players were set to become free agents within the next year or two and perhaps most importantly in terms of the roster, the team had to identify a starting quarterback moving forward.
When Roseman was asked to look back upon what the 2016 season meant for him and for the organization as a whole, he quickly pointed to the fact that with Carson Wentz now in the fold to go along with a cornerstone defensive piece in Fletcher Cox, the Eagles have undoubtedly found their starting quarterback and offensive leader for years to come.
Last January, quarterback was a huge question mark for the Eagles. Sam Bradford was about to be a free agent after one up-and-down season in Philadelphia. Mark Sanchez didn't appear to be the long-term answer, and the Eagles didn't have a lot of draft picks to work with to try to make something happen.
Still, Roseman found a way to move the Eagles up to the No. 2 overall pick, where Carson Wentz would eventually be tabbed as the next Eagles franchise quarterback.
"I think you're just dealing with the reality of the situation," Roseman said, looking back. "I can say that sitting up here last year, it was challenging. It was a challenging situation, and it starts with the quarterback position. We didn't have a starting quarterback under contract. (Bradford) was a free agent. We were picking 13th with no (second-round pick because of the Bradford trade), and we sat down and said that if we could come out of this offseason and sit here next year at this time and feel like we had a permanent answer at that position, we're going in the right direction.
"So I know it's tough to boil it down to that, but that was how important we thought it was in that situation to get it. Part of that was the analysis that there was a graying of the quarterback position in the National Football League. We had done a preliminary analysis of what was coming out going forward, and we just felt that it was a unique moment to be able to move up."
Wentz set both franchise and NFL completion records in his rookie season, showing promise of what could be in the years to come for the Eagles. Like all rookies, Wentz had his share of struggles to go along with his great moments, but Roseman and the rest of the front office are more than confident that last season's quarterback question has been answer definitively.
"Carson missed the final three preseason games. He missed a month of Training Camp. He was notified he would be the starting quarterback eight days before the start of the regular season," said Roseman. "His competitive fire, his intangible skill set, his physical skill set – we couldn't be more excited about the things he brings to the table and see what he can do with a full offseason and an opportunity to grow here in Year Two."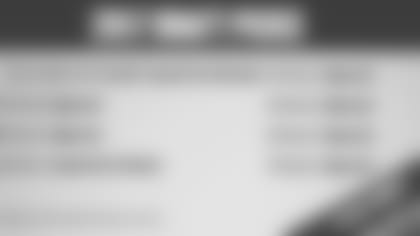 2. Eagles Must Now Build Around Cox, Wentz
The Eagles have secured a young, franchise player on both sides of the ball with quarterback Carson Wentz and defensive tackle Fletcher Cox. The challenge for Howie Roseman and the player personnel staff now is to build around them.
"We've got a 24-year-old quarterback. We have to do the right things so that when you look around the league, those guys are all taking off, the team is ready to take off with them," Roseman said. "There's a big difference between competing to be a Wild Card team and getting the bye in the playoffs.
"I think you go back and look at 2008 when we were in the championship game and then 2009 and '10, 10-6 isn't good enough to get homefield advantage, to compete for a championship. It's a huge edge to have that bye. We've got to build the team with that in mind. I think some of the things that we've done over the past few years have been to get to 10-6 and that's not good enough."
The Eagles have nine players who ended the season on the roster who are scheduled to be free agents in March. They also have to determine which positions to attack aggressively, such as offensive line a year ago, so that the team isn't going with Band-Aids on a year-to-year basis.
"Ideally in free agency, you're signing 26-, 27-year-old guys who are going to be a part of the core. Unfortunately, teams are doing a good job of locking those guys up as well. We have to try and balance that by bringing guys here who fit what we are trying to do, understand that there's no way to do everything in one offseason and just look at each situation individually," Roseman said.
The Eagles have eight draft picks, including either the No. 14 or 15 overall in the first round - the exact spot will be determined with a coin toss between Indianapolis and Minnesota at the NFL Scouting Combine. Roseman stated that it is important for the team to not "compromise" based on need and bring in the best talent possible.
"We're trying to compete with the best teams in the National Football League," Roseman said. "We're certainly not there right now as we stand, but I feel a lot better than where we stood last year at this time."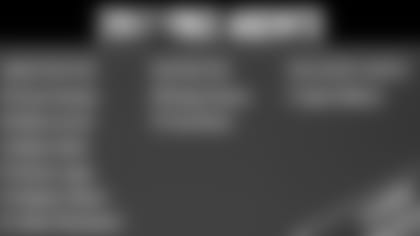 3. How Will Eagles Navigate The Salary Cap?
As the Eagles look toward next season, one of the biggest challenges the team and Roseman will face revolves around the salary cap. According to overthecap.com, the 2017 base salary cap is expected to be $168,000,000 – the exact figure will be announced later in the offseason. The Eagles currently only have $9.4 million in cap space to work with, a much lower figure than the team is used to.
"It's unusual, certainly since I've been here, to have a more challenging situation, but part of our job in the front office is to look at this over a long period of time," Roseman explained. "As we sit here today, it isn't like the first time that we're kind of looking at that situation. We'll do whatever is best for the football team."
The Eagles' executive vice president of football operations also said the salary cap factored into the decision to trade quarterback Sam Bradford eight days prior to the 2016 season opener. He wanted to create more flexibility moving forward.
To further help with the cap issue, Roseman admitted he will look at the team as a whole to determine whether or not money is being distributed properly. In turn, there will be tough decisions for him that lie ahead, especially regarding some veteran players and impending free agents.
"As we look toward putting a plan in place, we've got to look at everyone on the team and figure out what the value is," Roseman said. "Again, don't want to talk about anyone specifically out of respect for those guys about contract situations, but we've got to do whatever is in the best interest of the team moving forward."
4. What is Joe Douglas' Role?
An off-the-field addition for the 2016 season was bringing in Joe Douglas as the team's vice president of player personnel.
"With his insight, with his leadership, his ability to lead the draft room, his ability to put the free agent board together, we think he's going to be a huge addition for this staff," said Howie Roseman.
Douglas was hired on May 11, 2016, after spending the 2015 season with the Chicago Bears as the director of college scouting. Before his time in Chicago, Douglas was with the Baltimore Ravens from 2000-15 holding various scouting positions, his most recent being the national scout from 2012-15.
Since hired by the Eagles late in the offseason, this will be Douglas's first draft and free agency signing period in Philadelphia.
Douglass input will play a vital role in the team's future success. Previously, Douglas has helped acquired players such as quarterback Joe Flacco, kicker Justin Tucker and linebacker C.J. Mosely. Douglas was on the staff when the Ravens captured the Super Bowl in 2012.
"He's already added valuable input to what he's looking for in players, what he thinks he can bring to this team and we can't wait to see what he has in store for us in March," Roseman explained. "He's got a way of looking and evaluating players that is different than what we've done in the past and quite frankly we needed that."
Douglas' first move with the Eagles was bringing in Andy Weidl as the assistant director of player personnel. Douglas and Weidl previously worked together in Baltimore, as Weidl served as the Ravens' East regional scout from 2013-16.
Although Douglas has full reign to set the draft board, Roseman said the final decision will be collaborative effort.