Russell Shepard's favorite player has always been Michael Vick. The undrafted rookie wide receiver out of LSU admitted that he's been a little star struck around the Eagles quarterback at times, though you wouldn't know it by watching Shepard on the field. Take Saturday's practice, for example, when Shepard hauled in a difficult 50-or-so-yard completion from Vick. It was such a seminal moment for Shepard that he made a bee-line to his phone following practice.
"I went in and I called my dad," Shepard said following Sunday's practice at Lincoln Financial Field. "To play among all these guys is a dream come true, but to have somebody like Vick to mentor you, to teach you the game, words can't explain how that makes me feel."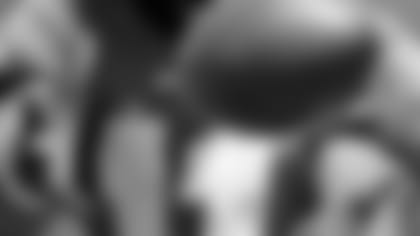 That context should tell you how much it meant to Shepard when Vick was asked to identify a young receiver who has impressed him early on and responded with a nod to Shepard.
"It's a blessing," said Shepard. "Somebody like Michael Vick, who's a future Hall-of-Famer in my book, a great guy, a great individual and an amazing football player. I mean, that's my favorite player of all time. So for my favorite player of all time to mention my name in a sentence, it's a humbling experience."
All told, Shepard has probably been the Eagles' most prolific wide receiver since he arrived at the NovaCare Complex following the NFL Draft. That's because he's been relentless about catching hundreds of extra balls following practice every day. The rookie is fully aware that he has a long way to go in his fight for a roster spot.
"I need to get better at everything, from running routes to catching the football to understanding the concepts and learning how to go inside and outside to being able to contribute on special teams," he said. "As a football player, I have tons of things to work on. I'm green to this league and if I want to be here a long time, I have to learn to contribute in many different ways."
Of course, Shepard's chances of making the roster have only increased following the injury to Jeremy Maclin.
"Yeah, in reality it does (help my chances of making the team)," Shepard said. "But it's hard to see Jeremy, not only is he a great football player, he's an amazing individual. My first day here, he welcomed me with open arms even though I was an undrafted free agent. My thing is to make him proud and step up for him."