Reflecting on his first NFL mini-camp, first-round pick Jeremy Maclin seemed genuinely pleased by his first audition and about as prepared as a rookie could be for the pressure to be ramped up.
"I think I made a lot of progress over these three days. I think I learned a lot and got better each day," Maclin said Sunday as the post-draft mini-camp came to an end. "I'm definitely on the right track."
Over the course of the five practices the 6-foot, 198-pound Maclin showed flashes of the explosiveness that prompted the Eagles to select him with the 19th overall pick in last weekend's draft. Maclin worked in with the first-team offense as the X receiver (split end). He caught passes from Donovan McNabb while working against veteran cornerbacks like Ellis Hobbs. And he came away feeling pretty good.
"I still have stuff I have to work on, obviously. I'm a rookie. No rookie comes in and takes over like that," Maclin said. "I think I'm on the right path for sure."
While the opportunity to step in and contribute right away is a real possibility for Maclin, along with fellow rookies LeSean McCoy and Cornelius Ingram, head coach Andy Reid preached patience when asked about his young playmaking trio making an instant impact.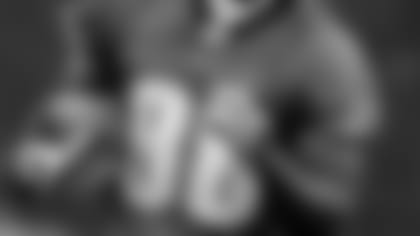 TE Cornelius Ingram
"This is just the first step," said head coach Andy Reid. "Now they are going to come back for the OTAs and the passing camps (and it's) important that they retain what they've learned in this camp here."
Force fed a river full of information during this camp, Maclin, McCoy and Ingram held up well and manifested few of the rookie jitters.
"You just have to go in there and be competitive," said McCoy, the 5-foot-10, 198-pound running back out of Pittsburgh. "You can't think that you can't compete with these players or you can't play with them."
Quickly mastering the West Coast offense terminology is especially tough on position players, even ones as talented as this trio. However, to a man, each player realizes that a lot of mental and physical education lies ahead before they can unleash their full potential.
But this weekend was a good start. In fact, Maclin said things actually started to click for him in Saturday's afternoon practice.
"I started picking up everything really fast and going along like I've been here for a while," he said. "I was moving around really well, made a lot of plays."
McCoy showed good quickness and caught the ball very well while absorbing as much as he could from Brian Westbrook.
"There's so many things that you have to know as a running back, especially a rookie," McCoy said. "It's just the whole thing with knowing the plays, knowing where to be at, who to block. I have to take some off-time to really focus in on that. It's a new system, it'll take a little bit (of time), but once you know it, you'll know it and you can play."
Ingram, meanwhile, looks like another fifth-round find. The 6-foot-4, 245-pound tight end caught just about everything thrown his way and appears capable of stretching the field with his speed. He made several acrobatic catches in the workouts and showed no lingering effects of the knee injury that sidelined him at Florida last season.
"As far as practicing, I think I did pretty good this weekend. It was just like riding a bicycle all over again," said Ingram, who played in a spread offense in college. "The coaches know I can play. It's just understanding the offense and knowing where I need to be on every play."
Inventorying the positives and negatives of their first NFL camp is sure to continue in the weeks ahead as the players prepare for the rookie camp later this month. That camp will test their mental ability to retain the information they learned this weekend. Until then they must continue to study the playbook, and study and study and study some more. It's all about repetition.
"It's the route running and getting all of the plays down and constantly repeating it," Maclin said. "That's how you get better and become the guy coaches want you to become."