It's Andy Reid's 10th year coaching training camp at Lehigh University, and still not everything is completely familiar to him.
In particular, the relocation of the media tent threw him off at his introductory press conference Monday afternoon.
"We changed the tent around here," Reid joked. "It feels like my first year."
Despite some lingering issues with injuries and contracts, Reid seemed upbeat while discussing what is, in essence, the start of the 2008 NFL season. He said that most of the rookies who arrived today are anxious to get out of the blocks, despite the inherent challenges that training camp provides.
"Not that anybody likes training camp, but we're looking forward to the challenge of bettering ourselves this year, compared to last year," Reid said, "while at the same time understanding that every year is different in the National Football League."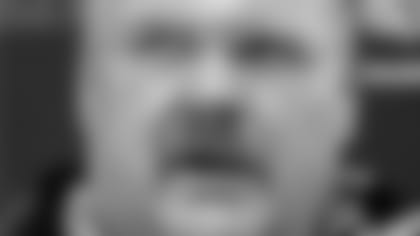 Head coach Andy Reid
Reid said that quarterback Donovan McNabb feels "pretty good" after several throwing sessions in Arizona, suggesting that the shoulder tendinitis he struggled with in the spring had dissipated.
Reid said he expects both running back Brian Westbrook and cornerback Lito Sheppard to be in attendance when the remainder of veterans report on Thursday, and that neither player's firing of his agent should raise alarms for a potential holdout.
"We have always done a good job with those things. I'm not worried (about Westbrook)," Reid said, later adding that "Lito seems to be in a good place."
Reid said he talks to Westbrook often, but he has not spoken to Sheppard since Sheppard decided to skip the Organized Team Activities (OTAs) in June. Still, he expects to meet with both players when they arrive on Thursday.
Guard Scott Young, who too missed the OTAs for undisclosed reasons, is also expected to be back, Reid said.
Additionally, Reid announced his "30-Plus Club," which means all players 30 and over will practice two days, and then have the morning practice off on the third day. He said, however, that "the rule will be bent" for quarterbacks and specialists.
What, exactly, prompted this new program?
"Well, they're old," Reid joked.
At the end of his press conference, Reid received some good news regarding contracts, when he was informed that the Eagles' top pick, defensive tackle Trevor Laws, had just signed his four-year deal. Earlier in the session, Reid commented that Laws' contract talks had been held up for a short time because of a technicality in the NFL's collective bargaining agreement.
It should leave Reid with a relatively full squad for his 10th camp.
"You want to see (the players) play football," Reid said, "and how they do it day-after-day being in this heat when you're beat up, you're tired, you're being thrown a ton of plays."
NOTES: Rookie defensive end Bryan Smith will have an MRI on a hamstring he injured earlier this month while working out. His return is indefinite. ... Laws will likely miss the rookie portion of training camp with a foot injury.