On a beautiful, sunny Sunday afternoon at Lincoln Financial Field, the Eagles played their first home game of the 2013 regular season in front of a raucous crowd of 69,144. Though the final result was a disappointing 33-30 loss to the San Diego Chargers, two of the Eagles biggest stars on offense shined bright. After torching the Washington Redskins, wide receiver DeSean Jackson and running back LeSean McCoy each again showed the combination of electrifying speed and dazzling moves that makes them two of the most dangerous players in the entire NFL.
Jackson followed up his seven-catch, 104-yard, one-touchdown debut against the Redskins with an even better performance. He was virtually uncoverable, consistently beating the Chargers secondary deep and in the intermediate portion of the field. On a career day for quarterback Michael Vick, Jackson was on the receiving end of 193 of Vick's 428 passing yards. That total marked the second highest of Jackson's career, which he bettered with a career-high nine catches. Vick and Jackson connected on a gorgeous 61-yard touchdown in the third quarter, in which Vick lofted an inch-perfect 45-yard pass down the sideline and dropped the ball right over Jackson's shoulder.
With the kind of opportunities that presented themselves throughout the game, however, it felt like Jackson could have gone for 300 yards and four touchdowns. In addition to near-misses on three deep passes, his 37-yard catch-and-run touchdown in the third quarter was negated by an illegal formation penalty on rookie right tackle Lane Johnson. Though Jackson lamented the missed chances, he understands that the sky is the limit for him in this offense, particularly when defenses stack the box to stop McCoy, as the Chargers did. Any time Jackson gets to go one-on-one against a cornerback, the Eagles will look to exploit the matchup.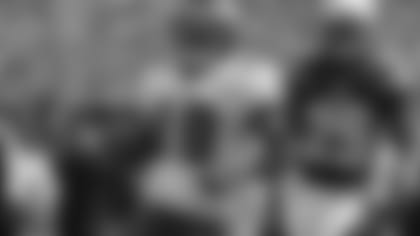 "Teams are going to do different things to take (things) away," Jackson said. "Today, the Chargers just stacked the box and said we're going to stop the run. But as you see, our passing game is definitely effective just as well as our running game … (The Chargers defense) did a great job of saying they were going to take away (McCoy), so (Vick and I), throughout the game we felt we were going to have some good matchups. (Chargers cornerback) Shareece Wright was following me throughout the whole game. He played at (Southern California), I played against him before. I just felt I was going to be able to take advantage of that matchup. Anytime we have the type of matchups where guys will try to get in my face and try to press me the whole game, I like my options on that."
Because of the Chargers' defensive game plan, McCoy was not quite as prolific on the ground as he was in the season opener. The Chargers consistently loaded the box with eight defenders and swarmed McCoy whenever he was handed the ball. He had very little room to run, often having to juke at least three defenders in succession just to pick up a few yards. McCoy ended up with just 11 carries for 53 yards, a far cry from the 31 carries for 184 yards he churned out against the Redskins. Nevertheless, he was hardly silenced and did most of his damage against the Chargers as a receiver. McCoy signaled things to come with an amazing 70-yard catch-and-run, the longest reception of his career, on the first play of the Eagles' second drive of the game. He followed that up with four more catches for 44 yards, finishing with five catches for 114 yards. Even in a game when McCoy was contained as a runner, he showed his versatility by totaling 167 total yards on 16 touches.
"I think when you try to take me out of the game, you think of running, but I can be effective in the passing game," McCoy said. "And through the week, we kind of went over those types of plays and tried to give me a one-on-one matchup with anybody from a safety to a linebacker. So I think this offense is amazing, so many different ways to get playmakers in space so we are going to see a lot of different things this year. I'm surprising myself with some of the balls and how (Chip Kelly) can figure out to get the guys in one-on-one situations, so I see exciting offense."
Jackson and McCoy are both just scratching the surface of their potential in this offense, and in the first two games following a season to forget in 2012, they have reestablished themselves as two of the league's best, most dynamic playmakers at their respective positions. The Eagles will have to lick their wounds quickly and move on from this tough loss to the Chargers, as former head coach Andy Reid and the 2-0 Kansas City Chiefs come to town for Thursday Night Football in four days.
"Coach Reid is a father figure to me," Jackson said. "He's a great guy, and we've been keeping in contact throughout the offseason and the preseason. He texted me after last week's game, so it's going to be great to see him come back. With the relationship me and him have, I respect him to the utmost, but hopefully I'll be able to send him home with a loss. At the end of the day, I'll see him and tell him how much I miss him and things like that, but we have a game to focus on. I can't wait to get back in there tomorrow, watch the film, and make the corrections we need to make and move forward."
"We have a lot of room for improvement, and I think we will do that tomorrow, look at the tape and get better and practice," McCoy said. "Now we have to worry about the Chiefs. I got my big guy coming in here, Andy Reid, and it's going to be an exciting game."