The first real day of Training Camp came and went Friday as all 89 players on the roster hit the practice field at the NovaCare Complex. There were several highlights, including one amazing catch by DeSean Jackson, as the tempo remained rapid. There were two hopefully minor injuries to report as wide receiver Arrelious Benn suffered a left knee injury that is still being evaluated while cornerback Cary Williams tweaked his right hamstring.
"(It's) just something minor, nothing major, nothing you guys need to write about," Williams said, ensuring that we would indeed write about it."It was just a little tweak in the hamstring...I'll be fine.
"If there was a game, I probably would (play)," Williams said. "I'd try to play through it, wrap it up, get shot up and do whatever it takes to get right, but fortunately for me and the Eagles, there's no game tomorrow. It's another day of practice and we get to work on it."
Williams will likely be day-to-day in the short-term.
As for the action on the field, here's what we saw …
It's not merely lip service, the pace at practice is very quick. As soon as the whistle blows to end a play, the coaches urge players to hustle back to the line and get set for the next one. Running backs used to sauntering farther downfield after getting beyond the second level have to learn they can't do that anymore or they'll delay the next snap. Pretty much every "break" in between the end of one play and the offense getting set for the next lasted under 15 seconds. There were even a few that clocked in just under 10 seconds, which is incredible.
It was a quick start for the top two rookies on the Eagles as first-round pick Lane Johnson lined up exclusively with the first team at right tackle (alongside Jason Peters, Evan Mathis, Jason Kelce and Todd Herremans). Meanwhile, second-rounder Zach Ertz worked in with the first team on occasion despite his lack of practice time. He had two really nice catches. The first was on a tight throw that Vick fit in between two defenders. Ertz was sliding to the ground but reached his arms up and snagged the ball. Strong hands. The second was down the sideline. Ertz used a little veteran push-off move on the cornerback to create space, then high-pointed the ball and got both feet down inbounds.
On defense, the primary first-team alignment in the secondary featured Cary Williams and Bradley Fletcher at cornerback with Nate Allen and Patrick Chung at safety. Curtis Marsh stepped in for Williams when the latter tweaked him hamstring. The first-team defensive line, when in a three-man front, was Fletcher Cox, Isaac Sopoaga and Cedric Thornton.
During the final 11-on-11 session, the defense worked on its nickel package with Brandon Boykin in the slot. The team went mostly with a four-man front in these cases: Trent Cole, Thornton, Cox and Connor Barwin. Clifton Geathers and Bennie Logan each got reps at nose tackle with the second team during the nickel session.
Riley Cooper made an amazing catch on a tough throw from Michael Vick. Working the middle of the field, Cooper had to reach back across his body, full extension, and, with him essentially at a 45-degree angle off the ground while in the process of falling, plucked the ball.
Kurt Coleman had a nice interception off a deflection in the middle of the field. Barkley tried to squeeze a pass to Russell Shepard in between two defenders. The ball was tipped in the air, and Coleman swooped in to make the pick. Take it from Kurt himself, he "makes plays."
-- Michael Vick used his mobility multiple times to get outside the tackle box so he could establish clear vision. He made some really nice tight-window throws. He took the reps with the first-team offense in the beginning of practice, while Nick Foles took over with the starters in the latter half of practice.
-- Foles was consistently the first to get the ball out of his hands, made quick decisions and fired. He looked comfortable running the offense.
-- Matt Barkley took command at the line of scrimmage, directed players where to line up and when to motion. He obviously has a strong grasp on the offense and showed touch on some of his passes.
Wide receiver DeSean Jackson showcased his playmaking ability at the first full-team practice on Friday as he made a ridiculous, highlight catch against cornerback Bradley Fletcher during a 7-on-7 drill. It came on a fade down the right sideline. Nick Foles launched a pass that was slightly inside, and it looked like cornerback Bradley Fletcher would be able to make a play. Instead, at the last moment, Jackson jumped and reached in front of Fletcher with his left hand to deflect the ball up in the air. As Fletcher's momentum took him out of position, Jackson settled and caught the ball on its way down as both of them tumbled to the ground.
Jackson is a toy that can shine in Chip Kelly's offense. He is looking to bounce back after missing the final five games of 2012 with fractured ribs. Jackson did have 700 yards in the first 11 games, but only two touchdowns.
Kelly knows the potential that Jackson has and believes that Jackson's approach to the start of Training Camp showed the desire to fulfill that promise.
"That's what we talked about before I left (for the summer), we said, the sky's the limit for him, and he could be a real special player in this league, but he's got to make that decision that he wants to be. I think what he did, just watching where he is right now and his pace and tempo as he's running around practice right now, he's what we want," Kelly said.
"We tell that to our players all the time, we want our guys to be like super balls, not tomatoes. The super ball bounces all the time. He's the ultimate super ball. He bounces all around the field. You watch the looks he did just making our punt team better by fielding kicks back there and letting them learn how to cover it. Real impressed with how he's approached it and how he came back to camp and excited to continue to work with him."
Zach Ertz's Baptism By Fire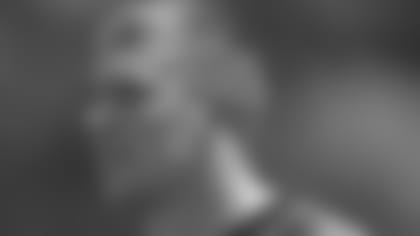 Tight end Zach Ertz missed the spring camps due to the NCAA Graduation Rule. Ertz was able to spend time at the NovaCare Complex with the rookies prior to the summer break, but this past week provided his first true on-field work since May.
The layoff didn't prevent head coach Chip Kelly from throwing the team's second-round pick into the mix with the veterans during the first full-team workout on Friday. The 6-foot-5, 250-pound Ertz showcased his ability to stretch the field and use his size to his advantage when he outmuscled cornerback Brandon Boykin for a pass down the right sideline during a 7-on-7 drill.
"He's a smart kid. He did a real good job," Kelly said. "We'll see when we look at tape, did he make any mistakes? He's been good in meetings. He's been good in the two days we had rookies. He obviously was really behind just because of the rule.
"The one thing you knew with him and Jordan (Poyer, who also missed the spring), both really, really sharp guys and they worked at it so you could tell they had their head in the playbooks when they were away, and now it's good that we get a chance to actually work with them."
Kelly Impressed With Veterans' Prep
Sixty players on the current roster took the team's conditioning test on Thursday and all of them passed including rookies Matthew Tucker and Brad Wing, who were unable to take part in the Rookie and Selected Veterans practices because they did not meet the standard in their initial opportunity.
Kelly was impressed with how the veterans handled themselves during their time away from the NovaCare Complex.
"It proved to me that these guys are pretty serious and they did their work over the summertime because it's a real simple deal for us. If you didn't pass your test, didn't matter who you were, whether you were a rookie or you had been here for 10 years; If you didn't pass your test, you weren't going to practice.
"Everybody is practicing, and everybody passed it. The young guys (Tucker and Wing) probably had a little bit of a wakeup call, but they did a good job (Thursday) with it. For the group to come in like that, I was impressed with their conditioning at this point in time."
Proper conditioning will be a must for the Eagles. Last year at Oregon, Kelly ran 1,077 offensive plays in 13 games, which would have ranked seventh in the NFL's 16-game schedule.
Earlier this week, the wide receivers utilized Nerf balls to improve hand-eye coordination, reaction time and touch. In practice on Friday, the punt returners were fielding the ball with tennis balls in their hands.
"Just trying to teach them to catch the ball with their body not their hands all the time because sometimes you can't get the ball in proper position if you're always just reaching to grab with your hands," Kelly said. "Just like using a weighted bat in baseball, trying to get a feel for doing it the right way. They'll catch a couple without them so they know they're in a proper position from a fundamental standpoint, and then you take the ball away."
DeSean Jackson, Jeremy Maclin and Damaris Johnson each took reps during the drill.
Dan Klausner, Chris McPherson, Alex Smith and Bo Wulf contributed to this report.