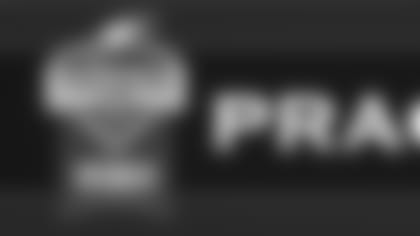 Here's your full report from the second joint practice with the Eagles and New England Patriots as the two teams prepare for Friday night's preseason opener ...
Five players were sidelined to start Wednesday's joint practice with the New England Patriots: defensive tackle Antonio Dixon (hamstring), tackle Dennis Kelly (back), guard Nate Menkin (illness), tackle Jason Peters (hamstring) and tackle Ed Wang (knee).
Wide receivers Damaris Johnson and Russell Shepard each left practice early with a hamstring injury. Running back LeSean McCoy did not take part in team drills again due to a knee injury. Running back Felix Jones (hamstring) and cornerback Cary Williams (hamstring) also did not finish practice.
Wide receiver Arrelious Benn was also placed on season-ending injured reserve with his torn ACL.
What You Missed On The Field
As the teams split into one-on-one drills, the Eagles' formidable offensive line got a test from the Patriots pass rushers. All-Pro defensive tackle Vince Wilfork only took one rep, as center Jason Kelce did well to hold his own against the big man.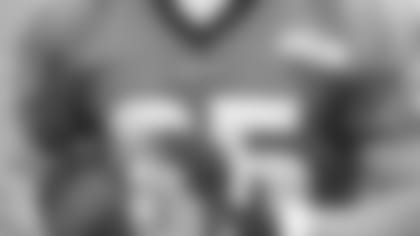 Lane Johnson continued his strong preseason, doing very well on two reps at right tackle against Rob Ninkovich.
Fighting for a roster spot as an interior lineman, Julian Vandervelde worked at both center and right guard and held up well against a much bigger man, Patriots defensive tackle Marcus Forston, 6-3, 305.
Allen Barbre has been working as the first-team left tackle for the last few days while Jason Peters and Dennis Kelly are out with minor injuries. He held up very well against the impressive sophomore pass-rusher Chandler Jones.
The Eagles wide receivers looked very good on Wednesday morning. During one-on-one drills with New England defensive backs, Riley Cooper made a nice one-handed grab, beating Alfonzo Dennard in coverage. Cooper would later run a corner route into the back of the end zone, and Matt Barkley put the ball right on the money for a touchdown.
Sticking with one-one one drills, Greg Salas was able to adjust to the ball in the air to make a nice catch in front of Marquice Cole. That wouldn't be the last that we saw from Salas.
During seven-on-seven drills, Michael Vick found Zach Ertz on back-to-back plays for touchdowns. Ertz continues to emerge as an offensive threat for the first-team offense.
Chris Polk continues to impress. On a few different occasions, Polk ran through the line of scrimmage untouched, drawing some reaction from the fans. He has a knack of finding holes and accelerating through them.
Look out! Patriots head coach Bill Belichick stood in the secondary to watch his defense during seven-on-sevens. On a Michael Vick post pass to DeSean Jackson, New England defensive back Duron Harmon nearly ran into his head coach on the play; however, Belichick avoided the collision. That's one way to get your coach's attention.
Greg Salas caught a quick screen pass from Nick Foles and ran it up the sidelines for a modest gain. That doesn't sound like much, but Ifeanyi Momah had a terrific block on the play, showing that he can be more than just a big target.
On the defensive side, the Eagles secondary looked very comfortable against the formidable Patriots offense. Tom Brady threw a deep ball to Julian Edelman ( a good 40 yards or so) that was excellently covered by both Bradley Fletcher and David Sims.
Patrick Chung also looked very sharp against his former team. On one particular play, he knocked a would-be touchdown away from Edelman. Chung has been seeing a lot of time in the slot recently, and he appears to relishing the opportunity.
Play of the day: Matt Barkley threw a pass deep down the right sideline (35 yards or so) to Greg Salas who was tightly covered by Logan Ryan. Salas, who is playing against one of his former teams, reached up with only his right hand and snared the ball out of the air.
A day after the first-team defensive secondary consisted of Kenny Phillips, Patrick Chung, Bradley Fletcher and Cary Williams, the Eagles staff continued to mix things up, as they have throughout camp. Wednesday's first-team defense featured Nate Allen and Kurt Coleman at safety with Curtis Marsh and Brandon Boykin at cornerback.
Cornerback Brandon Hughes continued his strong preseason with a fine day, including a deep pass breakup on a Ryan Mallett pass during seven-on-sevens.
A day after Brady was unstoppable in seven-on-sevens, the Eagles red-zone defense did well and even forced Brady to throw a ball away because of tight coverage. Jake Knott did well in coverage and Bradley
Fletcher hit Patriots tight end Zach Sudfeld just in time to force an incompletion in the back of the end zone.
During team drills, it was another hoo-hum standout day for DeSean Jackson, who continues to run holes through whatever defense he faces.
The second-team defense was called upon often to defend the run and a pair of rookies stood out for their performance – defensive tackle Bennie Logan and safety Earl Wolff, who proved unafraid of mixing it up near the line of scrimmage.
Allen Barbre: The Journeyman With The Starters
It's pronounced "Bar-bray."
Offensive lineman Allen Barbre has found himself working with the first-team offensive line unit at left tackle during these joint practice with the New England Patriots. Four offensive linemen were sidelined for Wednesday's practice including three tackles - starter Jason Peters (hamstring), Dennis Kelly (back) and Ed Wang (knee).
The sixth-year veteran was signed during the offseason after spending the early part of the 2012 season with the Seattle Seahawks. A fourth-round pick of the Packers in 2007, Barbre has played in 32 games (seven starts) with Green Bay and Seattle, while also spending time with the Miami Dolphins.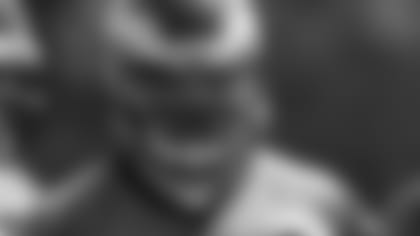 It's not the first time Barbre has worked with the first-team offensive line. Barbre saw reps at left guard when Evan Mathis was sidelined recovering from ankle surgery.
"If I can back up more than one position that makes me more valuable," said Barbre uttering the unofficial journeyman's credo. "I've played a lot of both. The last couple of days I've been playing tackle, but for the most part I've been playing guard here."
It remains to be seen when and where Barbre will play in Friday night's preseason opener against the Patriots, but his performance thus far has drawn rave reviews from his teammates.
"Allen Barbre is, at the very least, a starting caliber offensive guard. If we were to lose a guard to injury, I'd be totally confident with him filling in," Mathis told Bleeding Green Nation.
Barbre has worked exclusively on the left side with the Eagles. The differences between guard and tackle range from the sight lines to the position set to where he's aiming his hands and feet. Of course, the 6-foot-4, 310-pound lineman must deal with more powerful defensive players at guard and quicker ones at tackle.
"There's good and bad things about both," Barbre said.
Barbre knows that he's been given a golden opportunity. He hopes to now make the most of it.
WR Greg Salas Battling His Former Teammates
On November 23, 2012, wide receiver Greg Salas was driving to the Patriots headquarters at Gillette Stadium where he planned to sign and join the team's practice squad. He was released from their active roster one day earlier as the Patriots intended on bringing him back once he cleared waivers.
The Patriots had to call Salas and tell him to turn around. Teams had put in waiver claims on the former fourth-round draft pick and he was awarded to the Eagles. Salas arrived in Philadelphia, but he was battling a strained hamstring and was inactive for each of the six games with the Eagles. Fully healthy now, Salas is trying to stick around in Philadelphia and he's made some noise during the early part of Training Camp. On Wednesday, Salas made an impressive one-handed grab down the sideline against his former team coming down with quarterback Matt Barkley's pass beating a pair of rookie defensive backs from Rutgers in cornerback Logan Ryan and safety Duron Harmon.
"You want to get noticed by the coaches and that helps me out a little bit, but it's more about consistency. Not just one play like that," Salas said. "You have to keep doing the little things and run the offense the way he wants it run."
Salas was a fourth-round pick of the St. Louis Rams in 2011 after finishing his college career as the most prolific wideout in the University of Hawaii's history. As a rookie, Salas caught 27 passes for 264 yards as a slot receiver before fracturing his left fibula in November of that season. He was traded to New England prior to the start of the 2012 season and played in one game.
Now, Salas is trying to take advantage of the injuries which have hampered the wide receiver depth. The Eagles have lost Jeremy Maclin and Arrelious Benn for the season.
"Of course, it is an opportunity. You do have to look at it that way to a certain point, but you want to see everybody healthy. You want to have a good, clean competition with everybody and hope everybody gets better," Salas said.
On Friday night, Salas will step out onto Lincoln Financial Field against his former team with a chance to get one step closer to a spot on the 53-man roster.
"It's definitely good to go against these guys wearing a different color," he said. "It's good because they are a good team and it's a good measuring stick to see where you're at."
Dealing With Dwindling WRs
After losing Jeremy Maclin and Arrelious Benn for the season, the Eagles' numbers at wide receiver were already dwindling. They entered Wednesday's practice with nine healthy receivers on the roster, only to see Damaris Johnson and Russell Shepard each leave practice with minor injuries, leaving the team with only seven practicing receiver by the end of practice.
"It's tough, especially in camp when you have guys go down with injuries," said quarterback Nick Foles. "But we've had guys step in and do a really great job and a lot of young guys, you've seen a lot of young guys out there that don't have a lot of NFL experience, if any, and they're really going out there and they're really figuring it out. It's going to be fun this preseason game to see what they can do in that kind of situation."
Michael Vick, who's taken part in his fair share of Training Camps, hasn't been too flustered by the rash of nicked-up wideouts.
"I've been a part of teams where in camp guys go down and you lose three or four receivers and it's very scarce out there, but it's part of Training Camp," said Vick. "Those guys do a lot of running. I refer to them as a track team because that's what they do. They run from drill to drill, field to field, and you've got a lot of respect for them. There will be nagging injuries, but most of the time they bounce back. We've just got to find a way to get through it and I think we will."
The plus side of the injuries is that young players like Greg Salas Ifeanyi Momah get more of an opportunity to impress. The onus is on the quarterbacks to adjust to their pass catchers, not vice-versa.
"When I'm out there, I don't care who's out there, I have all the faith in the world that they're going to make a play," said Foles. "Now, knowing who's out there is very important because it might change the way you throw the ball. DeSean, a lot of times you want to throw it out there and let him use his speed, but if it's another guy who's not quite as fast as him but has a bigger body, you want to throw a ball that he can catch with his body, maybe a little high and behind him. You want to throw to their strengths and that's where throwing the routes-on-air, throwing the one-on-ones, just throwing routes in general and then playing, you figure out how they run their routes, what they're good at, how to throw to them. Whoever's out there, I feel great about."
Of course, as Foles hinted at, there is one Eagles wide receiver who is a little different than the rest. That would be DeSean Jackson, by many accounts the star of camp thus far.
"We're moving DeSean around a lot," said Vick. "He's putting himself in position to make a lot of plays, and that's a credit to the coaching staff knowing how to move him around and put him in different spots and giving him opportunities. He's a playmaker, so the ball has to be in his hands almost 30 percent or 40 percent of the time during a football game. He's a game changer and they acknowledge that, we see it, other teams know it, and we're going to use it to our advantage.
As the Eagles continue to search for the identity of their starting quarterback, the Patriots stood in contrast the last two days with the long-time stability of their quarterback position. Of course, not all teams are afforded the luxury of an all-time great quarterback like Tom Brady. But for a player like rookie Matt Barkley, who has spent much of the practice observing the last couple days, watching Brady can be of value.
"I think watching Tom Brady, who is at the pinnacle of playing quarterback, just watching him, how he runs his offense," Barkley said, when asked what he's enjoyed about the joint practices. "I mean, he's been in that same system for 10, 11 years now, so how smooth he is, I learned a lot just from watching him operate.
"Just from watching him on the field, you just see his release, his composure, in the pocket how calm he is. At the same time, he's explosive. It's kind of an interesting paradox because he's almost just standing back there and then he just whips the ball out, so that's pretty cool."
The reason Barkley hasn't received too many live reps over the last two days is that he and the rest of the "three's" are expected to play the majority of the game Friday night. Still, for a player who's used to being the No. 1 quarterback everywhere he's been, there's been an adjustment.
"You've got to stay in it mentally, keep your legs warm and your arm loose during that whole time when you're not playing," Barkley said. "I wouldn't say (it's) hard, I would say different. It's just different than in the past. You have to learn how to deal with it, how to stay in tune with what's going on.
"It's just another learning opportunity, just stepping back and learning from watching the plays develop rather than being in the mix. So it is different and you just try to take every chance you can to learn something, take the mental reps from the plays whether it's your offense or theirs."
Soon enough, though, Barkley will have plenty of live reps. He said he's looking forward to putting what he's learned to the test in the preseason opener. His comfort in the offense is what Barkley believes has been his greatest improvement thus far.
"I think just my comfort with the offense and just knowing the reads and just being systematic with it," Barkley said, "not kind of frantically moving about but just going through it and being fine with taking that shallow route."
Chris McPherson, Alex Smith and Bo Wulf contributed to this report.