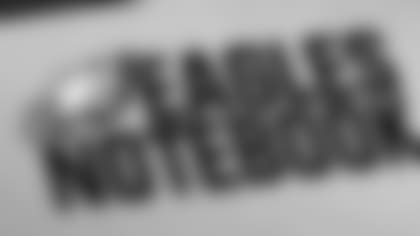 Record Setter ... FS Brian Dawkins played in his 180th game as an Eagle, tying Harold Carmichael for the most regular season games played in team history.
Raising the Bar ... RB Brian Westbrook racked up 203 yards of total offense, and now has 9,085 for his career, surpassing Harold Carmichael (9,042) to become the franchise leader in yards from scrimmage ... With 33 carries for 131 yards, Westbrook set a career high for carries and also registered his 20th career 100-yard rushing game, moving past Steve Van Buren (19) and into second place in team history. He trails only Wilbert Montgomery (26) ... With 1,206 rushing attempts, he moved past Duce Staley (1,200) and into third place in team history behind Montgomery (1,465) and Van Buren (1,320).
B-West Touches Down ... Westbrook scored on a 40-yard touchdown reception and a 30-yard touchdown run, and now has a career-high 14 total touchdowns this season (nine rush, five receiving). That marks the fourth time this season he has recorded at least one rushing and one receiving touchdown in the same game and the 12th time in his career he has done so. Westbrook moved past Tommy McDonald and into seventh place on the team's all-time scoring list with 404 points. Westbrook has six touchdowns in his last two games.
Moving the Sticks ... The Eagles offense racked up 24 first downs (11 rush, 11 receiving, 2 penalty). They were 12-of-18 (66.7%) on third-down conversions. That output tied for their highest percentage of the season. They were 10-of-15 (66.7%) on third down against the Cardinals last week. Over their last two games, they have converted 22 of their last 33 third down attempts.
Third Down Shutdown ... The Eagles defense held the Giants to 3-of-11 (27%) on third-down conversions and 0-for-3 on fourth down conversions. In seven wins this season, the Eagles have held their opponents to a 25.6% conversion rate on third down (20-of-78). They have outscored their opponents 214-90 in those games.
Green Akers ... David Akers' 51-yard field goal was his longest since a 53-yarder on the road against the Giants on Sept. 30, 2007 ... Akers had his streak of 15 consecutive field attempts end after a blocked kick. The streak tied the 2nd-longest of his career.
Birdseed ... DE Trent Cole blocked a 47-yard field goal attempt by John Carney, the first of his career. The last Eagle to block a field goal attempt was Quintin Mikell on 10/23/05 vs. San Diego on a 40-yard attempt by Nate Kaeding ... TE L.J. Smith led the team with 6 catches, and now has 222 for his career, tying Irving Fryar for 18th place in team history ... DT Mike Patterson forced a fumble, his first of the season and the third of his career ... The Eagles defense held the Giants to just 88 rushing yards, their third-lowest total of the season.