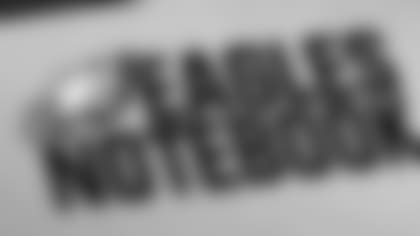 Big Red's Big Day ... Andy Reid became the 37th head coach in NFL history to win 100 games. He became the 7th active coach to reach that plateau, joining Mike Holmgren, Mike Shanahan, Bill Belichick, Tony Dungy, Jeff Fisher and Tom Coughlin ... Reid also became the just the 22nd coach to win 100 games with one franchise and the 17th coach to do so during his first stint as a head coach ... Reid also improved his record to 10-0 after the bye, which is the best mark in the NFL since 1999.
500 Club ... With Sunday's win, the Eagles became the seventh franchise in league history to reach the 500-win plateau, joining the Steelers, Bears, Giants, Redskins, Rams and Packers.
B-West is Back ... Brian Westbrook rushed 22 times for a career-high 167 yards and 2 TDs. It was his 18th career 100-yard rushing game as he trails just Wilbert Montgomery (26) and Steve Van Buren (19) for most such games in Eagles history. The Eagles boast a 13-5 record in those games ... Westbrook's 209 total yards from scrimmage was the third-highest output of his career.
5,000-Yard Club ... Westbrook became the third running back in Eagles history to surpass 5,000 in his career, joining Wilbert Montgomery (6,538) and Steve Van Buren (5,860).
The Book on 'Brook ... With 2 rushing touchdowns Sunday and 33 for his career, Westbrook moved past Randall Cunningham (32) and into third place in team history behind Van Buren (69) and Montgomery (45) ... Westbrook's 7.6-yard rushing average Sunday vs. the Falcons was a career high in games which he carried the ball 15-or-more times ... Westbrook also caught 6 passes for 42 yards. He moved past Mike Quick and into fifth place in team history with 367 career receptions and tied Timmy Brown with 3,346 career receiving yards for second place in team history among running backs (Keith Byars is first with 3,532).
In a Rush ... QB Donovan McNabb scored his 25th career rushing touchdown and his first since 10/8/06 vs. Dallas (26 games). The Eagles are 20-4 in games which he has a rushing touchdown ... McNabb also became the 8th quarterback in NFL history to surpass the 3,000-yard rushing plateau (Randall Cunningham - 4,928; Steve Young - 4,239; Michael Vick - 3,859; Fran Tarkenton - 3,674; Steve McNair - 3,590; John Elway - 3,407; Tobin Rote - 3,128).
Standing Strong ... Since 1999, the Eagles have faced 112 first-and-goal situations from at-or-inside the five-yard line, allowing just 70 touchdowns (62.5%), which is the lowest percentage in the NFL during that span.
Pivotal Stat ... In the team's four wins this year, the Eagles defense has held opponents to a 19.2% (10-52) conversion rate on 3rd down. In the three losses, opponents have converted 52.2% (24-46) of their 3rd down opportunities.
Unfriendly Welcome ... Since Jim Johnson took over as the Eagles' defensive coordinator in 1999, the Eagles have made life miserable for many rookie starting quarterbacks. Including the win over Matt Ryan and the Falcons Sunday, the Eagles are 9-3 in 12 games against rookie starters. In those 12 games, opposing quarterbacks have combined for a 50.9% completion percentage, 159 passing yards per game with 11 touchdowns and 12 interceptions (64.7 passer rating).
Defensive Quick Hits ... CB Asante Samuel recorded his third interception as an Eagle and the 25th of his career. Samuel's teams are 19-1 in games in which he records an interception ... LB Chris Gocong recorded his third career sack ... DE Darren Howard also recorded a sack and is now tied for the team lead with DE Juqua Parker with 4.5 ... CB Lito Sheppard registered his 18th career interception, when he picked off Ryan in the end zone. It was his 10th interception inside the Eagles' 10-yard line and his fifth in the end zone.
Birdseed ... T Jon Runyan played in his 135th consecutive game for the Eagles, tying Herman Edwards for fifth place in team history (Harold Carmichael is ranked first with 162 consecutive games played) ... T Tra Thomas played in his 157th game for the Eagles, tying Guy Morriss for fifth place in team history (2nd among offensive linemen).