With less than five minutes to play in the first half of the Eagles' 34-13 victory over the New York Giants, tight end Zach Ertz lined up on the left side in a two-tight end set.
He ran forward, began turning right to run along the goal line, but then sharply cut left, evading Pro Bowl cornerback Janoris Jenkins, and finding himself wide open for a 10-yard touchdown pass. It was a gut punch to the Giants as the Eagles took a 21-6 lead and continued their offensive dominance.
The touchdown was Ertz's second in two games and it was his 45th reception of the season. He would add three more on the night and become the first tight end in NFL history, and just the 17th NFL player ever, to have 48 or more receptions through six games.
"I'm just trying to make plays when the ball is in there, trying to get open as much as possible," Ertz said. "Playing with the same quarterback for three years now helps. Getting everybody else back, so defenses aren't just focusing on me. It's not just me doing my job. There are a lot of things that are contributing to that number. But 3-3, we're not exactly where we want to be. I'd trade 10 catches to be 6-0 right now."
Naturally, Ertz did not want to take a lot of credit for his historic start when he spoke to reporters on Thursday. But it's time the league took notice.
Ertz's 48 receptions lead all tight ends and he ranks second among all players behind Vikings wide receiver Adam Thielen. He is on pace for 128 receptions on the season which would be the fifth most in NFL history. The only tight ends to record 100 or more catches in a season are Jason Witten (110 in 2012), Tony Gonzalez (102 in 2004), and Dallas Clark (100 in 2009).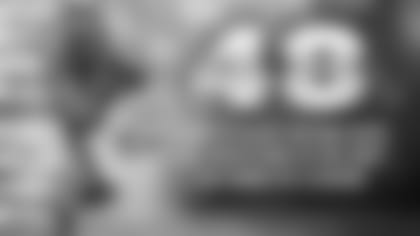 His 480 receiving yards also lead all tight ends in the NFL. He has the most receiving yards by an Eagle through six games since wide receiver DeSean Jackson in 2013 and the most yards by an Eagles tight end in six games since Pro Football Hall of Famer Pete Pihos in 1953. He is the only player in Eagles history with 45 or more receptions and 450 or more receiving yards through six games and is the first tight end in the NFL to do so since Eric Johnson in 2004.
"Yeah, he's playing at a high level right now," tight ends coach Justin Peelle said Monday. "And that's really kind of what Zach is. He's always trying to get better and that's one of his goals this year, to be better than last year. Obviously, he had a really good year last year and you can just see him, I mean, every day at practice the kid is working on getting better at something and it shows."
For rookie tight end Dallas Goedert, watching Ertz play at such a high level is perfect for his first year. Peelle has noticed an increased mentorship role from Ertz this season and Goedert said he leads by example on the field.
"Man, ever since I got here, him and the quarterbacks are on the same page, everything he does, he's wide open. I don't know," Goedert said. "Even in OTAs when we were going against the ones, the dude was unguardable. Tight ends are a big role in the offense so he's going to get his targets and all that dude does is just put wins on tape, so it's really cool to watch him play."
Chemistry between the quarterbacks and Ertz has been key. He has played with both Nick Foles and Carson Wentz for multiple years and said there wasn't a lot of rust when the offense changed quarterbacks from Foles to Wentz going into Week 3. Ertz credited that to Wentz's talent while Peelle gave more credit to Ertz's intelligence on the field.
"He really understands the defense and can kind of diagnose a defense right away and then he's got that ability to process when he sees something, and he can make a subtle route adjustment," Peelle said. "And then obviously, him and Nick and Carson being on the same page all the time. They like to sit down and talk ball together a lot so kind of going into a game, they have a pretty good idea of what's going to happen."
Ertz currently leads the Eagles' offense in both receptions and receiving yards. He and wide receiver Alshon Jeffery are the only players with multiple receiving touchdowns. As injuries have shuffled the personnel on the offensive side of the ball for the first six weeks of the season, Ertz has been a consistent playmaker leading the way.
He may be on his way to possible NFL records, but Ertz is focused on what he can do to improve his own team.
"I want to alleviate the pressure off of everyone else," Ertz said. "I'd rather me carry that pressure than someone else deal with it. That's kind of just the mentality that I have. We have a lot of great players, though, on this offense that can make plays. Alshon has been playing at a really high level, Nelson's (Agholor) played at a high level, Dallas is playing at a high level. I have a lot of confidence in all the guys, but I just try to make plays when I can."