Jon Runyan had a message this week for Donovan McNabb.
The two quarterbacks each enjoyed success working with Andy Reid – Favre with the Green Bay Packers and McNabb now with the Eagles. But Runyan's reference was in regards to a dubious distinction.
Runyan's former nemesis, Michael Strahan, entered the final game of the 2001 regular season against the Packers needing just one sack to break Mark Gastineau's single-season NFL record of 22. Late in the game, Favre dropped back and gave himself up at Strahan's feet. Accounts of the game state that Favre called a run play in the huddle, but changed it much to the chagrin of his coach and offensive linemen.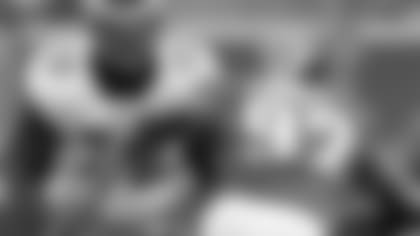 The Eagles have only allowed one sack per 27.6 pass plays this season
Cowboys outside linebacker DeMarcus Ware enters this Sunday's game against the Eagles with an NFL-best 20 sacks, just 2.5 behind Strahan. Against the Eagles back in Week 2, Ware notched one sack and has 6.5 against them for his career. He also returned a fumble 69 yards for a score against the Eagles back in 2006. Should Ware have a chance to break the record, Runyan doesn't want McNabb to gift-wrap the record-breaker.
"I already told Donovan not to pull a Brett Favre," Runyan said.
Then again, Runyan said that if Ware even gets within a sniff of it the Eagles are going to be in trouble.
"Well, we'll just pray that he doesn't," Runyan said. "Otherwise, it's going to be an ugly day."
Even without Ware's pursuit of the record, this game could stand to be a historic one. It very well could be the final time that Runyan and Tra Thomas line up as the starting offensive tackles for the Philadelphia Eagles. Thomas will play in his 166th career game this Sunday, all of them with the Eagles ever since he was a first-round selection in 1998. Runyan will start in his 192nd consecutive regular season game at right tackle, the third-longest active streak in the league. One of the players ahead of him coincidentally is Favre who is first with 268 starts. Runyan was signed by the Eagles in 2000 and has started every game since.
Both Runyan and Thomas are scheduled to become free agents at the end of the season, which will be Sunday if the Eagles don't win and get some help from other teams. The two have started in 133 games, the most by a tackle tandem in Eagles history.
"It is what it is," Thomas said. "This could be my last year here, last game. I just try to keep it in stride and keep pushing."
"It's a number that pops us every time we can break another record," Runyan said. "You can't dwell on it because it's going to be inevitable (that one day we won't be here)."
Neither want to leave Philadelphia, but both insist that they are going to play beyond this year no matter what. Thomas, in fact, already has his offseason workout plans in order.
"Personally, I think I've had one of my better years just with my technique and everything, just coming in and keeping my weight down," said Thomas, a three-time Pro Bowl honoree. "My body hasn't given me any problems. I think it's been a pretty strong year."
If Sunday is the last time that Runyan and Thomas line up together, extending the record for most games played by an Eagles tackle tandem, it won't hurt to keep a Dallas Cowboy out of the record books.
"That'll be good to go on my resume," Thomas said. "We just want to go out there and have a good game and come out of it safe."