NFL.com's Vic Carucci writes his observations of the Eagles after their first two games of the 2008 season ...
After two games, my read on the Eagles is that they are going to have something to say about who wins the best division in the league. They have enough offensive playmakers to overcome some clear defensive issues, although I'm surprised at how poorly their defense played in Dallas.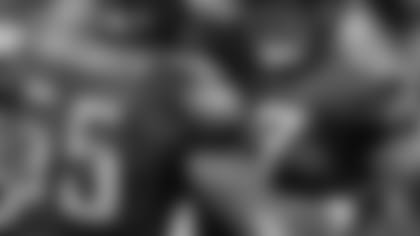 The Eagles need more big plays out of their defense like Gocong's touchdown
The Eagles have to like what they've seen from Donovan McNabb. He is back to playing at his top form. I see a catalyst. I see joy back in his face and in his performance and I see a trust that he can get it done – trust that he has in himself, trust that the coaches have in him and maybe most important, trust that the rest of the team has in him that they are following the right leader.
Consider that the Eagles are still without their top receivers, Kevin Curtis and Reggie Brown, although DeSean Jackson is a top-line player already. His talent is immense. This kid is going to have a spectacular career, but the key is that he doesn't continue to act too much like a kid. I appreciate his exuberance. He wouldn't be the first kid to go over the top with cockiness or swagger, but I hope that what happened on Monday night was a lesson to him about keeping it under control and realizing that there is a responsibility to finishing a play and doing what is right for the team before performing an act of self-congratulations.
What was alarming about the Eagles' defensive performance in Dallas was this: There were far too many breakdowns in gap responsibility and I thought they were overreacting to a lot of things the Cowboys were doing, rather than staying sound and focusing on making plays. Dallas has an offense that is going to make a lot of defenses look bad, but it shouldn't have made the Eagles look that bad. I was troubled that the efforts to deliver a knockout punch and take so many risks - and I realize that is a big part of what this defense does - continued even though so many of those schemes failed to work. Jim Johnson should have adjusted and been more sound in the approach.
I don't think there is a better coordinator than Johnson in this league, but he has to figure out that he can't always do the things against the team that is as good as Dallas as he can do against teams like St. Louis.
The Eagles have a big one on Sunday against the Steelers. It is a huge recovery game. They are going to be down after that close, high-scoring loss in Dallas. Those kinds of games can sometimes be more devastating than blowout losses. Pittsburgh has a lot of credibility and are strong in many areas and it will be the kind of win that re-enforces to the Eagles that they are very much in the hunt in a wide-open NFC, that they can challenge Dallas, the Giants and that they can challenge anybody in that whole conference.