Believe it or not, the beginning of the Eagles 2014 season is rapidly approaching. Players will report back to the NovaCare Complex on April 21 for the start of the offseason program. Join us as we count down the days until the Eagles are back in town ... Wide receiver DeSean Jackson has always been the explosive big-play threat, but following Jeremy Maclin's torn ACL, the responsibility to take over the number two wide receiver role fell to fourth-year pro Riley Cooper, who had shown flashes of playmaking ability in the past but never fully established himself as a consistent threat on offense.
After a slow start the first month of the season, Cooper came into his own once Nick Foles took over as starting quarterback. He finished with 47 catches for 835 yards and eight touchdowns, to go along with a 17.8 yards-per-catch average that ranked tied for third in the NFL. Jackson finished with a career-high in catches (82), yards (1,332) and touchdowns (9).
Cooper and Jackson ranked as one of the league's most productive starting wide receiver duos, totaling 129 catches for 2,167 yards and 17 touchdowns. In addition to making big plays down the field, they were also highly effective at moving the chains and extending drives. Jackson (60) and Cooper (33) combined for 93 first down conversions in 2013. First Player To Wear 93: DE Tom Strauthers (1983)
Most Recent Eagle To Wear 93: DE Jason Babin (2012)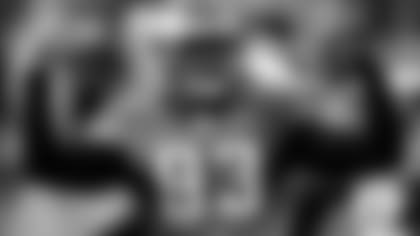 The 2004 offseason is most remembered by Eagles fans for the trade that brought Terrell Owens to Philadelphia and kick-started the team's magical run to the Super Bowl.
A few weeks prior to acquiring Owens from the Baltimore Ravens, however, the Eagles signed defensive end Jevon Kearse to what was then a record-breaking contract. Kearse was brought in to bolster the pass rush and solidify a defense that was still at the apex of its dominance under coordinator Jim Johnson.
Though he only notched 7.5 sacks his first season with the Eagles, he was still a disruptive force who forced two fumbles, knocked down six passes and totaled 31 tackles. Kearse would play two more seasons with the Eagles in 2005 and 2006 before returning to Tennessee.