Believe it or not, the beginning of the 2014 season is rapidly approaching. Players will report back to the NovaCare Complex on April 21 for the start of the Eagles offseason program. Join us as we count down until the Eagles are back in town ... The Eagles defense, which transitioned from a 4-3 to a 3-4 in the offseason, came a long way over the course of the 2013 season.
After struggling mightily early on, Bill Davis' unit turned the proverbial corner and went on a streak of nine straight games allowing 21 points or less. The Eagles achieved a 7-2 record in that span to overcome a 1-3 start. A pass rush that had been dormant for the first part of the season started to come alive and generate more consistent pressure, while the defense as a whole proved itself to be a very opportunistic bunch and ended up ranking among the NFL's leaders in turnovers forced.
All told, the combined number of sacks (37.0), interceptions (19) and fumbles recovered (12) totaled 68. First Eagle To Wear 68: G Ray Romero (1951)
Last Eagle To Wear 68: C Matt Tennant (2012-13)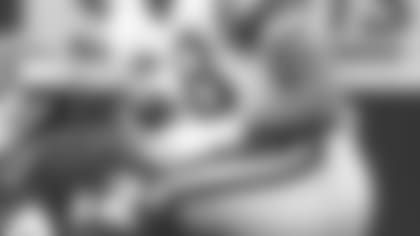 A massive defensive end who stood 6-foot-8, 275 pounds, Dennis Harrison – nicknamed "Bigfoot" – was a key part of a dominant Eagles defense in the early-80s.
Selected out of Vanderbilt by the Eagles in the fourth round, 92nd overall, of the 1978 NFL Draft, Harrison served as a rotational player in his first two seasons before taking over as the full-time starter in 1980, when the Eagles made the Super Bowl. He was named to the Pro Bowl in 1981. Sacks did not become an official stat until 1982, and in the ensuing three seasons Harrison put up totals of 10.5, 11.5 and 12.0, respectively.