Believe it or not, the beginning of the Eagles 2014 season is rapidly approaching. Players will report back to the NovaCare Complex on April 21 for the start of the Eagles offseason program. Join us as we count down until the Eagles are back in town … For Matt Barkley, 2013 was a great learning opportunity. Not only did the Eagles rookie quarterback learn from watching Michael Vick and Nick Foles, but he also saw valuable playing time during the regular season. When injuries to Vick and Foles forced Barkley into action, the rookie held his own at the game's highest level. Though he threw four interceptions, Barkley managed complete 61.2 percent of his passes (30-of-49). Interestingly enough, Barkley averaged 6.1 yards per pass attempt as well. First Eagle To Wear 61: G Tony Cemore (1941)
Current Eagle Wearing 61: G/C Julian Vandervelde (2011-present)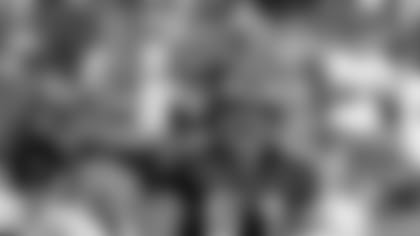 There are certain athletes who tend to be soft-spoken while shying away from the media spotlight that sometimes comes along with playing in the NFL.
Steve Everitt didn't fit that description.
Everitt's "in your face" style of play helped him become one of the top centers in the league during the 1990s. Originally drafted by the Cleveland Browns in the first round of the 1993 NFL Draft, Everitt once famously donned a Browns bandana during an exhibition game as a Baltimore Raven, as he was still upset about the team's move to Baltimore.
After four seasons with Cleveland/Baltimore, Everitt hit the open market as one of the top free agents available, and the Eagles jumped in and signed him. The University of Michigan product would play three seasons in Philadelphia from 1997-99, anchoring an offensive line that produced three straight 1,000-yard rushers (Ricky Waters and Duce Staley twice).
Everitt played just four games with the St. Louis Rams in 2000 before retiring. Know as a free spirit, Everitt's passion led to solid eight-year career. In his three seasons in Philadelphia, Everitt started at center in all 45 games that he appeared in.