If recent history has any say, the Eagles shouldn't be scared when they roll into FedEx Field to face the Redskins on the road.
Not only have they won two straight in Landover, Md., they've won seven of their last eight there. And the Redskins, who surprised many with a hot start fueled by a consistent running game and a stout defense, have fallen off a cliff. In short, they hardly resemble the squad that took down the Eagles at Lincoln Financial Field on Oct. 5.
But that doesn't mean that the Eagles can – or plan on – take them lightly. After all, it's a division rival from one of the toughest divisions in football.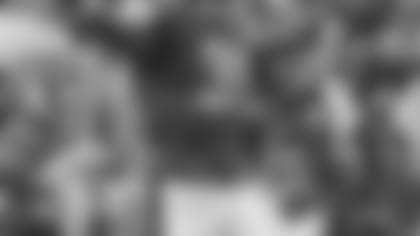 RB Brian Westbrook carried the Eagles to a win last time they were in Landover
"What you have to do as a football player is concentrate on the strengths of that team," free safety Brian Dawkins said. "And whatever you guys want to call them, I'll tell you what, if we go in there half-stepping, Portis will have about 200 yard rushing on us, Santana (Moss) will have a 200-yard game, and (Chris) Cooley will kill us with 15 catches."
Thing is, Dawkins' hyperbole isn't all that extreme, if the Redskins can prove they can still do the same things they did a couple of months ago. Though Moss was held without a catch, Portis did his fair share of damage, contributing 145 yards to the Redskins' 203-yard total on the ground. Cooley caught eight passes for 108 yards and a score, and he became the flagship example of the Eagles' early-season headaches with opposing tight ends. Still, it was a 23-17 game that, according to quarterback Donovan McNabb, the Eagles "should have won."
But since that point, the Redskins have been in a major downward spiral. Since their 4-1 start, the Redskins have won only three of nine, a stretch that includes far-too-close wins (a combined 14 points) against winless Detroit, hapless Seattle and dead-in-the-water Cleveland, and losses against the woeful Bengals and Rams. They barely put up a fight against the Giants, Steelers and Ravens, and they fell to a Dallas team that was coming off of a 1-3 stretch, essentially saving Dallas' season.
Now, to crush the Eagles' playoff hopes, Washington would have to defeat a team playing its best football of the season.
"It's very important to go out there and try to jump on them early. Of course, they're going to come out of the tunnel excited. They're home and they want to make up for what happened last week out in Cincinnati," running back Brian Westbrook said. "For us, we have to go down there and try to match their intensity early and go in there and win the game."
The Eagles are offered an advantage by seeing what they have to fix from their initial loss to the Redskins – but the Redskins know what they've got to do also.
It's just far more pressing for the Eagles, who still hold on to very real playoff hopes.
"The way we've looked at it for a long time now, especially the last three games, is these are playoff games for us, period. So no matter what any other team, whatever ammunition they try to build up from us themselves, that has nothing to do with what we are thinking in our locker room," Dawkins said. "We are thinking this is a playoff game and we've approached every game for the last, I guess, three or four games like that."