He had a lot to say on Wednesday, and tight end Zach Ertz did just that when he spoke to the media for the first time in 2021. He was honest, emotional, and forthright talking about the past – and the future – as a Philadelphia Eagle.
"I'm not here to make this about me, ultimately. I told Julie (Ertz, his wife) the other day, I told my pastor in Cherry Hill (N.J.), this is the most fun I've had coming to work in a long time, these past four weeks," Ertz said, "being with this new coaching staff, being with this young team ... it's been a lot of fun coming to work every day. It's been freeing to kind of just focus on football.
"Last year, I was hurt. I had an ankle injury that was freaking debilitating at times. I had surgery in the offseason and practicing at the end of the year just wasn't fun because it was a grind each and every day. Now, I feel great. The ankle feels great. To come out here with a new coaching staff has been so much fun. Coming to compete every day has been a blast, which I love to do. Never shy away from that. Ultimately, which I've said all along, this is the place I want to be. This is the place I want to retire and those feelings haven't changed."
Ertz said that this Training Camp was one of the best he's had in his nine seasons with the Eagles. He's a three-time Pro Bowl player, a Super Bowl Champion, and he is just 29 receptions away from breaking Harold Carmichael's all-time Eagles franchise record for career receptions (589). Devoting his offseason to building his health after the ankle problems last year limited him to just 36 catches and 335 yards paid off. For eight weeks he was limited with his mobility. Now Ertz is playing free and he's healthy and he has a great mindset heading into 2021.
"I'm excited about this year," he said.
Ertz and Dallas Goedert are a potent 1-2 punch that the Eagles intend to maximize. Ertz said that he and Goedert aren't in a "competition," and instead is focusing on "being exactly the player I was, if not better than I was," in the past. He said he would "roll with" any situation the coaching staff plans for utilizing his talents. At the end of the day, Ertz emphasized that he loves the City of Philadelphia, the organization, and his teammates.
So, let the 2021 season begin for Ertz and the Eagles.
"I've given so much to this team for the past eight years, they've given me so much for the past eight years, and I love this team, at the end of the day. And so for me, it was all about respecting that," Ertz said. "This team is going to be a lot bigger than (No.) 86 going forward. And so for me, I love this city too much to quote-unquote burn it down like some people wanted me to do at times or whatnot, because ultimately I love this place."
Jalen Hurts turns his focus to the Falcons
"I'm getting ready for Atlanta." That's where Jalen Hurts is focused as the Eagles, their 53-man roster intact, dig in and prepare for the regular-season opener on September 12 against the Falcons. The second-year quarterback isn't interested in acknowledging the noise around him, something he has demonstrated throughout his football career, college days included.
"I've always said repetition brings comfort. Repetition brings confidence," Hurts said on Wednesday, meeting the media from the NovaCare Complex. "The more reps I've gotten, the more time I've had to reflect on that, the more coaching I've been able to take, the more time I've been able to spend with my teammates, we've all gotten better."
The offense, Hurts believes, is ready for the bright lights of the regular season. A strong summer of work has convinced Hurts of that.
"I think we have a lot of guys that have great opportunities to do special things this year," Hurts said. "I think a lot of guys have taken huge steps."
Hurts has taken every starting rep from the moment the Eagles stepped on the field in the spring and he's in line to be the starter to open an NFL season for the first time after playing significant time in five games as a rookie in 2020, with four starts. It has been, Hurts thinks, a very productive several months on and off the field for him and the offense.
"I've learned that through the values that Coach (Nick Sirianni) has brought in, being a football team that's going to compete, connect – all the core values he always talks about – I've learned that this team was able to embrace those things, able to embrace the new coaching staff, able to embrace all of these different things, and come together as one and grow. That's always exciting to see. When you're able to come together and do things together, you can't really put a limit on it.
"The more people you have on the same page, the more powerful you are. I've been taking steps every day. Rent has been due every day."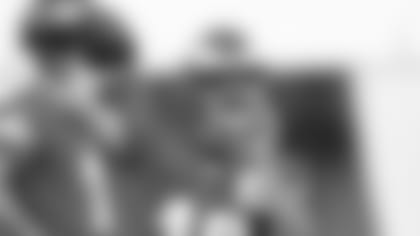 Gardner Minshew: 'I think I have a lot more to prove'
Gardner Minshew didn't have much time to react. He was called into the office of Trent Baalke, the Jacksonville Jaguars' general manager last Saturday at 10 AM and by 5 PM he was on a flight to Philadelphia having been acquired by the Eagles in a trade. A new chapter in his NFL life was about to begin.
"It's kind of been a whirlwind," said Minshew, who met the media on Wednesday on a video conference call from the NovaCare Complex. "I'm fired up to be here and I'm excited to be working with these guys. I'm just really looking forward to it."
Minshew played for two seasons in Jacksonville and now he's in a situation where he is the No. 3 quarterback behind Jalen Hurts and Joe Flacco. That's just fine with Minshew.
"I'm just here to help this team win in whatever capacity that is. I'm here to work hard. I have to learn this offense first and help all the guys in our room," Minshew said. "I'm just looking forward to the opportunity I have in front of me."
Minshew said the Eagles have "a great roster full of good dudes that is very excited about winning" as he digs into the playbook. He will wear jersey No. 10 and says he feels accepted by everybody on the team. Hurts, he said, was the first person "to welcome me in" and has been helpful in teaching Minshew the offense. Minshew said he feels the offense can be effective running the football as well as producing explosive plays in the passing game.
Also, Minshew has a previous relationship with Head Coach Nick Sirianni, who coached with Indianapolis in the last two seasons against the Jaguars. Their relationship started when Minshew took a pre-2019 NFL Draft visit to Indianapolis and he and Sirianni engaged in a game of HORSE. It became competitive enough that Minshew removed his button-up shirt.
It didn't help Minshew, as Sirianni mounted a come-from-behind win.
"That's why I'm back (with Sirianni)," Minshew joked. "I'm back for revenge."
He will now devote himself to learning the offense and getting up to speed on what the Eagles are all about. Minshew started 20 games in two seasons with the Jaguars before they used the No. 1 pick in the 2021 NFL Draft on quarterback Trevor Lawrence. He is "all in" on being an Eagle and is looking ahead, not into the past.
"I think I have a lot more to prove and I look forward to being here and growing and developing my game, learning from these guys, and ultimately getting better every day," Minshew said. "All I know is that I'm going to be studying a lot these next few weeks."