Nakobe Dean grew up serving his community and that has not changed since being drafted by the Eagles in 2022.
Dean and his brother, Nikolas, along with their sister, Brooklyn, were raised by a single mother, Neketta. However, both of their parents are decorated war veterans.
"Knowing my parents' past, it is important for me to give back to the men and women who serve this country," Nakobe said.
That is exactly what Nakobe has done since he stepped foot in Philadelphia.
The inspiration comes from Neketta, who was in the United States Army for eight years, three on active duty and five as a reserve. She is a Gulf War veteran, fighting in Operation Desert Shield and Operation Desert Storm from 1990-91.
She was stationed in Georgia at Fort Stewart Army Base, but raised her children in Horn Lake, Mississippi.
Neketta instilled service within her children from day one.
She was the Director of Community Affairs in Tunica County, Mississippi, where she brought along Nakobe, Nikolas, and Brooklyn to volunteer at various neighborhood events.
Most weekends, Neketta would also take them to Veterans Affairs hospitals and facilities to help disabled veterans and spend quality time with them.
"To see the impact that service had on them and the veterans was awesome," Neketta said. "Acts of kindness can go a long way for some people, so I am honored to see that Nakobe can volunteer and give back to the community."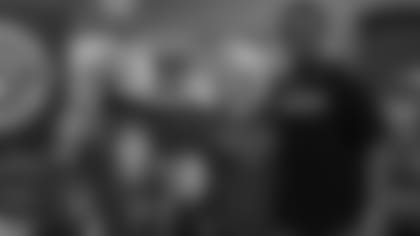 This is where it all clicked for Nakobe. He was inspired to aid veterans who lost their limbs by creating prosthetics to improve their lives.
Nakobe enrolled as a mechanical engineering major at the University of Georgia to continue the process of learning and helping build prosthetics.
The linebacker has put that dream on hold while he lives out another in the NFL, but that does not mean he forgot his roots.
Nakobe is making it a habit to give back to those who are serving or have served the country.
In early October, Nakobe and Neketta visited Joint Base McGuire-Dix-Lakehurst in Burlington County, New Jersey, to meet with military families. Nakobe and Neketta partnered with Operation Homefront and United Through Reading to host the event. While Nakobe met with families and military personnel, Neketta handed out books and stickers to the children of service members.
"It means a lot to give back to the veterans," Nakobe said. "The job they do for this country is second to none. I am appreciative of them and thankful for that. With a mother and father who were both in the Army, I have a greater appreciation for what these servicemen and women do."
"As a service member myself, I was elated to participate in this event," Neketta said. "These are the men and women who protect our country. It was truly an honor." – Written by Owen Boyle
Nakobe Dean and his mom, Neketta, visited families at Joint Base McGuire-Dix-Lakehurst in Burlington County, New Jersey for a meet-and-greet and book giveaway with Operation Homefront and United Through Reading.