Defensive end Chris Clemons had a rough start to his Eagles' career.
At the beginning of training camp, Clemons suffered from dehydration and was hospitalized. Then he missed the last three preseason games with a calf injury.
Those injuries may have limited his playing time in the home opener, but Clemons made the most of his snaps.
Eagles fans that were disappointed in Clemons' performance in the preseason may want to take a second look at his regular season debut. Not only was Clemons disrupting plays at the line of scrimmage on defense, but he had a key block that sprung receiver DeSean Jackson on his 60-yard punt return.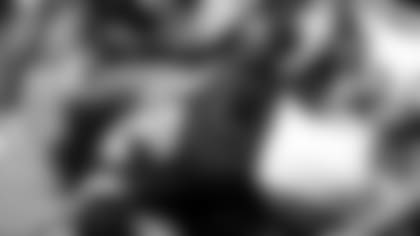 Clemons (91) made the most of his snaps on defense in the win over St. Louis
"Special teams are a third of the game," Clemons said. "To be successful as a football team, you have to be successful on special teams because you only get one opportunity to go out and do special teams. That's one of the things we talked about when I first got here was helping on special teams."
The 6-foot-2 Clemons was signed in the offseason to be a speed-rushing end on obvious passing downs. After all, Clemons and former-Eagle Derrick Burgess were tied for the Raiders' team-lead with eight sacks last season even though Clemons started in just two games.
Not starting meant Clemons had to make plays in a limited amount of time and that skill has followed him to Philadelphia.
"It's not a pride thing to play special teams," Clemons said. "It's a want-to. It's a will to help the team win. If I know I'm not going to be playing all three downs on defense, then there's something else I can do as far as helping the team."
Special teams coordinator Rory Segrest said Clemons' athletic ability and length made him a perfect candidate for the job.
"We had started working there during training camp," Segrest said. "It is something that he had done for Oakland there, but it's also something that we just - obviously with him being a guy that we feel like is a great athlete out in space; we felt like he would be able to give us some help there."
Defensively, Clemons also finds ways to contribute even if he doesn't get to the quarterback. Against the Rams, Clemons batted down a pass at the line scrimmage, which has become a specialty of sorts for Clemons.
"The thing I've been coached ever since I started playing defensive end, if you can't get there and the quarterback is about to release the ball, get your hands up," Clemons said. "Me being tall and being able to use my athletic ability to get up and see the ball as it's coming out of the quarterback's hands a lot of times helps me knock the ball down.
"Most of the time, it's a last resort. I mean, you have to take pride in everything that you do. A tipped ball can lead to an interception or anything. That could be a play that a guy might be wide open on. That's just something that helps the team when you can't get to the quarterback."