Donovan McNabb hopes that 2008 becomes the first of his 10 seasons in Philadelphia that he does not have to answer questions regarding any personal controversy. He is healthy, says he feels strong and likes what this offense is potentially capable of.
With no real issue directly involving the five-time Pro Bowl quarterback, McNabb mainly discussed the current state of a few of his teammates.
Running back Lorenzo Booker has turned heads at training camp, catching the ball out of the backfield, running 60-yard reverses for a touchdown, picking up blitzing linebackers and returning kickoffs. McNabb has certainly taken notice.
"I got a chance to work with him this offseason and I think what he is doing now is getting adjusted and he is adjusting well," he said. "He's given Andy (Reid) and Marty (Mornhinweg) an opportunity to come up with schemes to put pressure on defenses.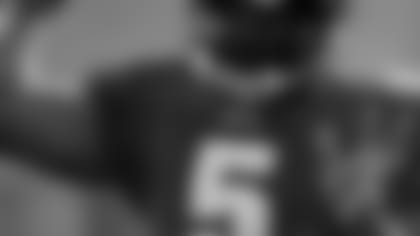 QB Donovan McNabb
"When you have him and Westbrook both in the backfield, and we can move them both around, I think what it does is it applies a lot of pressure on defenses. Now, linebackers and safeties are going to try and cover them and I think this is a great offense for him. We are going to ask him to do some different things for us on the offensive side as well as special teams."
As mentioned in Monday's press conference with special teams coordinator Rory Segrest, Booker currently holds the number one spot as the kickoff returner.
McNabb was also confident that the current situation involving his starting right guard Shawn Andrews will have a positive outcome.
"Shawn will be back," McNabb said. "I'm sure of that and when he comes back it'll be like he's been here."
McNabb has not spoken to the two-time Pro Bowl guard yet. He has played phone tag with him a bit, but Andrews assured him that things are going to be fine and that he will be back.
Max Jean-Gilles has taken snaps with the first team while Andrews has been out and the team has been able to work on the depth of the offensive line.
"I think Max is doing a really good job in (Andrews') place right now," McNabb said. "But I know once Shawn comes back it will be just like riding a bike."
Not playing a full season since 2004 because of injuries, McNabb has never been able to work with Reggie Brown or any of the other Eagles receivers for an entire year. He feels that if everyone stays healthy then points and success will follow.
"Offensively I think that our rhythm is where we need it to be right now and we will continue to get better," he said. "We are looking for big things to happen on the offensive side this year."