LeSean McCoy entered Training Camp with his mind set on doing one thing this season - "dominating," as he said upon entering the NovaCare Complex for the first day of Training Camp.
He knew that he would being getting a lot of touches in the Eagles' fast-paced offensive scheme and has been looking forward to getting out on the field. Unfortunately for the fifth-year running back, he missed the first preseason game against New England due to a knee injury that he suffered during last Monday's practice. After having another day of rest, McCoy was able to get back out onto the practice field on Sunday in front of the Eagles faithful at Lincoln Financial Field.
The Eagles ran a lighter, pad-less practice on Sunday. McCoy said that even without pads and high level of physicality, it was still a bit of an adjustment for him to get back on the field after missing four days of action.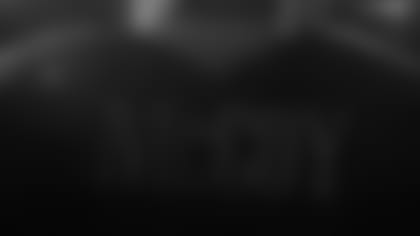 "It was tough," said McCoy, whose likeness adorned a bobblehead which was given away to young fans at the practice. "It was a light practice but with the new tempo of going so fast it's always a tough day of going to work. I think I was a little rusty today with some of my cuts and some of my reads, but I've been gone for about three or four days. I think there's a difference when you're used to going so fast and then you stop for about four days and then try to get back out there. It's a little bit different."
McCoy watched from the sidelines on Friday night as the Eagles fell to the Patriots. Even though he didn't play, McCoy doesn't see his injury as a setback. He said that there are no major issues with his knee and that ultimately the most important thing for he and the team will be his health for the regular season opener against the Washington Redskins on September 9.
"It's not a big problem," McCoy told reporters. "I had an MRI and my knees actually look pretty good for being in the league for five years. I think it's just a little sore and it's from working so hard. I just moved the wrong way and tweaked it a little bit, but nothing major at all.
After putting up one of the most successful seasons in Eagles franchise history in 2011 (20 total touchdowns), McCoy found the end zone just five times in an injury-shortened campaign in 2012. A healthy McCoy would benefit the whole team, but the University of Pittsburgh product won't be paying any more attention to his knee than he normally would. He said that playing cautiously is not an option.
"I don't think I have to be cautious," McCoy told reporters. "I think the four days were being cautious, and now that I'm out here I'm just pretty much going. I just have to get treatment to constantly stay on it. It's not a big issue where I have to worry about it every day. I don't have any knee problems or anything like that. It's just one of those things like a sore ankle. You take a few days off and then you get back to it. I just have to knock the rust off but I'll be fine."