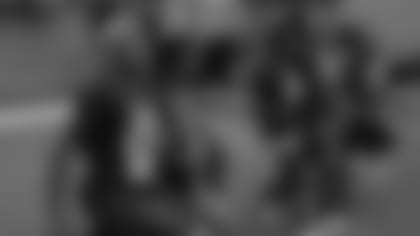 Malcolm Jenkins doesn't run your typical summer camp.
For the second year, The Malcolm Jenkins Foundation teamed up with Drexel University's ExCITe Center to host elementary and middle school students from the Philadelphia Promise Zone to provide them with the ability to learn using the S.T.E.A.M. (science, technology, engineering, arts, athletics, and math) method. After a successful one-week pilot program in 2016, the Young Dragons Summer S.T.E.A.M. day camp was expanded to six weeks with two weeks focused on S.T.E.A.M.-based curriculum.
"Our school system is forced to think about budgets and performance, and what happens is it just becomes a pipeline instead of a true educational institution. As long as they're pushing kids through, that's all that matters. They're missing a bunch of talent, especially in these underserved communities," Jenkins said. "There are talented and bright minds that need to be cultivated or given an opportunity to grow. This is an opportunity for us to spark some of those minds and let the kids go where they may."
On Friday, Jenkins hosted over 40 of the students at the NovaCare Complex to show how the Eagles' Sports Science program incorporates all of the elements of S.T.E.A.M. Jenkins had a lightbulb moment while working out one day at the team's practice facility this offseason. He saw the monitor which displays a player's power output while lifting weights and the students came to mind.
"I thought this would be an awesome experience to bring the kids here and talk to them about sports science and what goes into practice, training, recovery, and rest," Jenkins said.
Head strength coach Josh Hingst and director of high performance Shaun Huls embraced the idea and they did a similar presentation to the one that they give the players.
The students spent time in the indoor bubble learning how to stretch properly before running through an obstacle course. They received healthy eating tips and grasped the importance of getting the proper amount of sleep every night. Jenkins admitted though that his favorite part of the day, however, was seeing the kids' faces light up with the technology that is used in the weight room.
"Coming to Philly, we realized that there is a jewel of resources right in the heart of the city that many kids don't have access to," said Gwendolyn Jenkins, Malcolm's mother and the president of The Malcolm Jenkins Foundation. "A part of the goal with the S.T.E.A.M. program is to provide them access to resources right there in their neighborhoods and to expose them to a way of learning that would introduce them to the industry of S.T.E.A.M.
"It can help them make choices and deal with challenges in everyday life that they learn through S.T.E.A.M., but also make good education choices and hopefully will inspire them to spark something of interest like maybe a career in science or math because they didn't have the knowledge or the understanding of how it plays with everything else they do in life. That's the goal."
The Philadelphia Promise Zone is a two-mile section of West Philadelphia that was designated by the Obama administration because of an extremely high poverty rate of 51 percent, nearly double that of the rest of the city. The initiative helps connect local residents with organizations that work to provide better education, jobs, housing, and health services.
"The biggest thing we want to do with the foundation is give underserved children experiences. Personally, I know how all of these experiences I've had as an adult have made me who I am. I know how much a difference it has made in my life. I really want to give kids the opportunities that they otherwise wouldn't have," Malcolm Jenkins said.
Jenkins was the recipient of the Byron "Whizzer" White Award in 2017, which is the "highest honor" given by the NFLPA to "the player who is just as dedicated off the field as he is on the field through community service in their team cities and hometowns." Since launching The Malcolm Jenkins Foundation in 2010, Jenkins has created special programs and events in his hometown of Piscataway, New Jersey and the three places where he's played football at the college and professional levels: Columbus, Ohio; New Orleans, and Philadelphia.
"I think we all have an obligation to use our platform, whatever it is, to make a difference to others and in the lives of others and to make this place we're living in a better place," Gwendolyn Jenkins said. "He has a large platform and he's using it to the fullest. That's all you can ask for, really. Making a difference. That's what life is about. How many lives did you impact? I think he's doing a great job. As a mom, I'm proud of that moreso than the football."