New but familiar Eagles linebacker Emmanuel Acho has learned what it's like to tumble through the NFL washing machine. A sixth-round pick of the Cleveland Browns last season, Acho spent his entire rookie season on injured reserve. Traded to Philadelphia in the offseason, Acho impressed when given the opportunity in the middle of the Eagles defense, especially with an 11-tackle, one-sack performance in the final preseason game. He impressed enough, in fact, that he made the initial 53-man roster for the Eagles, only to be released the following day.
From there, Acho joined the New York Giants practice squad, where he often played the role of upcoming opponents on the scout team. On Monday, Acho received the phone call he'd been waiting for, that he would be rejoining the Eagles as a member of the active roster. Yet, with those many stops and roles across the league, Acho is now preparing to do something he's never done on Sunday afternoon – play in a regular season game.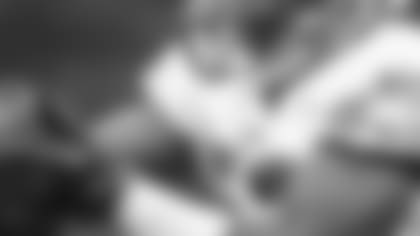 "I tried to stay pretty level-headed through it all," Acho said Tuesday. "Everybody was all excited when I did initially make the team on that Saturday, but I kept telling my parents and my friends, 'You never know.' The NFL is day-to-day. Your job is never guaranteed. So I stayed pretty level-headed. So when I got the call that the Eagles wanted to move on and go a different direction, I wasn't really too shocked. That's just the nature of the beast. The day that you are shocked is the day that the NFL has you fooled. So I wasn't too shocked, just looked to the next opportunity. I talked to some of the coaches here, so had the feeling that I'd be back eventually, sooner than later, and thankfully it came before the halfway point in the season."
With Jake Knott on the mend with a hamstring injury, Acho is likely to have play an important role on special teams against his former team, the Giants, in his regular season debut.
"I know I talked to Chip outside and he said, 'Are you ready to come out here and contribute on special teams first and foremost?' And I said, 'Without a doubt,'" said Acho. "So I'll go out there and play, play well, play at a high level on special teams and, being familiar with the Giants personnel, I should be in a good position to do that."
Defensively, Acho stayed familiar with the Eagles' scheme.
"I never really forgot it," said Acho. Defensive coordinator Billy Davis, "he and I are very close. So I never really forgot the defense. I'll say, I was going to do the defense this week either way I was going to be on Philly's defense, either on scout team in New York or on the active roster in Philadelphia."
Acho's familiarity with the Giants, meanwhile, also helps his preparation during a whirlwind week on the job.
"I already know the personnel," he said. "I already know who I'm going against. It just makes you a lot more at home, especially with this going to be my first regular season game active. There would be no better opponent than guys you've already faced in practice, (guys who) you already feel like you can beat. You know their strengths and their weaknesses."