In Donovan McNabb and Ben Roethlisberger, the Keystone State boasts two of this season's top quarterbacks.
The quarterbacks have been fairly flawless this season, with neither throwing an interception. Both have above-100.0 passer ratings, with Roethlisberger leading the NFL in the category (136.3), while McNabb has fired for the second-most yards in the league (642 to Jay Cutler's 650).
Both quarterbacks certainly have quite a supporting cast. Roethlisberger has running back Willie Parker, who enters Sunday's game with 243 rushing yards and three touchdowns, while wide receiver Hines Ward has 11 catches and three scores. McNabb's weapons include running back Brian Westbrook, who leads the league with five touchdowns, and rookie receiver DeSean Jackson, who became only the second rookie to open his career with two consecutive 100-yard receiving games.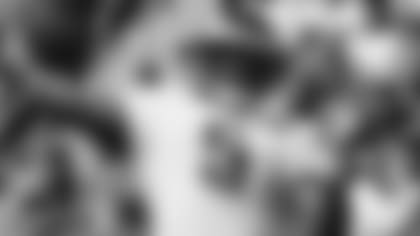 QB Donovan McNabb
Stopping No. 5 is priority one for Pittsburgh, says Steelers' head coach Mike Tomlin.
"If you watched a little bit of television (Monday) night, you see what the guy in the center is capable of. It starts with him when you talk about Philadelphia," Tomlin said. "He's throwing the deep ball as well as I've ever seen him throw it. His pocket awareness and movement and creating something as plays break down is as dangerous as ever. He just appears to be in a groove right now, playing really well. When he's playing like that, you have problems when you play the Philadelphia Eagles."
Meanwhile, a Week 1 shoulder injury hasn't seemed to effect Roethlisberger, who boasts a near-perfect 136.3 passer rating and is averaging 9.8 yards per passing attempt so far this season.
"He's a tough kid, and he's playing very well right now," head coach Andy Reid said. "He's throwing the ball very well."
McNabb's rise to the top of the NFL has taken some time, but has been magical nonetheless. Roethlisberger has been somewhat of an overnight success.
A five-time Pro Bowl player, the 31-year-old McNabb has won his share of big games -- playoff games, division-clinching games, Monday night games. And he's certainly aware of what his 26-year-old counterpart has done in the western part of the state.
"You're talking about a guy who started early, had a great winning percentage in his first couple years and led his team to, obviously, a Super Bowl win," McNabb said. "He had an (motorcycle) accident, but still was able to bounce back and have a great year (in 2007) and was rewarded with a great contract. He's going to have a great career."
Roethlisberger became the first quarterback to go 13-0 in a season, the youngest to win a Super Bowl, the first on the Steelers to hit a 100 passer rating and the one who survived a horrific motorcycle accident. Last season Roethlisberger set team records for single-season passer rating (104.1) and touchdown passes (32) en route to his first Pro Bowl appearance.
Roethlisberger's early development was aided by Mark Whipple, his former quarterbacks coach who is now an offensive assistant with the Eagles. Whipple tutored Roethlisberger during his first two seasons, the latter of which ended with a win in Super Bowl XL. However, Whipple was not retained when Tomlin replaced Bill Cowher as head coach.
"The Eagles got a great coach in 'Whip.' I'm really disappointed that we lost him," Roethlisberger said. "I would have loved for him to be my coach for a long time. He really is great mentor, a great coach. He's a guy that knows how to work with a player, regardless if they're a veteran or if they're a rookie. He's a people guy. He's a players' coach. He's really good at what he does."
McNabb is learning that first-hand.
"With his experience, he gives me an opportunity to see a little bit more," McNabb said of Whipple. "When you get to my age and as many years that I've been in this league you always challenge yourself to do more and learn more. Mark has given us the opportunity to kind of see different things and be able to picture it before it actually happens."
Like McNabb, Roethlisberger has demonstrated tremendous poise and composure. He's made good decisions with the football. He's made plays when it doesn't seem like plays can be made. He's also led his team to comeback victories.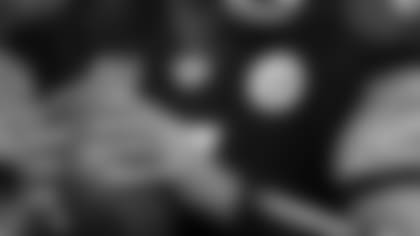 QB Ben Roethlisberger
"He's a guy that understands about sudden movement. And that's something I think we all have to learn in this league," McNabb said. "I've learned it in the last five years or so. It's not all about taking off and running. It's about buying time."
After drafting McNabb with the second overall pick in 1999, Reid brought his young quarterback along slowly, allowing him time to digest the complex West Coast offense. McNabb didn't start his first NFL game until the 10th game of his rookie season.
Pittsburgh made Roethlisberger its first-round selection in April 2004, but had no intentions of starting the Miami (Ohio) product. But then an injury to starter Tommy Maddox in Week 2 forced Cowher to insert his young signal caller.
Neither Reid nor Cowher can be faulted for their handling of their respective quarterbacks.
McNabb was 36-20 in his first 56 starts, while Roethlisberger was 40-16 in his first 56 starts.
Both quarterbacks have been outstanding in two games in 2008. Which quarterback steps up and makes the most plays against pressure defenses?
The battle for bragging rights in the Keystone State is on Sunday afternoon.