The laundry list of injuries for the Eagles is extensive, but at least for now, it doesn't seem like the recovery times are.
Though key offensive contributors Brian Westbrook, Donovan McNabb, Shawn Andrews and L.J. Smith did not practice Wednesday, head coach Andy Reid didn't seem particularly concerned about any of his wounded. Andrews missed last Sunday's game with Pittsburgh, while the other three all left at some point. Only McNabb returned.
It isn't yet known which of the four – if any – will be able to play Sunday night in Chicago, but the outlook isn't as bleak as it might have been.
Westbrook's bum ankle seemed the most likely to elicit distress, as he left Lincoln Financial Field on crutches Sunday. But an MRI showed no signs of a ligament tear and on Wednesday, the crutches were sidelined and his limp was less noticeable. Reid reiterated that "it will be a race" to get Westbrook ready for this week, but the fact that the possibility even exists could be a major sigh of relief.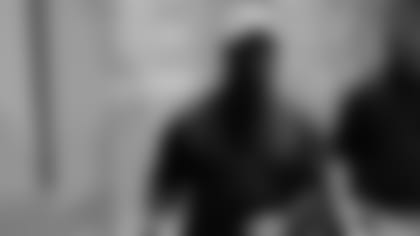 RB Brian Westbrook walked to the podium without the assistance of crutches
Because of a high ankle sprain suffered in the past, Reid said the running back is feeling some pain associated with the injury. But he also said the symptoms "are leaning" away from a high ankle sprain, typically a more serious injury.
Westbrook hasn't yet tested out his ankle on the field, but he's been undergoing rigorous treatment for up to three hours every day since he suffered the strain on the first play of the second quarter last Sunday.
"I'm optimistic about getting out there and being able to play," Westbrook said. "I've been rehabbing pretty hard, pretty aggressively, and doing basically everything I can to be able to get out there on the field on Sunday night."
As for McNabb, he remains sore with a chest contusion and hasn't yet thrown a pass since Sunday's victory against Pittsburgh. He said his goal this week is to rest and decrease the "soreness and tightness" associated with the injury. The tricky part for McNabb is knowing exactly what his threshold will be this week since he won't be subjected to any contact until the Chicago trip.
But that won't be stopping him from starting at quarterback in his hometown.
"There's not a chance in my head (that I won't be playing Sunday)," McNabb said. "I expect to be out there."
Smith and Andrews both are suffering lower back problems. Andrews' injury has been classified as back spasms, but he only recently started seeing notable improvement since suffering the injury against Dallas on Sept. 15. Reid said there is no structural damage to Smith's back, but Smith won't see any action until he "can function" with the pain.
Max Jean-Gilles started in place of Andrews at right guard last Sunday, and should Smith be sidelined, Brent Celek will start at tight end.
"We're fortunate enough to have some backup players that'll step in and do a pretty good job," Reid said. "It's just a matter of them having the reps that they need to play in the game there."
On the brighter side, wide receiver Kevin Curtis participated in scout-team drills Wednesday, his first practice since undergoing sports hernia surgery in late August. Curtis is considered to be ahead of schedule with his recovery time.
"We'll see what he can do out there. It's that simple," Reid said. "I've got to see where his speed, ability to change direction – all the things that he needs to play the position – are at."
"The trainers here, they do a good job and they work hard to get you back on the field," Curtis said. ""I've been in here every day doing what they have, and doing stuff on my own, so I'm doing all I can to get back on the field."

Chicago coach Lovie Smith didn't offer much in the way of news concerning his injured players, especially wide receiver/kick returner Devin Hester. When asked if Hester, who has a rib injury, would practice this week, Smith said "We'll see once we get to practice."
Once the Bears practiced, Smith apparently found out along with everyone else that his star would be held out of workouts. Among those out were defensive tackle Tommie Harris and cornerback Nathan Vasher, while linebacker Brian Urlacher and safety Mike Brown were limited in order to rest.