DeSean Jackson had a chance to erase all the mistakes the Eagles made on Sunday.
Jackson, though, let that opportunity slip through his fingers.
But there was the Eagles' prize rookie standing in front of his locker after the loss to the Redskins. He didn't make any excuses on why he didn't catch the ball.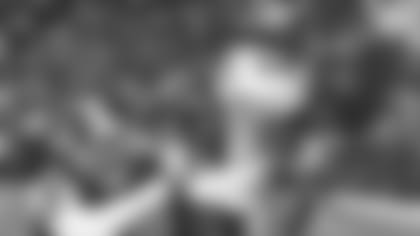 It was that close
On the Eagles' third offensive play of the game, quarterback Donovan McNabb tried to hit Jackson on a slant pattern. The ball was a bit high, Jackson had to extend for it and he absorbed a vicious hit.
He left the game to go into the locker room for X-rays. With the Eagles' receiving corps already depleted – they were without receivers Hank Baskett and Kevin Curtis, who both missed the game due to injuries - Jackson felt like he had to come back into the game.
"I tried to come back and have that fight, just put it on the line for my team," Jackson said. "It was definitely tough coming off the injury and still trying to play through it, but I just felt I had to do something, and that was go out there and help my team through the battle. I definitely wasn't a 100 percent or where I need to be but sometimes you have to live with that."
After he came back, it was obvious he was impaired.
Early in the fourth quarter, Jackson clearly beat Redskins cornerback DeAngelo Hall on a fly pattern down the left sideline. McNabb delivered a very catchable ball, but Jackson spun around and the ball ricocheted off his left shoulder, falling harmlessly incomplete.
Then, with under a minute to play and the Eagles driving for a potential game-tying touchdown, Jackson got behind the Redskins' defense on the right sideline and McNabb delivered a near-perfect pass into the back corner of the end zone.
Jackson had his defender beaten by a step-and-a-half but the ball caromed off his fingertips. It felt like a dagger straight to the heart.
"Both the catches I felt I should have caught," Jackson said. "Like I said, it's just unfortunate. I was trying to be out there fighting, going through pain. It's kind of the game we play. You're not always going to be healthy, you're not always going to feel great, but you're still going to have to go out there and just fight through, do the best you can do. I'll take the blame. I feel like I should have caught the passes, but you can't do (anything) about it now. Just hopefully the next time it happens that way, just make a play anyway possible.
"I felt a couple of times after I came back that I was open on a couple of plays. I got kind of overexcited when they didn't come my way. When they did come my way, I wasn't able to put it together. Like I said, I came back in there and put it on the line to try to do whatever I could do to help this team but it just wasn't able to work that way."
Now the Eagles, who had a chance to control their own destiny heading into the final weekend of the regular season, must get some help and defeat the Dallas Cowboys at Lincoln Financial Field on Sunday to make the playoffs.
There's no time to let the pain of their most recent loss subside.
"I'm not going to put my head down," Jackson said. "Obviously, we have a big chance to get in the playoffs. It was one of the biggest games all year. To come here, a team we lost to at home, we felt confident about coming in here and handling our business. (We) just weren't able to get it done.
"(We're) disappointed in the way we played. Not to take anything away from the Redskins, they definitely have our number (after) beating us twice this year. It's definitely out of our hands now. If we took care of business, it would be in our favor but we just let it slip."