It requires some different mental wiring to succeed as a defensive lineman in the NFL. Every play, you're battling with offensive linemen who are willing to do anything they can, from holding to eye-pokes to shots below the belt, to keep you away from the person with the ball. But the best defensive linemen welcome that confrontation and manage to keep coming back, play after play.
Isaac Sopoaga is a 10-year veteran with 125 games under his rather large belt. And make no mistake, Sopoaga is quite the character.
"Friendly fire. Go Eagles, thank you for choosing me," Sopoaga begins his interview. "So far I am enjoying myself and I also wanted to give thanks to our precious heavenly father for each wonderful, beautiful day that he has given to us for us to go outside and train hard, train fast and also train smart. Like we go Eagles."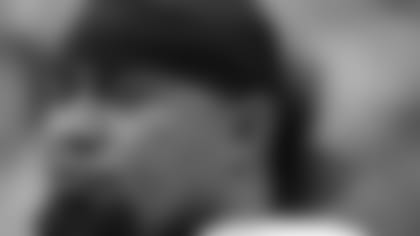 As they begin the transition from the wide-nine to an eventual 3-4 defense, Sopoaga is an important building block. Reared on many years as a 3-4 nose tackle with the San Francisco 49ers, Sopoaga brings experience to a defensive line comprised mostly of young players who will all learn from the veteran's example.
Sopoaga, for his part, downplays his role as example-setter.
"I might be the (veteran) on our line, but my leader, our leader is (defensive line coach Jerry Azzinaro)," Sopoaga said. "We are all in this together. It's not veterans, it's not six-year, it's not two-year guys, it's not rookies. We all help each other to get better, to be a success."
Whether he admits it or not, though, Sopoaga sets a professional example for the young defensive players. Counting the pass rushers like Trent Cole and Brandon Graham as linebackers leaves 11 defensive linemen, including the 30-year-old Sopoaga, on the Eagles roster. Those other 10 players average 23.7 years of age. Outside of Sopoaga, Antonio Dixon is the only defensive lineman to have played more than 16 games in the NFL.
That's why his answer is telling when he's asked about the prospect of putting on the pads for the first time. Is that the official beginning of football? When you're a seasoned professional, everything counts as football.
"It is already real football since the day we first got here," Sopoaga said. "It's not when you put on shells, it's not when you put on helmets. It's the first day you're here, you shake your teammates' hands, you shake your trainer's (hand), media, everybody here. That's when everything starts."
Those comments stand in remarkable consistency with how Kelly described Sopoaga when he first joined the Eagles.
"Not only (is he) an outstanding football player, but (he's) outstanding off the field, too, and it takes a lot to be a professional football player, and if you're not all in, 24/7, 365, then it becomes very, very difficult," Kelly said. "Kind of identifying who we wanted to become part of the Eagles organization, that was just as important as how fast are they and how strong are they … (He's) going to be a tempo setter for this football program in terms of how we want to practice."