The Eagles mourn the passing of Pro Bowl cornerback and legendary broadcasting pioneer Irv Cross, who passed away early Sunday morning near his home in Roseville, Minnesota. He was 81 years old.
A man deeply devoted to his faith, Cross is survived by his wife, Liz; four children, Susan, Lisa, Matthew, and Sarah; grandson Aiden; brothers Raymond, Teal, and Sam; sisters Joan, Jackie, Julia, Pat, and Gwen; and many nieces, nephews, cousins, and in-laws. In lieu of flowers, donations may be sent to the Alzheimer's Research and Prevention Foundation or the Concussion Legacy Foundation.
"I've been around all kinds of people, from every walk of life. I don't know that I could give you one person who was nicer than Irv Cross. He was a constant gentleman," said Brent Musburger, who teamed up with Cross on THE NFL TODAY, the first live NFL pregame show that set the standard that is still followed today.
Born and raised in the steel mill country of Hammond, Indiana in 1939, Cross was the eighth of 15 children in his family. His mother, Ellee, passed away when Cross was in the fifth grade. Cross' teacher, Ruth Ewing, saw the potential in the young boy and did not want him to get discouraged.
"You're the kind of young man who can go to college," she told him.
There were two high schools in Hammond – a vo-tech school that offered training for the jobs in the steel mills and similar industries and another that prepared students for college. Much to the surprise of his father, Acie, Cross had his eyes set on being the first member of his family to go to college and wanted to go to what was considered the "other" high school. At the time, Blacks typically went to the vo-tech school.
Cross starred in football, basketball, and track and field at Hammond High. He was named the Male Athlete of the Year in 1957 by The Times of Northwest Indiana. He went to celebrate with friends at the restaurant across the street, but they were denied entry because he was Black.
"He didn't allow incidents like that to deter him or make him bitter," said Clifton Brown, a Philadelphia native and longtime sports writer who teamed up with Cross on his memoir, Bearing the Cross.
His on-field success continued at Northwestern, where he was part of legendary coach Ara Parseghian's first recruiting class. Cross was a two-way player, a speedy wide receiver and physical cornerback. He was a captain of the 1960 team and an All-Big Ten selection. It was at Northwestern where he and Musburger first crossed paths as they both attended the school at the same time. To maintain his athletic scholarship, Cross had a job restocking the towels and toiletries in the men's rooms of several of the dorms. Musburger struck a conversation during a chance encounter that started their friendship.
A seventh-round pick of the Eagles in 1961, Cross spent six years in Philadelphia as a player and another three with the Los Angeles Rams. During Training Camp of his rookie year, he asked the coaches to release him early if he didn't have a future in football. He planned to attend graduate school. After earning Pro Bowl honors in consecutive seasons, Cross was traded to the Rams following the 1965 season. He returned to the Eagles as a player/defensive backs coach in 1969 and remained in the coaching role for the 1970 season. This should be a surprise. In his rookie season, coaches quizzed the players on their responsibilities. Cross was the last person to hand it in. The coaches thought that Cross struggled with the playbook. It was the opposite. He filled out the duties for everyone on defense and on offense. The coaches made him a signal-caller on defense as a rookie.
"He knew he had to work hard. He always knew the odds were against him. For anyone who comes from that type of background, his determination," Brown said. "He was a quiet gentleman. He's one of the most gentle people I've ever met. But underneath, there was a determination within him. He was a tough cornerback. He was a physical player, great tackler. He was not afraid of challenges."
Respected by teammates and coaches around the league for his toughness and smarts, Cross was offered a front-office job with the Dallas Cowboys following his career. The Cowboys? Of all teams, the Cowboys?
"I'm not saying that's why he didn't do it, but he laughed about it," said Brown.
Cross loved Philadelphia. LOVED it. His son, Matthew, said that he was only allowed to be an Eagles fan growing up, even though Cross also spent time with the Rams. Cross was unable to attend the NFC Championship Game in the 2017 season, but he arranged for Matthew to be there. After the win, Matthew called his father to relive the incredible win. Matthew said that his dad was so overcome with joy that he was singing the fight song, "Fly Eagles Fly." Two weeks later, the Eagles won their first Super Bowl not too far from Cross' home. Musburger recalls that the last time he spoke to Cross was the week leading up to the Super Bowl. Musburger admitted that he thought the Patriots would win easily, but Cross offered every reason to think the Eagles had a fighting chance.
His post-playing success started in his rookie season. Following the 1960 NFL Championship, players were asked to give speeches and make appearances on the behalf of corporations. Most players requested a fee. Cross told Eagles Director of Public Relations Jim Gallagher that he would gladly help for free. Following an appearance, Cross was approached by Bill Emerson, who was the sports director at WIBG radio station in Philadelphia. Cross started his broadcast career at WIBG while he was still playing and caught the attention of KYW, who offered Cross its sports director role on both radio and television. He gained plenty of exposure in the Philadelphia market as his sportscast preceded The Tonight Show starring Johnny Carson.
In 1971, Cross was hired by CBS Sports as a game analyst. His role grew to include coverage of other sports such as track and field and gymnastics for the weekly show CBS Sports Spectacular. Four years later, CBS took a gamble putting together Musburger, Cross, Phyllis George, and Jimmy "The Greek" Snyder for its pregame show. Cross was set to become the first Black network sports show anchor. George was the first woman in that role, who was succeeded by Jayne Kennedy. And it was the first live pregame show, previously they were taped on Friday afternoons.
"He knew that it was important for him to do well. Irv knew that if the show had failed, that it might hurt down the road for other Black sportscasters to get a similar opportunity. He was carrying that weight and he did it so superbly," Brown said. "It's just a seamless transition now. We're just so used to seeing former athletes on television. But all of them, particularly those who are African-American, whether they know it or not, I believe they owe a debt to Irv Cross."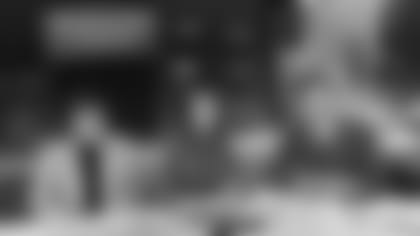 "All of us at CBS Sports are saddened by the news of Irv Cross' passing," said CBS Sports Chairman Sean McManus. "Irv was a pioneer who made significant contributions to the storied history and tradition of CBS Sports and, along with Phyllis George and Brent Musburger, set the standard for NFL pregame shows with THE NFL TODAY. He was a true gentleman and a trailblazer in the sports television industry and will be remembered for his accomplishments and the paths he paved for those who followed."
Cross was on THE NFL TODAY for 14 years and spent 23 years total with CBS Sports. He was the first Black recipient of the Pete Rozelle Award in 2009 and is thus enshrined in the Pro Football Hall of Fame.
"He was the perfect personality for the group of egos that he had to be around," Musburger said. "And it is not easy. It's like putting together a football team. You got a flashy quarterback. You have a flashy wide receiver. You got a hard-working running back, but you better have the offensive tackles, guards, the guys who do the dirty work day in and day out. Irv Cross did that. If we had another huge ego in there as an ex-player, we would have had major problems. Not once was there a problem between Irv and anybody else. He was the ultimate teammate to tell you the truth. He was just a great team player."
"It's kind of symbolic that he passed away on the last day of Black History Month. He is a historic figure in television as the first Black national sports analyst and to be on a show that successful; he's a part of sports television history," Brown said. "I loved how good he was at his job. I loved that he looked like me and he was a guy on television at that time, in that position, where you didn't see people who looked like me. And he handled himself so well. He was an inspirational figure to me and I think a lot of people felt that way."
An outstanding NFL career. A legendary broadcaster. He continued to make a difference in several roles throughout the rest of his life, including, the athletic director at Idaho State, the athletic director at Macalester College, the executive director of Big Brothers, Big Sisters of Central Minnesota, and the executive director of an organization called Love Inc., a community outreach group.
"He was a deeply religious man. I know he would want me to mention that," Brown said of Cross, who almost always had a bible with him. "That was extremely important to him. He lived his life that way. It wasn't talk. I think that's part of the reason people loved working with him so much. He was kind. He was patient. He was forgiving. A lot of things that are preached if you're a religious person, it was truly that way."