Jason Peters is one of the most prolific left tackles in the NFL. At 6-foot-4, 328 pounds, Peters is a five-time Pro Bowl and four-time All-Pro selection. It is amazing to think that Peters did not even begin his career as an offensive lineman.
Senior Football Advisor Tom Donahoe was the president of the Buffalo Bills in 2004. Following the NFL Draft that year, Donahoe was trying to get cornerback Jabari Greer to sign with the Bills as a rookie free agent. His agent also represented Peters and safety Rashad Baker, who spent time with the Eagles. In order to get Greer to ink a deal, Donahoe agreed to a package deal.
"We were mainly talking about Jabari," Donahoe said. "We knew those guys (Peters and Baker), so we said we'll take them all."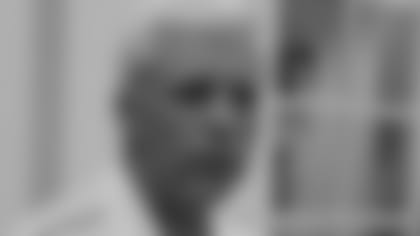 Peters was a tight end at the University of Arkansas and started his NFL career there, but he quickly showcased in pass blocking drills that he was not only the best among the tight end group. He was the best on the entire team, including the offensive linemen.
"We tried to hide the guy initially because we figured if he doesn't make the roster somebody's going to scoop this guy up," Donahoe said.
Peters started the season on the practice squad, but Buffalo started to get nervous and promoted him to the active roster on Nov. 13, 2004.
"We put him on the active roster to protect ourselves knowing that it was probably going to take a year or two for him to develop the details of playing O-line," Donahoe said. "We played him on special teams. He was a demon on special teams. He did everything. He covered kicks. He was on the punt block team."
In fact, Peters made his first start that season as a second tight end against the Bengals. Later in the game, he blocked a punt and recovered it in the end zone for a touchdown. In 2005, Peters started the final nine games of the season at right tackle. He made one start at left tackle in 2006 and became a full-time starter there in 2007.
"He just kept getting better and better. He was like a sponge. Everything the coaches threw at him he accepted it. He got better at it," Donahoe said. "To his credit, Jason really worked at his craft. He's gotten bigger. He's gotten stronger. Athletic ability has always been there, but you've got to give Jason Peters a lot of credit for where his game is today."
The Eagles traded three draft picks, including a first-round selection, to Buffalo for the rights to Peters and then signed him to a lucrative contract extension. Peters earned Pro Bowl honors in his first three seasons with the Eagles before missing all of last season due to an Achilles injury. Peters has been on the field for all of Training Camp and is on track to return to the field this season. Donahoe has been able to see first-hand Peters develop from a raw, but athletically gifted rookie to one of the most dominant players at his spot.
"It was fun to see him grow. It was fun to see him develop each year and now to see him here in Philadelphia where this guy is a bona fide Pro Bowl guy and he's as good as anybody in the league at his position," Donahoe said.