His 4-year-old son, Will, is on the spectrum and stands to benefit from the money raised by the inaugural cycling and running event happening on May 19. Tyrrell and his wife, Leah, have been able to provide their son with the services he needs but other families aren't as fortunate.
"We took him for speech therapy at CHOP (Children's Hospital of Philadelphia). It was costly, but it was important that he gets these extra services. You go all in. You're going to give your kid everything you can. We try to give him all the resources we can because this is such an impressionable time," Tyrrell said.
"This is perfect," Tyrrell said. "I said this is easy! This is the least I can do. You start to ask people for help. Not for you, but for those who may not be as fortunate. That's what's driving me.
"I don't see it as just helping Will. I see it as helping the entire community. It's really heartwarming for me to see my family and friends care that much about us to help out."
"You'd be shocked at how many people you don't expect, are willing to chip in and help," he said. "It gives you a chance to thank them and catch up."
Will Tyrrell was about 2 1/2 years old when a pediatrician recommended a specialist to see if he had a developmental delay. Will's speech was what caught the pediatrician's attention.
The challenge for the Tyrrells was that it can take up to a year just to get an appointment with a Developmental Pediatrician, who is the one that provides a diagnosis. The loss of an entire year at such a formative age while waiting for news was a daunting prospect for them. They enrolled Will in every program available while realizing their worst fears could soon be confirmed.
"We would ask the therapists and specialists, and they wouldn't say for certain," Tyrrell said. "We kind of had our suspicions."
Tyrrell's parents grew up in rowhomes in Southwest Philadelphia, and then moved to Williamstown, New Jersey when Bill was born. He has a younger sister, Heather, who became ill and nearly lost a battle with Hodgkin's lymphoma in second grade.
"We had our share of adversity as a family in my younger days," he said. "We rallied together and it's inspiring to see her now."
The lessons learned from his youth would come in handy decades later. Tyrrell recalls the night when he and his wife were told that Will, indeed, has autism.
"It's a sad night," Tyrrell said. "You have a pity party for that night then you get up the next day and you say, 'How are we going to make this work?' It's going to be a different journey than the one my wife and I had growing up. You have obstacles in your life. The important thing is that you stick together and that you work through it as a family, no matter what the outcome. Then you try to do the same for other people."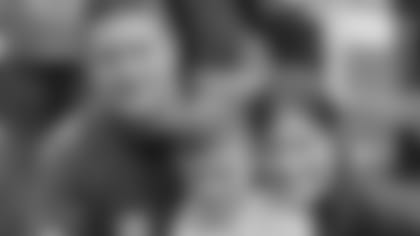 Will is a huge sports fan who watches games with his dad all the time. The two attended an Eagles game early in the 2017 season. Both were enjoying the pregame festivities until quarterback Carson Wentz was introduced, which whipped the fans at Lincoln Financial Field into a frenzy. The overstimulation from the noise and people moving was too much for Will to handle and he began crying hysterically.
"You have to address things that most parents don't. That's a big difference," Tyrrell said. "You have these extraordinarily positive things, but then you have these everyday things that most kids get done or can work their way through, but for us results in a public meltdown a can be a real challenge.
"The more time you spend with kids that are autistic, the more you get to see the unique beauty in them. There is something very unique about a kid who is on the spectrum. If you'd spend any quality time with my son, you'd fall in love with him. He is the neatest little kid you could ever imagine. He has some amazing abilities that I'm sure most kids his age don't have. At first glance, you might not even recognize that he's on the spectrum. But if you spend some time with him you're going to see both sides. If you take the time to get to know the person inside there, you'll be really surprised at what an extraordinary person, and maybe a great friend, you would meet."
The programs at CHOP help the Tyrrells, who have since had a second child - a daughter named Sara, who is not yet showing any signs of having ASD - and other families navigate their children through situations that might be ordinary for most but not for those on the spectrum. Young Will played on a soccer team and the best way for him to be coached was through one-on-one instruction. He disengages in a group setting and keeps to himself.
"We've grown as a family because we've been able to deal with the challenges," Tyrrell said.
Through the Eagles Autism Challenge, the Children's Hospital of Philadelphia, Drexel University, Thomas Jefferson University and Jefferson Health will be provided additional financial resources to help find the answers for which the Tyrrells and many other families are searching.