Running back Brian Westbrook participated in the team's morning walk-through and at least some drills in the afternoon session on Wednesday.
"It went well, as well as can be expected," Westbrook said afterward.
But the news for other players that missed Sunday's game in Chicago varied, according to head coach Andy Reid.
Tight end L.J. Smith, sidelined with a back injury, was full-go in practice and could be back on the field this weekend. On defense, second-year end Victor Abiamiri could resume practicing soon after having the screws in his surgically-repaired wrist removed Tuesday.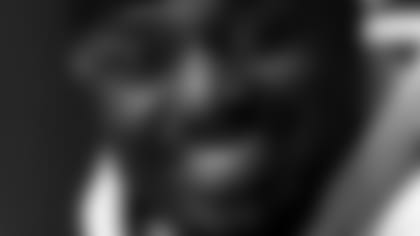 All signs point to a return to the field for Brian Westbrook on Sunday
Shawn Andrews (more details on Andrews below) and Abiamiri were the only players to miss Wednesday's practice. Westbrook, along with quarterback Donovan McNabb (chest), receiver Kevin Curtis (hernia), cornerback Asante Samuel (chest) and defensive tackle Dan Klecko (hand) were all limited.
But all eyes are on Westbrook, who accounted for 183 total yards and three touchdowns in the last meeting with the Redskins.
Reid said that, like last week, Westbrook will be evaluated on a day-to-day basis.
"It was good to have him back out there," Reid said. "He's trying like crazy to get himself back out on the field, and that's important."
In warmups just hours before Sunday's game, Westbrook – along with the team's training staff – determined he did not have the mobility necessary to play against the Bears.
Westbrook suffered an ankle strain in Week 3 against Pittsburgh when leaping over teammate Tra Thomas. The injury apparently looked a lot worse than it actually is: Westbrook left Lincoln Financial Field on crutches Sept. 21, but has not used them since.
"I'm definitely encouraged. I've gotten better every day," Westbrook said. "The injury is another week older, another week of rehab for me. By the time Sunday comes around, I'm definitely more optimistic than I was last week."
The bad news, of course, is that the team is unsure when Westbrook will have Andrews to make holes for him. Max Jean-Gilles has started the last two games and took the majority of the offensive snaps in Dallas.
The results from Andrews' assessment with a doctor are not yet available.
Reid also said that quarterback Donovan McNabb remained sore with the chest contusion he sustained against the Steelers.
But the big news obviously surrounds No. 36. And if he is unable to play, Westbrook says he believes his backups could get the job done.
"Every year, there's going to be injuries. Running backs, in particular, because we touch the ball a lot," Westbrook said. "That's part of the game. That's why you get quality backups like we have here and you go out and you prepare them like you prepare yourself."
ANDREWS: MEETING WITH SPECIALIST POSITIVE
Offensive guard Shawn Andrews visited a back specialist on Wednesday and emerged with a bright outlook about the back problems that have sidelined him since midway through the Week 2 battle with Dallas.
"I'm very positive right now, very upbeat," he said after Wednesday's practice. "We're going to see what the next couple of days bring and remain optimistic. As always Rick (Burkholder, head athletic trainer) and his guys are doing a heckuva job in the training room. Things are looking very up."
Andrews said the last few weeks have been difficult not knowing the extent of his injury.
"It's real tough. Those were some heck of some spasms, I must say," said Andrews. "That back, again, you can play with a fractured finger, a fractured wrist, but a back. You get to thinking about life in general and things that are bigger than football and the things you might not be able to do without that back."
Despite all of that, Andrews sounded like he could be back on the field sooner, rather than later.
"The last few days have made me more optimistic. I can feel myself getting better," said Andrews. "That's what counts. I'm feeling very motivated right now."
The next step is what matters with Andrews. And it sounded like he is ready to take a big leap toward getting back on the field very soon.
"We're definitely going to see how things go tomorrow from the visit today," said Andrews. "The way I'm thinking, and as much as I'm praying and working, I think tomorrow is going to be a good story-teller for the situation."
Could he practice on Thursday? Andrews would not commit to that. As head coach Andy Reid has said, back situations change one day to the next.
Andrews just wants to be better on Thursday than he was on Wednesday.
"I'm not going to say that (that he might practice Thursday)," said Andrews. "You'd have to talk to the big guy (Reid). It may entail stepping it up to see what I can and can't do. In my mindset right now, I feel very unlimited. I don't want to be ignorant about the situation, but I definitely want to step it up a notch just to get back out there."
REDSKINS: TAYLOR NOT EXPECTED TO PLAY
Redskins defensive end Jason Taylor has started to do some jogging, but isn't expected to suit up this Sunday when the Eagles and the Redskins clash at Lincoln Financial Field. Taylor had a surgical procedure on Sept. 22 to repair his calf, which was injured when it was kicked during the Redskins' Week 3 against Arizona. The surgical procedure was deemed to have saved his career. The injury forced Taylor to miss last week's game against Dallas which ended Taylor's streak of having played in 133 straight regular season games.
Two other starters did not participate in Wednesday's practice because of injuries - right tackle Stephon Heyer and cornerback Shawn Springs. Heyer was relegated to special teams blocking duty last week against Dallas because of a shoulder injury and even in the limited role he tweaked the shoulder again. Jon Jansen started in Heyer's spot and would start again if Heyer can't play. Last week's start was Jansen's first since the beginning of the 2007 season.
Cornerback Shawn Springs missed the second half of last week's game against Dallas because of a calf injury. Redskins head coach Jim Zorn told the Washington media on Monday that the injury was not deemed to be serious and is still expected to play on Sunday.
Defensive end Andre Carter did not practice for personal reasons. Guard Randy Thomas (toe) and linebacker Marcus Washington (hamstring) were limited in Wednesday's practice.
CLOSE BUT NO CIGAR ...
If you're a fan at home wondering why the Eagles tend to rip your heart out with seemingly every loss, don't worry. The team's been wondering, too.
The Eagles left another win on the doorstep – quite literally – in Chicago, losing their second four-point game of the season. It's a trend of losing close games that has been criticized lately, and Reid understands the questions.
"That's a legitimate question. Games in this league are won and lost by very small margins," he said. "When you are in the classroom, when you're out on the field practicing, it's very important that you detail everything. Likewise, with the coaches and the head coach, it's important that he makes it cut-and-dry and detailed. We can all do a better job at that. That starts with me and making sure that I continue to emphasize that."
Since the start of the 2005 season, the Eagles have been in position to win just about every game. The problem is that the Eagles are 12-17 during that time span in games decided by seven points or fewer, including 1-1 in the playoffs.
And dropping two very winnable games early this season has put the Eagles at .500 – in the unenviable position of fourth in the NFC East.
"You can't go through the course of a game and play three or three-and-a-half quarters of good football and then don't capitalize at the end. You don't win too many games like that," McNabb said. "Especially when you get opportunities to put teams away, you have to be able to put them away. You hate to keep saying the same things that you have to learn from it, we have to get it done. No ifs, ands, or buts about it, the job has to get done."
But the offense isn't the only unit taking blame. Safety Brian Dawkins said the defense has been giving up too many big plays in big situations.
"During the game, there are a couple of plays that could swing games the other way. As a team, you go in every week and you prepare a certain way," Dawkins said. "You try to make sure that the plays you can control, you control and you make the plays that count. We've been able to do that sometimes. Other times, in those close games you're referring to, we haven't been able to."