Through two games the Eagles rank third in the NFL in total offense, first in passing yards and second in scoring at 37.5 points per game. And that is without both of their starting receivers from a year ago.
One of those, Reggie Brown, could see his first action of 2008 when the Steelers visit Lincoln Financial Field on Sunday afternoon. Sidelined with a hamstring injury since the second preseason game, Brown was full-go in Wednesday's practice.
"We'll take it slow with him and see how he does," said head coach Andy Reid. "We gave him a little bit last week. We'll increase it more this week and we'll see how he does, [see] if he's ready to play in the game. I don't know about starting, but if he's ready to go, he'll be in there."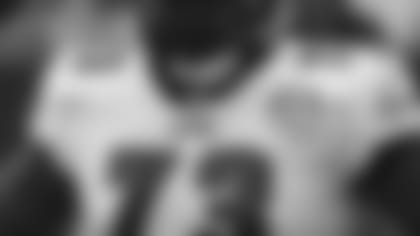 RG Shawn Andrews
Brown, who caught 61 passes in 2007, performed well in training camp but missed the preseason opener with an Achilles injury. He strained his hamstring the very next week on the first offensive play against Carolina.
After two games, Donovan McNabb ranks second in the NFL with 642 passing yards and sixth with a 114.1 passer rating. Those numbers can only get better with Brown's return.
"I think he can make a big difference," McNabb said. "I think, for us, it's a bonus because our receivers have been playing well. To get more guys back that can contribute will be big for us."
Kevin Curtis, who led the team with 1,110 receiving yards last season, remains out after having sports hernia surgery late last month.
The offense has a couple of additional injury concerns this week. Pro Bowl right guard Shawn Andrews and fullback Tony Hunt did not practice Wednesday and Reid listed them both as questionable for Sunday.
Andrews left Monday night's game with back spasms and Hunt injured his hamstring.
Reid indicated that Andrews' back is not as tight as it was during the game.
"The thing locked up on him, but it's starting to loosen up a little bit," Reid said.
For the Steelers, quarterback Ben Roethlisberger's shoulder is the hot topic. A TV commentator on Sunday night termed the injury a shoulder separation. However, no such word has come from the Steelers.
In fact, during his conference call with the Philadelphia media, Steelers' head coach Mike Tomlin made it clear that Roethlisberger will be under center Sunday.
"He'll be fine for Sunday and there will be no excuses," Tomlin said.
Roethlisberger, who threw for 186 yards and a touchdown during Pittsburgh's 10-6 win over Cleveland on Sunday, participated fully in the team's workout Wednesday afternoon. Earlier in the day, the quarterback said the shoulder was still "a little sore," but getting better.
"I feel better this week than I did at this point last week, so that's good," Roethlisberger said in his conference call. "It's been a painful thing, just trying to fight through it; but who isn't fighting through an injury right now."
A short-term memory is a pre-requisite for both coaches and players alike, especially after Monday night's game. Another key, says Pro Bowl running back Brian Westbrook, is to stay hungry.
"It takes a good team to learn from a game like we had last weekend," Westbrook said. "You have to take that game for what it is. It was a learning lesson for us. We can't make those types of mistakes and lose football games."
Westbrook, of course, was involved in the botched handoff in the middle of the fourth quarter which Dallas recovered and converted into the game-winning touchdown.
"We've been through adversity before," he said. "We have been through what happened last year, where we came out and did a great job against Detroit and the next week didn't do so well. For us, we can't allow ourselves to do that. We can't dig that type of hole for ourselves. If we come out and play football like we can, we should be okay."
"We feel like we're a good team and hopefully we can come out with that same intensity that we did last week and play against a good Pittsburgh team. Good teams have to move on."
The team has put up 75 points in the first two games, but as Westbrook says, the only numbers that matter are wins and losses.
"There are not many teams who are going to make it to the Super Bowl without losing any games," Westbrook said. "It takes a good team to play well every single week. We did play well last week, but we didn't play well enough. Our job every week is to play well enough to win."