Wide receiver Reggie Brown practiced fully for the second straight day and declared himself fit for action, especially as far as human beings are concerned.
"Right now, I really can't physically fly or transport myself through telekinesis to the airport," Brown said. "But as far as superhero abilities go, I'm pretty good."
WR Reggie Brown
Brown missed the first two games of the season because of a hamstring injury, but instead of pushing to get on the field against Dallas, Brown erred on the side of caution.
"I mean, the game (Monday) was exciting," Brown said. "You just want to get in there and play. But I didn't want to do anything stupid, get ahead of myself and have another practice setback. That's really unnecessary. (I) just want to take your time, be patient.
"It's been pretty tough. I don't like to sit around and feel like I'm not able to contribute to the team and what we are trying to get done here. In that aspect, as a player and as a competitor, it hurts but you just have to understand that it's a long season. I missed two games, but we have 14 more and hopefully some playoff games and a Super Bowl so I'm trying to look at the whole picture, not just one game at a time and hopefully we can get back on schedule."
Guard Shawn Andrews, on the other hand, missed his second straight practice because of back problems. Guard Max Jean-Gilles is ready to step in just in case Andrews can't play against the Steelers.
Jean-Gilles, who subbed in for the injured Andrews against Dallas, said he practiced with the starters on Thursday.
"I took some reps with the one's, so I'm always prepared," Jean-Gilles said. "It's way better from last year. I got thrown in last year, but this year I'm prepared for anything. Whatever the situation is, I'm prepared for it."
For the Steelers, quarterback Ben Roethlisberger practiced fully for the second consecutive day and should start against the Eagles despite a shoulder injury.
STEELERS NO STRANGERS TO SAMUEL
Cornerback Asante Samuel knows the Pittsburgh Steelers pretty well.
In his five years with the Patriots, New England and Pittsburgh squared off three times including the 2004 AFC title game. Not bad for teams who aren't in the same division.
That 2004 AFC title game was a coming-of-age game of sorts for Samuel. In addition to four tackles, Samuel had four knockdowns as the Patriots won 41-27 to advance to Super Bowl XXXIX. We all know what happened there.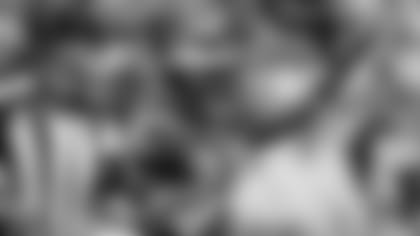 CB Asante Samuel
Things have changed a little bit since.
The Steelers were quarterbacked in that AFC title game by a rookie named Ben Roethlisberger. Now, Roethlisberger is a Super Bowl champion in his own right having won it the following season.
Samuel was a relatively unknown commodity then. Now, he's the Eagles' big-ticket free agent acquisition.
The Steelers' philosophy has also changed. While the Steelers are known for boasting a thoroughbred of an offensive ground game, they know how to get it done through the air.
"That's the history of Pittsburgh. They've always been known as a physical team. They like to pound the ball down your throat. But they kind of change up a little bit too. They like to go deep play-action after they pound it down your throat. You have to be prepared," Samuel said.
"The only thing that makes it hard is if they pass and you don't stop the pass, then the run is going to be wide open. If they run, then the pass is going to be wide open. You can't give them both sides of the sword."
Sounds similar to the Cowboys offense that tallied 34 points on Monday night - not including the seven provided by the special teams unit. Samuel, who recorded his first interception as an Eagle against Dallas, is ready to show that Monday night's performance by the defense was an aberration.
"We know we have a good team. This is the NFL. It's part of the game," Samuel said. "You just have to go out there, believe in ourselves and one another and prepare to win the game. We're all competitive. We all love to compete. That's what it's all about. We're going to go out there and try to bounce back and fight hard."