It's a wonderful story of turning dreams into reality. Michaelaann grew up in a family of die-hard Eagles fans and always had her mind set on achieving one specific goal – to become a cheerleader for her beloved football team.
"I'm from South Jersey and I've wanted to be an Eagles Cheerleader ever since I was a little girl," Michaelaann said. "My mom would always dress me up in a little Eagles Cheerleaders outfit. I still have pictures of it! Some of my greatest childhood memories are going to Eagles games with my family and watching the cheerleaders. I really idolized them – their entertaining ability, their beauty, their team spirit.
"I was 3 years old when I started dancing. Then, I tried out for cheerleading in grade school and continued as a competitive cheerleader throughout high school. While attending Villanova, I knew that I wanted to be an Eagles Cheerleader, but I also felt the experience of being on a collegiate cheerleading squad for four years was important, so I postponed auditioning for the Eagles until after I graduated."
Michaelaann did indeed finish her collegiate cheerleading career at Villanova and graduated with a degree in business. She is currently working towards a Master of Business Administration degree and plans on pursuing a career as an accountant.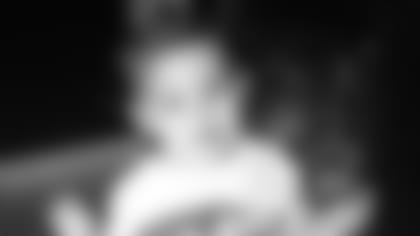 Just a year ago at this time, Michaelaann was looking for a way to break through and fulfill her dream of becoming an Eagles Cheerleader. She came across the Eagles Cheerleaders Pre-Audition Workshops, which she credits with helping her understand how to approach the Open Call and, eventually, win a spot on the squad.
"I attended the workshops last year because I knew that doing so would give me an advantage during the whole audition process," Michaelaann said. "I felt the dance portion of the workshop was one of the most beneficial aspects because I was able to learn the tryout routine ahead of time and practice it in the weeks leading up the audition.
"The workshops conditioned me to perform at my maximum level. Being able to ask questions to the director, choreographer and other cheerleaders really provided me with the most essential knowledge that I found to be useful during the audition process.  It just gave me a better understanding of what the Eagles Cheerleaders role encompassed and what I should do during the auditions to have the best chance of making the squad. I definitely recommend the workshops to any woman interested in trying out."
When it comes to standing out from other contestants, Michaelaann points to one imperative character trait: "I think confidence is the key factor. Our squad is comprised of 38 talented women … but we all have different, unique attributes and you have to exude confidence in your own abilities. I would say just be yourself and show the judges the desirable traits that you have to offer."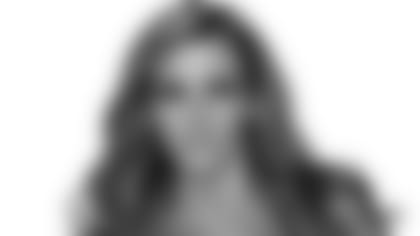 Michaelaann was destined to be an Eagles Cheerleader from the time she was a toddler, and now that she is here, she relishes every opportunity that comes with the gig. In addition to being a member of one of professional sports' most famous cheerleading squads and realizing her dream of performing on the field during every game for her hometown team, Michaelaann has been privy to the full scope of off-field opportunities allotted to a woman in her unique position.
"I truly feel so blessed to have had all the opportunities that I did this past year, especially as a rookie member of the squad," Michaelaann said. "It has truly been surreal ... everything from modeling the new Vera Wang uniforms at New York Fashion Week, being featured as Miss July in our eco-friendly swimsuit calendar, performing at celebrity-studded events during Super Bowl week and even being interviewed by national media outlets like Access Hollywood and NFL Network.
"My favorite part of being an Eagles Cheerleader, though, is getting to interact with other Eagles fans on a daily basis, the greatest fans in the NFL, and being able to be a part of community outreach. I was able to meet some of the most inspirational people during appearances, especially the courageous kids I met while visiting Children's Hospital of Philadelphia and while helping to raise awareness and funds for Alex's Lemonade Stand Foundation. The people and children I've met have really taught me the meaning of being strong, and have had such a major positive impact on my life."
Michaelaann has certainly come a long way in her journey, as "last year, I could only dream of these experiences, not knowing that a year later it would be reality for me," she said. It has been a whirlwind experience, but she is living out her childhood fantasy right now, and it all started with the Eagles Cheerleaders Pre-Audition Workshops. If you take that leap and audition, perhaps you could be the next Michaelaann. It all starts now.