2023 will mark the sixth Eagles Autism Challenge and the Eagles Cheerleaders have been proud to be involved since its inception in 2018.
"The Eagles Cheerleaders created a committee to ideate creative ways to further our impact," said Allegra. "This year, Allison and I are honored to be captains of that committee. We are excited to continue our team's participation, fundraising, and community engagement efforts."
"Our team is committed to reaching our fundraising goals and continue positively impacting the autism community," Allison added. "The Philadelphia Eagles Cheerleaders have raised over $100,000 since the beginning and this goes directly to funding innovative autism research and care programs to advance scientific breakthroughs."
On Sunday, the Eagles Cheerleaders will display their support by wearing Eagles Autism Foundation-branded sneakers as part of the My Cause My Cleats initiative.
"My favorite event is always the Eagles Autism Challenge. The Eagles Cheerleaders are proud to stand at the starting line as people take off, and we also get to be there as they cross the finish line. This is a gratifying experience because we are all there to make a difference, and every medal we hand out has incredible meaning. It's a time that we can all stand together for an incredible cause," Allison said.
"Participating in the Eagles Autism Challenge means a lot to me because the Eagles Cheerleaders look to help inspire others to celebrate their uniqueness, believe in themselves, and follow their dreams," Allegra said. "Since 2018, I've participated in the 5K, and this year I look forward to challenging myself by participating in the 10-mile ride. Crossing the finish line with others who challenge the status quo to bring autism awareness to the forefront is a feeling like no other."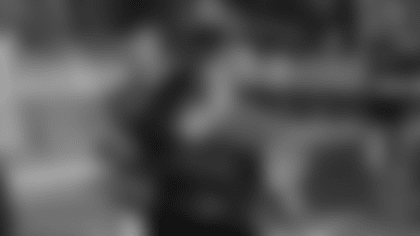 The Eagles Cheerleaders engage with the autism community outside the Eagles Autism Challenge. The Eagles Autism Foundation looks for ways to make all Eagles-related events more inclusive, including the Junior Cheer clinics.
"We are proud to create a meaningful impact with fans on and off the field," Allison said. "At our Junior Cheer clinics, we ensure that every child gets to experience the joy that comes from cheerleading, dancing, and performing. In addition, we strive to serve as role models to every child we meet. At previous clinics, I've had the opportunity to cheer alongside some of our Junior Cheerleaders with autism. Seeing the children light up, interact with each other, and be themselves brings happiness to everyone there. We will continue to instill an 'anything is possible' approach to life!"
Love, compassion, willingness to help. These are essential factors in life. The Eagles Autism Foundation brings these values to the autism community. The My Cause, My Cleats initiative is a vital pledge to help those who need it most. As Allegra explained, the Eagles Cheerleaders look to leverage their "very unique platform to empower our community to turn autism awareness into action."