Football is the most popular sport in the nation as millions of people have grown up following a team and falling in love with the game. For young girls watching their favorite athletes, they crave to play the game of football. And finally, they can with girls flag football. To help grow the sport, the Eagles have been working with high schools around Philadelphia to bring girls flag football onto their campuses. After standing in the stadiums, girls can get on the field, and more young women are joining in on the fun.
"Football to me is the best sport out there," said Christine Donnelly, school counselor at the Academy at Palumbo and head varsity girls basketball coach. "The idea of offering it (girls flag football), and so many girls have had an interest in playing sports over the years, but they have that fear of tackle football. They like football but the boys are just bigger and stronger."
A new opportunity will allow girls to get involved in flag football at the high school level. The Eagles have been working closely with the Philadelphia Public League and the Archdiocese of Philadelphia Schools to launch the first Girls Flag Football League for high schools in Pennsylvania. The girls will be in action this spring.
"For the girls to see that there's a way they can dip their toe in and get that experience, I just think it's an unbelievable opportunity," said Donnelly, who will serve as the Academy at Palumbo's girls flag football head coach. "I am just thrilled that the Eagles and the school district are allowing these kids to get this opportunity."
Committed to providing more access to sports, the Eagles have donated $100,000 worth of sports bras to Leveling the Playing Field Philadelphia. LPF is a nonprofit that helps collect and redistribute gently used sports equipment to students who can't afford what they need.
"Those sports bras are not only available to the girls that are playing flag football. They're making them available to female athletes across the city," said Tim Morrison, program coordinator for the Philadelphia School District Athletics Division. "Most people look at a sports bra as a bra. It's actually a piece of sporting equipment for young ladies that a lot of male coaches don't actually understand and acknowledge."
"It's not as widely known that sports bras are another piece of gear, and it is a gender barrier that's facing girls, particularly girls of color, and girls that are within under-resourced communities that are already facing so many other barriers to be active and engage in sports," said Kaitlin Brennan, Director of Operations for Leveling the Playing Field. "This donation is really powerful because not only does it get us one of the more in-demand pieces of equipment that we offer, but it also opens up the conversation to coaches, to athletic directors, to all these other folks that we work with, to get their girls what they need to not only get on the field, but to stay on the field and remain comfortable and confident playing."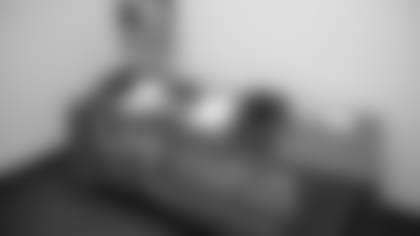 When LPF came to Philly in November, the Eagles helped get their warehouse ready. From helmets to cleats to bags, LPF takes sporting equipment donations and allows people in the area to grab what they need for free. Through the collection and redistribution of gently used or new sporting equipment, schools, sports leagues, recreational centers, and youth-serving programs can get what they need to play. Close to 6,000 sports bras will be added to the warehouse. These sports bras will provide female students a chance to get into sports and play something they might not have thought was possible.
"It's incredibly exciting. We hear from coaches, teachers, and athletic directors so often at the start of every sports season that this is something they need. This is something their students need," Brennan explained. "To be able to meet that need through the support of the Philadelphia Eagles is amazing. We can't wait to really make an impact on the Philadelphia community."
"Being able to field these conversations, particularly with male coaches who don't really know how to navigate this with their female athletes, is important. They know it's a need, they know their girls and young women don't necessarily have the resources to just go buy one or order one online, it can be really tricky because of the sensitivity of it," Brennan continued. "To be able to be like, 'Here you go, coach. Take this and give it to your girls.' It really simplifies and allows not only the coaches to focus on their job, which is to coach, but also the girls to focus on the task at hand which is to play their best. "
The girls flag football league is a multi-year program that will start as a club sport with teams from the Philadelphia Public and Archdiocese of Philadelphia Schools joining in on the fun. There's one goal in mind with this inaugural girls flag football league and that is to make flag football an officially sanctioned sport by the Pennsylvania Interscholastic Athletic Association (PIAA).
"There are a lot of resources, grants, and opportunities that the Eagles are able to provide us and partner with us to launch this initiative," said Executive Director of Athletics with Philadelphia Public League, James Lynch. "This is the inaugural year, and our hope is to continue building upon it year after year."
With a new intramural program being implemented in local elementary schools, flag football is offered for girls to learn the game and hopefully continue to play into high school.
"It's a great way to get more females engaged in the game of football and ultimately work with the Eagles to try and build opportunities for our students across the city," said Lynch.
Coach Donnelly is not new to the sport and is thrilled flag football is headed to the city. She played tackle football for six years then played for the Philadelphia Liberty Belles and the Philadelphia Phoenix before suffering a career-ending injury. Making girls flag football an official varsity sport will take the whole community. In order to make it a varsity sport, 100 schools in the state of Pennsylvania must adopt the sport. It starts this year with 15 schools ready to start pulling flags. This is the moment girls have been waiting for.
"I've talked with ADs who are ecstatic about it. We were able to end our last coaches meeting with some humble bragging and boasting about the future of the program and where it will go," continued Lynch. "The coaches are ecstatic. The students are ready to go. And we've completed some learn to play clinics hosted by the School District of Philadelphia."
"The girls are so excited that I'm going to have to have cuts. I've had 35 girls sign up so far," Donnelly said.
"It's going to catch on like wildfire," Morrison said. "It's going to be a positive activity to motivate and support young ladies into something that they have not had avenues and opportunities to get into before."
Each team participating received an NFL Flag kit, which included seven footballs, 25 flags, and instructional material for practice drills. Nike is also providing 25 jerseys and shorts to each team.
"When you start putting something like the Eagles and Nike behind it, I really think it adds legitimacy and excitement. It makes people step up and take notice," said Donnelly.
The Eagles Girls Flag Football Kickoff Jamboree is on March 4 at Lincoln Financial Field and the season will begin on March 18. Each team is scheduled to play a total of eight games, all held at Philadelphia School District sites, leading up to the playoffs. To finish off the season, the Eagles will host the first Philadelphia High School Girls Flag Football Championships in late May.
"I really see this as a bridge to create those bonds with fathers and daughters and at the same time to re-engage those mothers in sports with their daughters when it normally hasn't been possible," said Morrison.
"It's opened the door for a number of women and young girls who are starting to see that this is something they can do. I think that because football is such an accepted sport that I see catching on. It's an infectious sport and it's easy to watch. I'm really hopeful that this is really going to take off," Donnelly said. "And once they step on the field and start throwing that ball around or pull a flag, they'll feel that sense of accomplishment."