During the 2015 offseason, Byron Maxwell signed a six-year contract with the Eagles. The cornerback out of Clemson was selected in the sixth round of the 2011 NFL Draft by the Seattle Seahawks, where he spent his first four seasons. Maxwell came into his own during the 2013 season, appearing in all 16 regular season games with 25 tackles, four interceptions and 12 passes defensed. At the beginning of the Seahawks' 2014 season, Maxwell found himself in a starting position and finished the year by recording five solo tackles in Super Bowl XLIX vs. New England.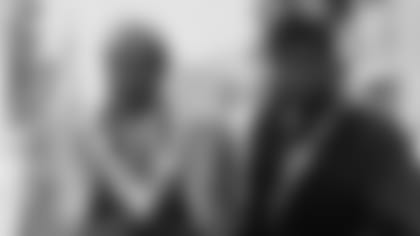 Byron Maxwell's Favorites
Movies: Trading Places, Coming to America
If he could be a superhero, he would be: Vegeta (Dragon Ball Z)
If he could play another sport, what team/position: Defender for Chelsea
First jersey: Julius Peppers, Carolina Panthers
Maxwell enjoys giving back to his hometown of North Charleston, South Carolina through Maxwell's Way, a foundation that serves area residents. The Maxwell's Way mission is to inspire lifelong learning, advance knowledge and strengthen communities, all in neighborhoods where Maxwell spent time growing up. To date, Maxwell has used his creativity to organize charity events such as a softball game and bowling event in North Charleston.
Maxwell has already started to make his mark in Philadelphia, as he plans to host a Back to School event on Monday, August 17. The event will take place from 4-6 PM at Wissahickon Boys & Girls Club Child Care, 328 West Coulter Street, Philadelphia. Maxwell will be giving away backpacks and school supplies to area youth, and the event will also feature a basketball tournament, free food and activities. For more information, please visit Chooselifefoundation.org or call 757-655-1307.